Interesting Facts about Betway Terms and Conditions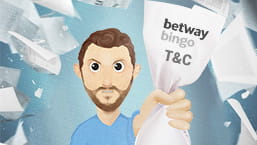 In this article you will find a full content listing of the Terms and Conditions of Betway Bingo website. Of course, it is always good to familiarise yourself with the T&C's of every bingo operator before creating an account, but if you don't feel like doing so, you can check the written content below where I have summarised them for you.
At first look, I could say that the basic information everyone of us is looking to find in a T&C page is contained here, but as you read more deeply, you'll see that the Terms page of Betway have plenty of detailed information. I was impressed that all info regarding the bonus system and the bonus amounts offered for each of their products is on a separate page.
The version that I have used when preparing this article is the one dated 12/05/2015. If this version is outdated and you're aware that a newer version of the T&C's is now available, or if you just have some questions that you would like to ask me, then please feel free to contact me at info@bestbingosites.co.uk.
And of course, as usual – under no circumstances should you accept this article as legal advice. My only intent when writing this page is to share my personal opinion on certain parts from these T&C's.
Content of the Terms and Conditions
These T&C's are clearly presented, with numerous headings and subheadings, making it easy to find any specific detail. Most of them are well known while there are some that deserve to be reviewed one more time. This is why I've selected some of them to comment on. You can check out the full list of points below which have been covered by Betway Bingo's Terms along with some comments by myself.
1About Betway
2Licensing and Regulatory Authority
3Your Participation at Betway
4Your Account
.If you use a credit/debit card and/or a financial/bank account for transactions at Betway, the account/cardholder's name MUST be the same as the name you used when registering a Betway account. Should the name you registered on the Betway account and the name that appears on your credit/debit card and/or financial/bank account differ in any way, your account will be immediately suspended..
.The transfer of funds between individual accounts is strictly prohibited..
Comment: This is a measure for the prevention of money laundering.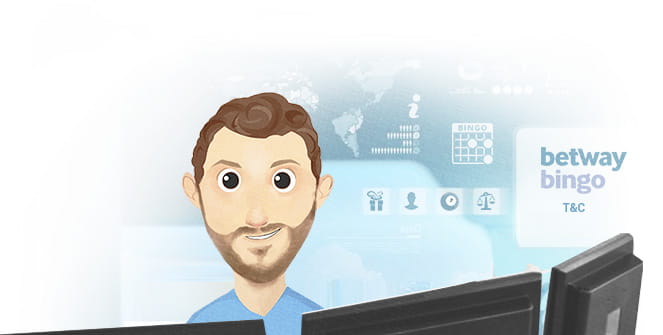 5Payment Details / Withdrawals
6Bonuses
7Privacy Policy
8Responsible Gaming
9Player Protection
10Intellectual Property
11Interruptions in Play
12Indemnity and Limitation of Liability
13Availability of Offers
.All offers are limited to one per person, family, household address, e-mail address, telephone number, same payment account number (e.g. debit or credit card, etc.), and shared computer, e.g. school, public library or workplace. All Betway offers are intended for recreational customers and Betway may, in our sole discretion, limit the eligibility of customers to participate in any given promotion. We reserve the right to withdraw the availability of any offer or all offers to any customer..
Comment: You should be aware that if you and your wife are using one device for participating in online bingo games, such as a laptop or personal computer for example, it won't be possible for the two of you to take advantage of one and the same promotional offer. If you're sharing your device with anybody else, one of you may not receive their bonus amount or whatever is the object of the promotion.
14Support, ADT Services and Governing Law
15Financial Institution
16Other
Check these T&C's before you play:

888Ladies Bingo – Terms and Conditions

Mecca Bingo – Terms and Conditions

Wink Bingo – Terms and Conditions
Disclaimer: Please be aware that this article is for informational purposes only and it cannot be considered legal advice. Also, the use and access of this site or any communication through e-mails do not create an attorney-client relationship between bestbingosites.co.uk and the user.