Gala Bingo Launched a Brand New and Exclusive Game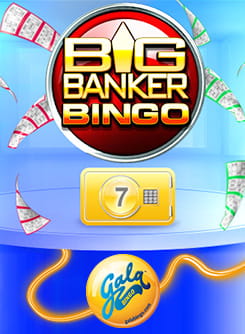 Our long-time favourite operator, Gala, has just launched a new exclusive game to the joy of all their players. The game is called Big Banker and it comes as a slot, scratch card and a bingo variation. There is a special dedicated room where you can enjoy it, and right now, it is the subject of a hot promotion on the website. Along with the thrill of the news, however, we are left to wonder, why would Gala need another banker game in its portfolio? Are the Deal Or No Deal days numbered for the provider? We will have to see, but right now, we are going to simply enjoy the new addition. Read on to find out the game rules and features.
Big Banker Bingo is, first of all, a 90-ball game. It starts as one, just like DOND Bingo and other branded games that are based on favourite TV shows or series. What happens after the Full House is won is the curious part, the so-called "feature". The full-house winner qualifies for the Big Banker feature where she will be offered a deal by the banker which she may accept or decline. Acceptance will mean that the winner will grab the prize the Banker holds while declining that will mean that the player will walk away with a mystery prize hidden in her assigned safe. All players will get safes automatically chosen for them at the beginning of the game. What happens to be inside could be the winner's loot of the day.
What about the other players? Well, after the Banker extends a deal to the winner, they will have 10 seconds to vote whether the winner should accept it or not. That doesn't necessarily influence her to make a decision, of course. Other goodies for the rest of the roomies include the prizes for 1L, 2L and the Jackpot. Each game has a progressive JP that starts building from £5,000 and increases based on ticket sales. You need to put a stake in the JP game in order to participate when it is distributed. The FH winner will get 50% of the pot plus that part of the remaining 50% which is allocated to her due to her purchased tickets. The other players will be credited with their proportionate amounts, again based on the level of their stakes in that feature.
Other details: The game can be played between 8am and 1am every day, and tickets cost between 5p and 25p. The feature game uses the same tickets and strips which are used in the standard draw. Well, I guess, that's most of the important stuff about this new game. Meanwhile, you may read our article on Gala and check the other games and promos there. In addition, I hope to see who of our readers will be the first to boast a win at it.