Gaming Operators after Brexit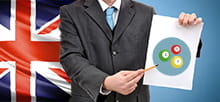 It's surely been one heck of a week around here. I can't help but mention all the stuff that's been on and about after our fellow-Brits voted to leave the EU. I personally voted to remain, but who can tell what was right and what wrong. These days, the Gibraltar-based offices of many operators are like beehives. There have been rumours about the disruption of the Gibraltar border. The vote result has also raised some new questions to the brands. That is what I intend to cover today.
William Hill has prepared a back-up plan in case any real disturbance takes place. The employees will need to be relocated outside of Gibraltar, but apart from that, no trouble is expected. Representatives of the company expressed its official opinion that it's 'business as usual'. To remind you, Spain insisted on co-sovereignty after the Leave result on Thursday. Since the referendum was on the schedule for the last 3 years, bookies had already worked on their plans for continuity. We can safely say that big shocks are not likely. WH, for one, already stated that 85% of its profits originate from inside the UK, which is a good indicator that the British market is strong enough in itself.
The morning after the vote, share prices of the large betting and gaming brands suffered dramatic falls. For example, Ladbrokes shares dropped by 14%. Yet, after this very fast decrease, they rallied to nearly their old levels. Jim Mullen, CEO of Ladbrokes, stated that before they make any irrational or erratic move, it's a good idea to carefully consider all the questions posed by this result.
In the wake of these developments, Paddy Power announced they are leaving their Isle of Man seat. They present this move as a cost-cutting measure following their merger with Betfair. The small office employing about 10 people does work in the field of finance. The activity will be moved to Malta where Betfair has offices. Malta is generally viewed as a good opportunity for e-gaming operators, but the current PP move is not announced as connected to Brexit.