First Ever Millionaire Crowned at Sky Bingo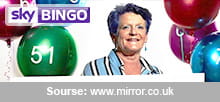 Sky Bingo has finally done it. In addition to being a very successful media and gaming provider, the brand can now boast their players really win on the website. It's not that they haven't paid out big winnings to lucky bettors so far, but this is the first time such a thing has happened in the bingo department, and the prize is so big. A glamorous granny of Wales pocketed a seven-figure sum after playing an online slot game. Fifteen minutes that changed her life. Read on for the whole story.
Chrissie Johnson had been with Sky Bingo for a little over a year when she got so lucky. She is a chiropodist and doesn't plan to retire just yet despite her darling husband, Mike, has already tried to talk her into it. Definitely 'more quality time together', that is the best aspect of the win for the family. She is the mother of three and grandmother of four. Together with Mike, Chrissie plans to take care of their closest family and also go on a long and nice holiday. In addition to making gifts to her children and grandchildren, Mrs Johnson is also thrilled by the opportunity to spend some of the money on charity. She already works for several causes.
But how did she win and on which game? Well, on that night she couldn't sleep, so she went downstairs to play some bingo and slots without disturbing Mike. After 15 minutes of spinning the reels of Chests of Plenty, she saw £300,000 appear in her winnings balance. A couple of seconds later, she realised she had won the progressive jackpot. The total amount is £1,346,155.43. For those who don't know, this is a pirate-themed slot played on 5 reels which has 20 pay lines. It features a PJP and a treasure map bonus, besides the wild symbols. Chrissie won the jackpot in the chest bonus round where 9 diamonds appeared in the chests.
A special night of entertainment was the first gift she received from the brand.

'We're so delighted for Chrissie … We take great pride in building long-lasting relationships with customers by offering a best-in-class product… This win is proof that the excitement is real, as dreams really do come true.'
James Boord, Sky's Head of Bingo and Poker Marketing
After she won, Chrissie couldn't go to sleep at all. She woke Mike and their children; everybody celebrated with them. The idea slowly sank in. This is the first so big a win at Sky Bingo and the first ever jackpot win for this particular game.