A Guide to American Bingo
You will find sites claiming that the UK bingo variation is better than the American because you have 3 chances to win in the traditional game compared to just 1 in the 75-ball variant. But you should know that if anybody bases their article on this principle, you'd better close this site and look for a more trustworthy opinion elsewhere. 75-ball bingo offers only 1 winning chance on very rare occasions i.e. if you play for a pattern and nothing else. But this is very unlikely nowadays because when you play for a pattern there is usually a prize for the Full House, as well. Learn everything you should know below.
75-Ball Bingo Rules and Ticket Preview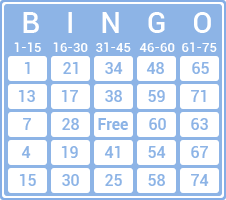 Each ticket in 75-ball bingo has 5 rows and 5 columns. In the classic variant all the boxes have numbers except for the middle one which is FREE. The total number of numbered boxes is 24. The letters B-I-N-G-O are written above the first line. When a number is called out it is preceded by a letter so that the players can find it quickly. Of course, the numbers between 1 and 75 are randomly chosen and distributed. A strip consists of 3 cards but not all operators offer them, sometimes you just have to pick each card or buy cards in bulk.
The winning combinations here can be endless because you can either aim for a certain pattern, or you will be required to cover 1/2/3/4/5 lines horizontally, vertically or diagonally. There are so many patterns, that even if we wanted to show you the full list this would be rather boring if not downright impossible. That's why we will only list a few examples. And don't worry about not knowing what game is played, you will always be able to see the pattern that is used for the respective round in the room and it will most probably be highlighted on your ticket also. If you have to cover lines there will be 5 prizes and the lines will be highlighted on an example card somewhere above your tickets. To win the jackpot with the sample card above, for example, you will need to cover 1,21,34,16,18,11 and 42.

Where to Play – Awesome Sites to Check Out
As you can see from the table below Wink have many rooms and their welcome offer is more advantageous than the other. That's why we will present you their rooms in short. 3 of the rooms are open 24/7 – The Hangout, Fab5 and Tutti Fruitie. The Hangout offers tickets between 5p-£1 and you can buy between 1-48 cards for each game. All the tickets in the Fab 5 and Tutti Fruitie cost 5p. Buy up to 36 cards in Tutti Fruitie and up to 48 tickets in the Fab 5. Gimme 5 is open daily between 11am – 1pm & 8pm – 12am, the tickets cost 25p and the maximum number per game is 96. Bingo Babes offers a bit more expensive tickets but the prizes are also bigger. The cards are sold between 50p and £2, you can buy as many as 48 per game and the room is open between 5pm and 2am. Huni Pot is open from 6pm and 2am, the cards cost 10p and the max number you can buy is 36. Finally, there's the Catch'em Up that is open from 12pm till 2am, you can buy up to 60 tickets from 5p-25p. Wink also have a no-deposit welcome offer that grants £10 or in other words 50 free tickets in the You're In 75-ball room. It's open from 6pm till 10pm every day and you have to use your free tickets in the first 2 £100 Jackpot games immediately after claiming the no-deposit bonus or you will lose them. Each ticket after that costs 20p. But this will hardly be an issue, because your first deposit will be topped with £55 bonus instead of £40 with our promo code BEST, just remember to follow our links to Wink.
4 Fantastic Sites for 75-Ball Bingo Games
Click 'Play bingo!' to view the offers' full T&C's.
Gala, William Hill and 888 Ladies also have fun 75-ball games but as you can see the rooms are not as many. This can be also an advantage because the rooms will be busier and the jackpots will be bigger. On the other hand, it will be more difficult to win in a crowded room. Bearing those two things in mind you can choose the hours and ticket price that suits your budget best and play a few games. Gala and William Hill have mixed rooms which is very cool because you don't have to switch between the rooms to change the variation you are playing – you'll be able to play 75/80/90- ball games in the same room. 888 Ladies offer a 4-figure Progressive Jackpot that can be won either in ≤35 balls or if you daub all the 12 boxes in the champagne glass pattern.
Where Does 75-Ball Bingo Come From?
75-ball bingo is the American cousin of the 90-ball games. Like all things that were imported from the UK to the States, the game underwent some changing and fitting to the American players. The ticket was changed and there were 75 balls instead of 90. Initially the game was played at fairs and carnivals but it was called Beano because dried beans were used to daub the numbers. Then one day a salesman from New York happened to be at one of those fairs in Atlanta, Georgia and was watching the game when he realised he can market the game under the name Bingo. However, he decided to let other people use the name Bingo, as well, and sell cards. This was probably one of the main reasons the game became so popular. Edwin Lowe hired a mathematician who had to come up with different combinations of numbers for the familiar 5 by 5 grid card. Later, this was automated and a machine started generating the cards. The automation made it possible to create different patterns and thus make the game even more fun to play. Bingo was used as a social activity to raise funds by the church and was a cheap entertainment during the Great Depression.
The Winner Takes It All
The best deal you can strike!
Winner Name

Linda

Jackpot

£17,548.81

Operator

Sky Bingo
At the end of January 2015 one lucky lady scooped up a hefty jackpot at Sky Bingo playing Deal or No Deal 75. Linda from Grays is now £17,548.81 richer and in all likelihood a whole lot happier. She said she almost woke up her granddaughter laughing and she wants to do something wild with the money. Well, jackpots like this one can really make you go crazy…but you know, the 'good' kind of crazy.
Who Offered Bingo 75 Online for the First Time
The first 75-ball bingo game offered online was free and was launched in 1996 by Bingo Zone, which is now a product of Gamesville. To play you had to provide some demographic data and then watch ads based on your preferences. The site still exists and it's quite a decent option to play for free, but expectedly it is of way lower quality compared to the gambling sites we presented above. First of all, the graphics are not impressive at all, there are no bonus rounds, the voice of the caller is automated and sounds like a robot and you can play with only 3 cards per game.
Swedish Bingo and DOND 75 – Fun Fun fun!
There are not that many variations of 75-ball bingo compared to 90-ball bingo and most probably the reason is that there are so many winning patterns that you don't need to change the game a lot to make every session different from the previous one. However, 2 nice variants offer a nice change from the traditional game. The first one is Swedish Bingo or 5-line bingo as it is also called. The only difference between the ticket for the regular 75-ball games and this one is that there is no free space in Swedish Bingo so the numbers total 25. This variation gives you more chances to win compared to the traditional game because you will win a prize if you cover 1, 2, 3, 4 row/s or the whole ticket. Some of the operators which have included this game in their selection are Foxy, Wink and 888Ladies and they all run on software developed by Dragonfish.
| Swedish Bingo | | DOND 75 |
| --- | --- | --- |
| | & | |
| 25 | Numbered Boxes | 25 |
| Dragonfish | Software | Virtue Fusion |
| Community PJP | Jackpot | None |
| no | Feature Game | yes |
| 5 | Chances to Win | 6 |
The second variant – DOND 75 is a branded Endemol game which can be found on most sites on the Virtue Fusion network. It's very similar to Swedish Bingo because you will be aiming for lines rather than a certain pattern. But in DOND 75 there is a free space, you can purchase strips of 3 tickets and there's a bonus round that features the popular question of the Banker. Here's how it works: there are 22 numbered boxes that contain different prizes. They are removed when their number is called out together with the respective blue or red sum from the board. The person who wins the Full House qualifies for the bonus game, as well, where they will be made an offer by the Banker. The other players who've bought in for the game have to vote on whether the winner should accept or decline the offer but this will not oblige you to take the same decision. If you decline the offer, you will get whatever is in the box. There's also a Community Progressive Jackpot that starts at £7,500 and increases until it's won. Cover all the boxes on your card in 42 calls or fewer and get 50% of the jackpot. The other half will be split by all the players who purchased a ticket for the game.
What About the Land-Based Clubs? Is It Any Different?
Yes and no. The rules are the same and you can also aim for a pattern or lines but there are some differences. Some clubs sell cards that already have the pattern highlighted but that's not always the case. Also, some halls will play the games "Any Way" which means that no matter if the pattern is covered straight up or it is rotated, you will win. You can also play the "Hard Way" but in this case not only the pattern should match the angle, but you cannot use the Free space so you will have to find a way around it. Thus if the pattern you are aiming for is Double Bingo, you will win if you cover the I column and the row with the Free space. But if it's the Hard Way you will have to cover the O column and 4th row. The table below will show you what is the mathematical probability of a tie for the respective pattern i.e a game where there is more than one winner. The easier the pattern, the more players will have to split the prize.
| Game | 2000 | 4000 | 6000 | 8000 | 10000 |
| --- | --- | --- | --- | --- | --- |
| Single Bingo | 2.62 | 4.11 | 5.72 | 7.11 | 8.2 |
| Double Bingo | 1.3 | 1.34 | 1.37 | 1.39 | 1.42 |
| Triple Bingo | 1.27 | 1.31 | 1.33 | 1.34 | 1.33 |
| Single HW Bingo | 1.49 | 1.78 | 2.01 | 2.32 | 2.6 |
| Double HW Bingo | 1.27 | 1.3 | 1.33 | 1.35 | 1.4 |
| Triple HW Bingo | 1.26 | 1.27 | 1.29 | 1.31 | 1.31 |
| Six Pack | 1.96 | 2.54 | 3.08 | 3.68 | 4.21 |
| Nine Pack | 1.35 | 1.43 | 1.47 | 1.53 | 1.55 |
| Coverall | 1.32 | 1.34 | 1.34 | 1.35 | 1.38 |
FAQs
Is it possible that the prize is won by more than one player in the online rooms?
Yes, this is very often the case especially when it comes to Deal or No Deal Bingo. If there's more than one winner they will share the money for the Full House and the contents of the "Players Box" which had been automatically chosen before the game had started. In that case the feature game technically will not require you to accept or decline a deal.
Why are there fewer bingo rooms where you can win daubing patterns?
Because the 75-ball bingo rooms where you can win covering lines give you more chances to win, namely 5. In the traditional pattern rooms there's only 1 chance to win. Most operators have found a way around this to attract more players. The games are played with more than 1 pattern and you get another prize for a coverall.