A Basic Guide of the Best Bingo Slots Online
Want to find outstanding bingo sites with a wide range of slots? Then check out our list of the most popular games – tried and tested by experts.
Being the most popular casino game it's no wonder slots have found their well-deserved place on the bingo sites as well. The huge popularity can be easily explained. Slots are super fun but require no skills, the fast-paced gameplay is a nice change from the laid-back bingo room and of course they offer the biggest jackpots online. Here's what we've included in our basic guide:
a selection of bingo sites with slots bonuses
a glossary of the most common slots words
the top bingo slots organised in 8 categories
success stories – the biggest jackpots ever won
Of course we've done our homework and prepared a quick fix solution for those of you who are not so keen on reading lengthy articles. In December 2018 we tested a number of sites against a wide range of criteria: the best-performing operator is William Hill, because of their slots offers, game selection, mobile compatibility and overall ease of use. See more in the box below:
William Hill Bingo

'I love the fact that they gave me a head start with the slots bonus. Honestly, how many bingo sites can welcome you like that!'
Abbie Hartley, 39

UK
Extra Features
PC – More than 100 instant games including 3 Multiplayer and 39 Jackpot Slots
Mobile – 51 slots plus an array of mini games you can play in the bingo rooms
Popular payment methods
paypal
skrill
visa
master
maestro
Combined welcome bonus – £40 for Bingo and £10 for Games
8 days of free bingo in the Newbie Room – total prize fund over £1,700
Weekly Favourites – a different promotion every day of the week
Bingo Sites with Slots Bonuses
First things first, before we tell you about the best bingo slots we found online, we'd like to tell you about the deals you can take advantage of. Although bingo sites consider slots to be side games and the main focus remains on the bingo rooms, they also understand the importance of this section and make sure there are a few slots bonuses in their offerings every now and then. Some operators split their welcome bonus in two parts – bingo bonus and games bonus, so that you will be able to try out all their games from the very beginning. Other have special deposit-related bonuses that can be used only for slots but not the casino games or instant win games. And there are the Cozy Games bingo sites, that have a daily login bonus that lets you spin a fortune wheel and win some free spins. You see there are many ways to get your hands on a few spins on the house. Have a look at the selected offers bellow.
Users' Choice: Favourite Slots Offers from the Top UK Bingo Sites
Go to 'Spin it now' and read the sites' full T&C's.
Different Categories According to the Theme
Most slots follow the same basic principles so the only thing that will make them differ from one another is the graphics and the sound effects. But even if we exclude these similar slots, there is a great deal of other slots with different number of reels, paylines, wild and scatter symbols, options and bonus rounds. That's why we've organised them in groups according to their theme. Of course, we cannot list every exciting slot we found online so we picked the ones the ones that are best-liked by the majority of players.
TV-Show Based Games
TV-show themed slots have an expected head start because when they launch, they already have fans. Even if your favourite show isn't turned into a slot yet, imagine how excited you will be if you hear so and so bingo will launch it in say 3 months. I, personally know, that if I hear that a site will launch "Grey's Anatomy" slot, I will barely sleep before I see it. We already witnessed the Coronation Street slots craze and the rapid popularity DOND and the X Factor slots gained. But this time we are going to present you a masterpiece, so brace yourselves.

"Valar Morghulis" – can you bet on who will live and who will die this season? We are reviewing Microgaming's Game of Thrones slot based on the hit HBO TV-series and we are doing it with a great pleasure. This may well be the most anticipated slot in 2014 and we all thought "please, don't mess this one up". Well they didn't, the wait proved to be worth it. There are 2 variations of the 5×3 reel game – 15 lines or 243 ways to win but otherwise they have similar features. A nice place to find this slot is Betway Bingo which is reviewed in detailed here. The wild symbol is the logo of the Games of Thrones and it substitutes for all other symbols but the scatter. There's the stack wilds feature that increases your chances of a winning line. The scatter symbol is the Iron Throne itself and it brings different benefits. If 2 iron throne symbols appear anywhere on the reels, a fiery dragon's egg will show up and it will award you a random scatter bonus. When 3 or more thrones land on the reels they activate the free spins bonus feature where you have to pledge alliance to one of the four Great Houses of Westeros – Baratheon, Lannister, Stark and Targaryen. Each house rewards a different number of free spins combined with a different multiplier and there are stacked high symbols to increase your odds of winning even more.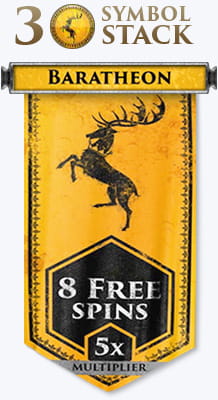 The royal House of Baratheon gives only 8 free spins, but multiplies the wins by 5, which is the highest multiplier offered. The Baratheon high symbol – a stag on a golden circle, is stacked 3 high throughout the reels.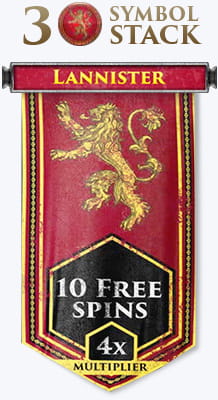 Then there's House Lannister of Casterly Rock and if you chosen them, you get 10 free spins plus 4x multiplier. The Lannister high symbol – a roaring lion on a red circle, is stacked four deep.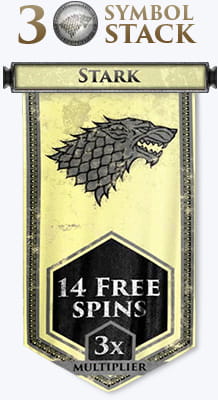 Brace yourself, winter is coming. Go north in Winterfeel at the House of Stark's and get 14 free spins at 3x multiplier. This time the Stark high symbol – the Direwolf on a white circle, is stacked five high.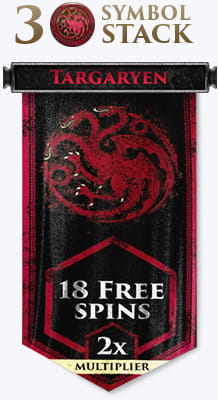 The last house – the House Targaryen grants 18 free spins and a flight with the dragons. There's a 2x multiplier and the Targaryen's high symbols – three-headed dragons on a black circle swoop past.

And finally, if you win, you can choose whether to take part in the Gamle Feature. There's a Braavosi coin and you have to bet on head or tails and flip it. If you guess correctly, your win is doubled and you move forward on the map of Westeros and Essos meeting the Three-eyed crow, a Whitewalker, a Direwolf and a Dragon.
Spin the Game of Thrones slot at Dream Bingo and grab our special £50 bonus right away!
Progressive Jackpots – The Sky's the Limit
You can check up what a progressive jackpot is in the slots terms glossary but basically these are jackpots that keep accumulating until they are won. So without further due we will present you our pick in this category. The Irish-themed Clover Rollover slot by Virtue Fusion is our logical choice because last time it was won (i.e. 2009) it had reached the amazing £3.8 million. This is a 5-reel 5-line slot which may not so exciting compared to the multi-line modern slots but then again, the prize is exciting enough, right. You can bet between 10p and £1 per line. There's a significant detail you should not forget though, to win the PJ you have to bet max so every spin will cost you £5 which is not surprising when we take into account the prize but still make sure you can afford it. The symbols you will see suit the Irish theme well – there's a pint of Guinness beer, a barmaid, an Irish hat, a pot of gold and a Celtic Cross. The Shamrock is the wild symbol and it can substitute for all other symbols. 5 Lucky Shamrocks bring you the ultimate prize – the Progressive Jackpot. Have a look at this review to find a suggestion where to play this slot.
Why not All Super Hero Slots Are Marvels?
If you are not a seasoned fan of comic books, you will probably be unaware that not all super heroes are the so called marvels. There has been a major feud between the characters of two publishing companies DC Comics and Disney's Marvel Comics and even a limited comic book series in 1996 called DC vs Marvel where the characters fought battles e.g. Batman (DC) vs. Captain America (Marvel), Superman (DC) vs. Hulk (Marvel). The reason why we are telling you all of this is to explain why some slots are called Marvels and others, which seemingly have the same theme are not, it's simply because the Marvels are a brand by Disney and their slots are developed by Playtech. We decided that we don't want to choose just one game in this category so we are going to present you one Playtech and one Microgaming slot.
Marvel – Captain America – The First Avenger by Playtech – This slot has 5 reels and 20 paylines and can be played at Gala Bingo, a site we highly recommend. The minimum bet per line you can make is 1p and the maximum is £5 which reaches between 20p and £100 per spin. There are 2 not just 1 Wild Symbols – Captain America and Red Skull and when they are in a winning combination they double it. The Scatter Symbol is the shield of Captain America and there's one more interesting symbol – the Free Games one. So far so good, nothing too special, right. Well it's all about the Super Energy Free Games Feature which is activated when Captain America lands on reel 1, the Free Games symbol is on reel 3 and Red Skull appears on reel 5. When you trigger this bonus game you automatically receive 4 free spins but you have the opportunity to increase their numbers. You will first have to choose from 9 squares which uncover different bonus features. There is the 1x Multiplier, you can get up to 3 of those so your winnings will be multiplied by 3. You can also get up to 3×4 Free Spins which will be added to the initial 4 Free Spins. If you open a box with Captain America or Red Skull, they become expanding wilds and increase your winning odds. There's also the Free Spins Retrigger which means that you will get 4 more Free Spins every time the special symbols appear on reel 3. And finally, the best part – the 2 Super Spins – these are activated after the regular free spins are over. First the villain Red Scull becomes an expanding wild on reel 5 and throws another wild symbol somewhere on the reels which makes it highly possible for you to end up with 5 of a kind. The Superhero Spin follows the same rules.
DC – The Dark Knight Rises – Microgaming – Based on the DC comic character Bruce Wayne who rises back from retirement to become the superhero Batman once again, this 5-reel 243 ways to win slot is developed by Microgaming. Here's a recommendation where to play it. Unlike its predecessor The Dark Knight slot, this one is not progressive but it has 3 new features that make it quite enticing. The first one is the Free Spin Accumulator. Basically Batman and Bane appear randomly on your screen during the base game and start a fight which awards a number of free spins for every hit on the rival. These free spins accumulate and later in the feature game you will choose the one with more free spins. The second one is the Symbol Scramble which occurs on non-wining spins and scrambles the symbols on the reels so that it creates the best winning combination. The third feature is the Split Wilds and it's pretty evident that the wilds are split in 2 creating more winning combinations. Apart from the normal symbols there are 2 special symbols – the Wild Symbol which is the game's logo and the Scatter Symbol the bomb that threatened the security of Gotham. The Wild Symbol substitutes for all other symbols besides the Scatter Bomb. As for the Scatter, if 3 or more of it appear on any of the reels, it triggers the Free Spins Round where you will have to take a pick and play either with Bane or with Batman. If you choose Bane, you will activate 2 features during the Free Spins – the Rolling Reels and the Super Stacked Wilds. The first one works best when you have winning combinations because they will explode, the reels will rearrange and new symbols will be added thus giving you the chance to win multiple times with a single spin. The Super Stacked Wilds appear on reels 2 and 4 and they are stacked 3 high so you can enjoy more winning combinations. In case you choose the good guy – Batman – you will unlock other 2 special features – the Extra Wild Blast and the Heat Seeking Wilds. The extra wild symbol is chose by you from the other high symbols and can substitute for all except for the Scatter Bomb and the game's logo wild. The extra wilds can appear on the second, third and fourth reel and can be split in two thus giving you the chance to get 6 of a kind which pays twice as much as 5 of a kind.
Multiplayer Feature – Do You Like Some Competition?
Multiplayer slots let you compete with the other players for a community jackpot but note that you will be playing on a separate slot game. The community jackpot is accumulated by taking a part of each bet and adding it to the prize fund so the size of these jackpots can become utterly intoxicating. There are 3 multiplayer bingo slots that are found on sites powered by Virtue Fusion – Marine Mayhem, Clover Countdown (the multiplayer version of Clover Rollover) and Multi Balls (the multiplayer version of Bouncy Balls). We are going to tell you about Marine Mayhem, which can be found at Mecca Bingo, because this one has the most peculiar options combining features of the bingo room with regular slots. On the one hand, there's the chat so typical for the bingo rooms and the mini lobby which lets you play up to 1 side game while you are spinning the slot. And on the other, this is just a normal 5-reel 20-line slot where the Treasure Chest is the Wild Symbol. There's also the Leaderboard and the Community Reel bonus feature that need to be mentioned. To get to the Leaderboard you have to gather some points by playing and winning lines. The top 15 players will be displayed on it in each game. The Community Reel is spun every 3 to 5 minutes and there will be a clock counting down the minutes till the spin. Depending on the colour of the 7 that appear on this Community Reel the top 10 players will share a percentage of the jackpot. Any three 7's will bring 20% of it which is the minimum and 3 gold 7's will grant 100% of the jackpot which obviously is the maximum.
Marine Mayhem
Multiplayer Slot
5 Reels
20 Paylines
Leaderboard
Community Jackpot
Chat Feature
Mini Game Lobby
Come first on the Leaderboard and win the Community Jackpot!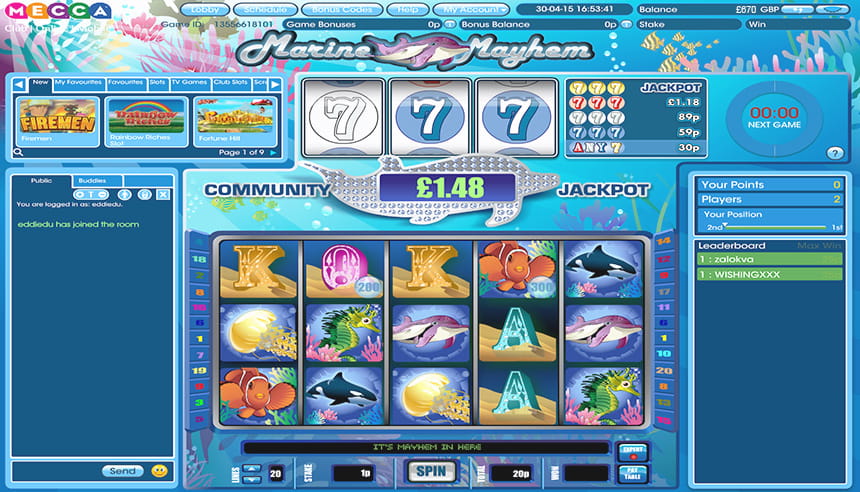 Slots with Gem Stones
This category is devoted to the slots that use gem stones as symbols. We cannot make a big summary of the typical features of this group because the only common thing between them are the symbols but we found out there's a big interest in gem stone slots like Bejeweled, Starburst, Davinci Diamonds and so on. Our pick in this category is DaVinci Diamonds which is developed by IGT and is featured on many sites including Betway. The game may seem surprisingly simple compared to other slots with bonus rounds or innovative graphics because the only special thing in this slot is the Tumbling Reels feature. But this simplicity is also what many players like because they are either newbies or just want a break from the "fancy" slots. Anyway, Da Vinci Diamonds is a 5-reel 20 paylines where the icons are classical paintings by Leonardo Da Vinci like the famous Mona Lisa and some sparkling gem stones like emeralds, rubies and golden stones. The Renaissance feel is reinforced by music in the Free Spins bonus round which is activated when 3 Bonus Symbols land anywhere on the reels. Initially you will receive 6 Free Spins but you can re-trigger them during the feature. The Tumbling Reels feature is activated when you have a winning combination. The winning icons will explode and disappear while the remaining symbols will tumble and new symbols will drop into their place. This way you can win more with a single spin.
DaVinci Diamonds
5 Reels
20 Paylines
Tumbling Reels
Free Spins Bonus
Re-Trigger the Free Spins
Renaissance Theme
Enjoy the Tumbling Reels
feature for more winnings with a single spin. Every time you have a winning combination, the icons explode and new symbols
appear!
The Biggest Jackpots Ever Won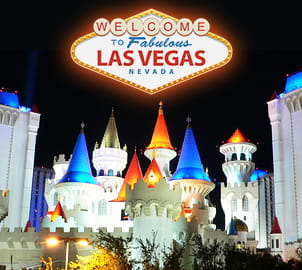 And if what you need another reason to love slots, here's a convincing one. We are going to present you the biggest jackpots won online and offline below. One of them even has won a Guinness World Record. We are referring to the £15,143,600 jackpot won on the Mega Fortune slot at Paf.com by a player who decided to stay anonymous. Thus happened on the 20th January 2013 and the lucky winner bet only 18 pence to sweep this gigantic jackpot.
The other record-breaking jackpot was won in the Excalibur Hotel in Las Vegas on 21st March 2003. The winner, again, remains anonymous but we know that he is a 25-year-old software engineer who comes from Los Angeles. He grabbed the jackpot of $39,713,982.25 which is also the biggest ever Las Vegas jackpot. According to a press article, the winner had played about $100 on the slot when he looked away from the slot for a moment and next thing he knew the winning symbols were lined up. This is what we call get rich in the blink of an eye.
Top 2 Online Casinos With the Best Offers
In case you find yourself more and more interested in the slots section of the bingo halls, you should know that the variety of fruit machines offered in the online casinos is much bigger. So you may as well check out a few offers before you go on. Here we offer 2 of the biggest names in the UK and the best part is that you are already familiar with their quality because of their bingo platforms.
The first one is 888 Casino where you will get £88 just for opening a new account and then your first deposit will be matched with a 100% bonus up to £100. You can play the games instantly in your browser or if you'd prefer to have a quick access from your desktop you can download their software. They have more than 120 slots (compared to 41 at 888 Ladies) and the biggest jackpot to be won is £8,888,888. Some of the slots you will find in the casino but not on the bingo site are Twin $pin, Batman, Iron Man and many more.
And the second recommendation we have for you is Sky Vegas, where the no-deposit offer is just a tenner but the 200% welcome bonus can reach up to £1,000. There's only a flash version of this casino, so you cannot download their software. The number of slots here is even more impressive – more than 200 games make for a variety you will rarely find elsewhere. The biggest jackpot rockets to £850,000.
Beginners Dictionary – Use Your Words
If you are a newbie, you will be probably staring blankly at the screen for a while before you figure out what all these scatter and wild symbols do, what RTP is and how all the features and options work. Don't be frustrated, it's not rocket science, you just need a dictionary. So here's a crash course in slots vocabulary. Learn the basics and you'll see the games will become more interesting. Otherwise you are just pushing the spin button aimlessly until you win.
---
Autoplay – This is a rather new option that lets you choose a number of spins and the machine would automatically carry them out for you. You can also adjust the settings so that the free spins would stop if you win a certain amount. Or you can stop the auto spin function at any given moment manually.
Bonus Feature – These are all extras the slot can offer – special symbols that award free spins or multiply your winnings, expanding symbols that activate more winning combinations and so on.
Bonus Game/Round – When a certain sequence of symbols line up in a special winning line you the regular slot game stops and you start playing a bonus game that is themed like the slot. These games bring additional cash and are super fun to play. You should know that not all slots have them though.
Gamble Option – This one makes winning even more fun because you are offered to bet your winning on the suit of a card or the outcome of a coin flip. If you guess correctly, you get the double of your winnings. If you don't, you get nothing.
Payline – This is the order in which the winning symbols should align so that you grab a prize. The old slot machine had only 1 playline but now most slots online have 25 lines which gives you better odds of winning. You can find some with up to over 200 ways to win, and you see that the more means the better.
Progressive Jackpot – Jackpots that keeps accumulating until it's won. Often they are linked so the payout amount can be pretty impressive.
Reel – Nowadays these are the columns that spin on your screen. In the classic slot machines these were discs that span inside them when you pulled the handle. The classic slots used to have only three reels but modern-day ones have 5.
RTP – Return to Player – This is the percentage of money paid back to players over a significant period of time. For example a slot that has a 98% RTP and costs £1 per spin will give back £0.98 and keep £0.02. Just don't mistake it for the notion that this number shows you how much you personally will win.
Scatter Symbol – Scatter symbols activate winning combinations wherever they are on the reels. They can also multiply winnings or activate free spins.
Wild Symbol – This is like the Joker in slots. The wild symbol substitutes for all other symbols in a winning combination.