A Bingo Game without Balls
You may think that online bingo has introduced a lot of new bingo variants but this is not exactly the case. Yes, there are many different bingo rooms based on TV shows like Coronation Street, Britain's Got Talent but they have the same rules as the regular 90-ball game and a few extra features whereas Joker Jackpot bingo is a real novelty. Not only is it played with cards, but the ticket is completely different. If it seems like something you'd like to try but don't know if you can follow the game, read our article and learn the rules. We've also included another bingo game played with cards that is a nice change from the traditional 90/75-ball rooms.
How to Play Joker Jackpot Bingo ?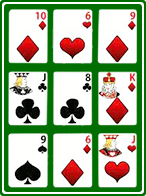 This game is played with playing cards instead of bingo balls, namely 52 cards and 2 Jokers. When you purchase your tickets you will be given 9 cards from this deck. In this game the ticket is actually called a "hand" which is basically a square with 3 rows and 2 columns. Also, the traditional bingo strip here is a "deck". The deck consists of 6 hands by 9 cards which makes 54 so that you have all the possible cards plus 2 Joker cards in it. When you've bought your tickets and the game starts another deck will be dealt and you will be aiming at matching the cards in your hand to the the cards dealt. The tickets often cost 20p each but sometimes they may be more expensive if you compete for a bigger prize. The prizes, in their turn, have a set amount i.e. guaranteed amount but the final number is determined by the "hands" sold for the game. For example games with hands at 20p usually bring a £20 prize. The £20 are split for the two prizes for the J pattern and for the winning hand, say £5 for the pattern and £15 for a coverall.
Depending on the decks and hands purchased the prizes may double up or increase by a few quids. Joker Jackpot bingo has only 1 type but there are 2 prizes as you already saw. You can also see the J pattern in our example hand, basically you need to cover the middle column and the left bottom card or 4 cards in total. The other prize is for a Full Hand where you match all the cards on your ticket with the ones called out. On top of that there are 2 special jackpots to sweeten up your play even more. The first one is a fixed jackpot – the Joker Jackpot that can be won if you have a Full Hand in 16 calls. The second is a progressive one – the Super Joker Jackpot and it is awarded when you have the winning hand in 14 or fewer and the last one you cover is a Joker.
Another Bingo Game with Cards – Bingo Snap
In Bingo Snap the hands consist of 5 cards in one row. You can purchase up to 5 hands per game which will be revealed immediately after your purchase. Then when the game starts the dealer will be dealing one card at a time. When the cards match in sequential order the letters S,N,A,P and ! will appear on them. If you match your full hand you will have SNAP! and you will win. This is only one of the ways to win SNAP bingo but there are two more. You can either get a poker hand bonus if the five-card ticket you choose makes one or you can win the Fixed Game Jackpot if you get SNAP! in a certain number of cards called out by the dealer. This number is not fixed like in the regular bingo games. It changes for each game and you will see it in brackets next to the Jackpot amount. If you win the fixed JP you also get the game prize jackpot. The Return to Player (RTP) in this game varies between 80.99% and 85.45% which is a great result for a bingo game.
Where Can I Play Those Games?
We've chosen 2 sites where you can play Joker Jackpot bingo and 2 where you will find bingo Snap. We'll start with Joker Jackpot. The rooms on both sites are networked which means the schedule is the same and the price of the tickets is the same. So how do you chose? Well, this is where our experience in online bingo kicks in. We will give you a short summary of the highlight of those two operators. The first one, Titan Bingo, was launched in 2014 and quickly turned into a favourite of many players because of its animated design and the Bingo Bunch. Joker Jackpot is one of the VF branded games included in their games portfolio together with Lucky Numbers Bingo and Deal or No Deal Bingo. You can see in the table that you will get a combined welcome bonus so it's good to know what you will find in the slot section. And the collection is a nice one – Zodiac Supernova, Dynamite Digger and the big jackpot Clover Rollover, Iron Man, the multi-player Marine Mayhem and many more thrilling games await. Then come Ladbrokes who've been in the business significantly longer and their reputation is impeccable. Besides Joker Jackpot Bingo. Lucky Numbers and DOND the special games include WWTBAM. The slots selection can brag the X Factor slot, Britain's Got Talent and Boncy Balls amongst others.
Top 4 Sites Where You Can Play Joker Jackpot
Bingo Operator
Year of Launching
Welcome Bonus
Bingo Game
Price of Tickets
Room Open
Rooms
.Ladbrokes

Read Review

2006
£40 for Bingo £10 for Games
Joker Jackpot
10p – 50p
12pm – 12am
1
.Titan

Read Review

2014
£20 for Bingo £20 for Slots
Joker Jackpot
10p – 50p
12pm – 12am
1
.Sun

Read Review

2008
£30 for Bingo
Snap!
1p, 2p, 5p, £1, £2
24/07
4
.Fabulous

Read Review

2011
£20 for Bingo
Snap!
£1
6pm – 12am
1
Click 'Play bingo!' to view the offers' full T&C's.
The other two sites we've decided to present have included bingo Snap in their lobbies. Sun Bingo, which is an official site of The Sun newspaper has not just 1 but 4 bingo Snap rooms. Each of them sells tickets at a fixed price throughout the day and you will find them in a special tab in the schedule. There are 3 cheap rooms, the Mississippi room offers tickets at 5p, Rio doubles that to 10p and in Atlantic City the price is 20p. The other 2 rooms Sun City and Las Vegas are bit more expensive, respectively £1 and £2 per hand. The Fabulous Bingo has only 1 room Madrid and all tickets there cost £1.
Joker Jackpot or Bingo Snap – Why Not Both?
There's no need to choose a game when you can play both of them but we just wanted to make a quick comparison of their features so you see at a glance the advantages of each one. The first obvious difference between the bingo specials is the developer. Joker bingo is developed by Virtue Fusion whereas bingo Snap is a Gamesys creation. So you will find each game in the respective network of the software provider. While both variations use cards instead of balls the rules are quite different. Joker Jackpot requires you to either daub a pattern or get a Full House whereas in bingo Snap you have to match the cards in your hand to the called out cards or be lucky enough to purchase a poker hand that will bring a bonus. And remember no matter which game you choose, you will have tons of fun.
| Joker Jackpot | | Bingo Snap |
| --- | --- | --- |
| | & | |
| Virtue Fusion | Developer | Gamesys |
| yes | Networked | no |
| 9 | Cards per Hand | 5 |
| 3 | Chances to Win | 3 |
| Fixed and Progressive | Jackpots | Fixed |
Thanks God football is boring!
Winner Name

Lisa Pottere

Jackpot

£1.3 million

Operator

Ladbrokes
Ladbrokes Crowns a Bingo Millionaire
A very bored woman was instantly cheered up when she realised she won £1.3 million at Ladbrokes while her partner was watching football. Lisa Potter, 33, decided to distract herself with some bingo because the TV was occupied by her boyfriend Terry who was watching the European Championship. She turned on her laptop and when she saw the progressive jackpot she bought a ticket for one of their games. What was her surprise when she found out that she won more than a million pounds a few minutes later. She said she couldn't remember much about the very first minutes after she won the jackpot because everybody was screaming, her kids came from their rooms and started jumping up and down. The check she received from Ladbrokes equalled to exactly £1,364,745.23 and Lisa said the the first thing she was going to buy is a new house and a car. And who wouldn't?
FAQs
Can I keep playing with the same cards in every game?
Unfortunately not. But this shouldn't surprise you because it is only a measure that aims enduring fair and random results. The decks and hands are changed after each session and each of them has a unique code in one of the corners to guarantee transparency.
What is a networked bingo room?
This is a room that hosts games across a whole network not just a single bingo site. In such case the opening hours are the same, the price of the tickets is the same and the jackpot is accumulated from tickets sold in all networked operators thus you can expect bigger prizes. Also, you will meat buddies from all sites in the chat room during the bingo session.