Choosing the Right Bonus on a Flooded Market the Easy Way
With so many welcome offers how do you know which one is actually advantageous? Well, maybe this is an example of "When in Rome do as the Romans do". We decided that we will conduct a survey amongst our readers monthly asking: "What is the best "up to the minute" bonus for new players?" This is the best way to be objective and provide an unbiased ranking that reflects the opinion of real players. Now, let's have a look at the results.
In December 2018 our bingo community ranked the bonus at 888 Ladies as the hottest bingo offer on the Internet. But rest assured that your outstanding gambling experience is guaranteed at each of the selected operators which were tried and tested both by regular players and industry experts.
This month more than 170 players have voted for one of the operators in our Top 6
| Site | Offer | Promo Code | Extra |
| --- | --- | --- | --- |
| 888 Ladies | £60 | WIN70 | + 3 Days of Free Bingo Games |
| Tasty | £50 | TASTY60 | + 50% on Every Re-deposit |
| Landmark | £50 | N/A | + £15 No-deposit Bonus |
| Gala | £25 | N/A | + Free Emmeralde Mug |
| Foxy | £30 | N/A | + £5 Free Play |
* If you want to take part in it, just click here. We recommend that you read the sites' T&C's carefully, before using them.
Advantageous Offers That Require a Deposit
The first and most important thing to know when you claim an offer is what type of bonus you are given because the requirements may differ quite a lot. We will start with the deposit-related promos because virtually every site has one. Usually you get them on top of your first deposit and their amount may be fixed or dependent on the amount of your deposit. If it is a fixed sum, which is usually no more than £60, you will not get more even if you make a bigger deposit. However, if it is calculated as a percentage given on your cash, you may claim up to a couple of hundred quid if you are willing to spend more. Another type is the welcome bundle for newbies where you are rewarded not just for your first deposit but for the first three deposits. This offer can be found on sites powered by Cozy Games and is very appropriate for players who are willing to deposit more in order to receive more. And in case you are tight on cash, or you are a newbie and you just want to get the feel of online bingo, there are some websites like Paddy Power that give bonuses on £5 deposits. At Paddy you get £35 on top of your fiver. Of course, this sum is not so big but proportionally it is commensurate with the regular bonuses given on a £10 deposits. We'll have a closer look at the combined bonuses and those which require a special code below but before we do that let us give you a few pieces of advice based on our experience.
Good to keep in mind:
Wagering Requirements – Note that the bonus itself is always non-withdrawable which is quite understandable. You always have to fulfil some wagering requirements before you request a withdrawal when you've claimed an offer. Normally for bingo these are 4 times the bonus + the amount of your deposit. But Wink Bingo have a lower playthrough requirement that is only 2 times the bonus and the deposit. Gala go even further and require you to wager 2 times only the amount given on top of your money prior to cashing out.
Expiry of the Bonus – Not surprisingly, the welcome offer can be claimed if you make a deposit within a certain period of time – usually a week or so. It also expires if you don't use it for a some time. The time varies, but it's usually around a month.
Eligibility – The first and most obvious requirement is for you to be over the legal age for gambling in your country and since we're in the UK this is 18. But take into account also that the welcome promo can be claimed only by 1 person/shared IP address/account/household. This means that unfortunately if both you and your partner use the same computer, you will get only 1 welcome bonus.
Use of Bonus Funds – Sometimes you can use them only for bingo games and other times you can play side and casino games as well. Some sites will let you play only in certain bingo rooms with the bonus money.

• Exclusive Voucher Codes for Our Players
Bonus codes are the perfect way for the operators to monitor the results of their marketing campaigns. And as for the players, these codes give you the chance to claim a bigger bonus. There are 3 ways to get your hands on a special promotion coupon:
• Our Top 3 Premium Operators
888 Ladies – Use one of our special promo codes WIN70 when you open your account to claim the 1st deposit bonus. Take £60 when you make a £10 deposit instead of the regular £50. We've reviewed this operator in a more comprehensive article, but here's the quick-read summary. The operator can offer 90-, 75-ball and 5-line rooms that suit every budget. There are even free games and penny games. The slots section is also very rich. You will find Fluffy Favourites, Shaman's Dream and the X Factor Steps to Stardom amongst other exciting games. You may wonder why we decided to start with 888 Ladies when you see the other 2 offers, because they are as are as tempting as this one. It is because 888 Ladies performed slightly better in two categories. First of all, there are more casino games and the progressive jackpots can be won 1 call later than the ones at Wink for instance. You see these are hardly disadvantages of Wink, but when you work with equally brilliant sites you have to come up with some criteria. Anyway, as we were saying, there are 4 more variations of Roulette including Live Roulette which is a very special addition to any bingo site casino section. There are 2 progressive jackpots. To win the 75-ball PJP bingo on the Champagne glass pattern in £35 calls or fewer in the Studio 75 room between 7:15pm and 11:15pm. The 90-ball PJP is available in all 90-ball rooms, you just have to get a Full House in 38 calls or fewer.
888ladies

Offer: £60 Welcome Bonus
Exclusive Code: WIN70
Variations:

90/75/5-Line

90-Ball Progressive Jackpot:

in 38 calls or fewer
Foxy

Bonus: £30
Special Extra: £5 Free Play
Variations:

90/75/5-Line

90-Ball Progressive Jackpot: in 44 calls or fewer
Tasty

Bonus: £50
Exclusive Code: TASTY60
Variations:

90/75

90-Ball Progressive Jackpot: in 36 calls or fewer
Full T&C's apply, Click 'Claim Your Bonus' to learn more.
Foxy – £5 on free spins plus a 300% on your first deposit of a tenner – isn't that a sweet deal? Of course, we have a thorough review of Foxy Bingo you can check out, but here's the most important. The variations offered are 75- and 90- and 5-line, and there are many rooms open during the day plus the big games you can pre-buy tickets for in advance. Of course, there are progressive jackpots too – two of them. The 90-ball PJP is played in every room except for the guaranteed jackpot games. Call a full house in 44 calls or fewer and it's all yours. The second PJP is played every time there is a bingo game with the Lucky Stars pattern. Just cover it in 46 calls or fewer and claim the huge jackpot.
Tasty – At Tasty you will get a £50 bonus with the bonus code TASTY60. Deposit a tenner and it's all yours. The variants here are 75- and 90-ball bingo and again there are 2 progressive jackpots – the 75-ball Banana Split and the 90-ball Chocolate Sundae. These jackpots are available in every room which highly increases your odds of winning them. To grab the first one, bingo on the Banana Split pattern in 26 calls. The second one requires you to get a full house in 36 calls or fewer. If you want to know more about Tasty, have a look at this page. And let us give them credit for the community section of the site because you will find more than just a blog and some bingo lingo. There are actually cooking recipes that come with a video – figure out your dinner while playing exciting games.
Wink – Not less impressive, Wink also offers £55 welcome bonus to our players with the promo code BEST. There are many rooms where you can play 90-ball, 75-ball and 5-line games and the tickets prices range from 0p to 10p which is very affordable. Only the cards for the big games that you can pre-buy reach a pound but more often they are around 25p. 2 progressive jackpots can be won – the 75-ball Moneyball that is played in the Hangout between 7pm and midnight. Bingo on the Moneyball pattern in 34 calls or fewer to win it. The 90-ball progressive jackpot can be found in every 90-ball room, you just have to bingo in 37 calls or fewer. Learn more about those jackpots here.
• Combined Welcome Offers for Slots and Bingo
Some sites separate their bonus in two parts – one for bingo tickets and one for side games and slots. There are both some advantages and disadvantages to this division. On the one hand, you get a taste of all the games on the site, not just bingo. But on the other hand the wagering requirements on casino bonuses are much much bigger compared to bingo. We've seen sites that require you to play the money through 99 times in order to cash out any winnings but most go as far as 20 times the sum which is given on top of your deposit. Some sites that offer combined bonuses are Ladbrokes and Titanbet, others like Foxy and Mecca have specially designated promos for slots which are not part of the sign-up package.
How to Play Without a Deposit?
There are still some of those left after the change in the law. Some sites are already popular enough so they can afford this investment and others just prefer to make the transition period smoother or see the free welcome bonus as an inevitable expense to attract players. Whatever the reason, the no-deposit offers are very much welcome. We will devote a special article where we will dwell on the subject in more detail but let us provide you with some basic tips. You are very unlikely to find no-deposit offers on Virtue Fusion sites unfortunately. However, most sites running on Cozy Games software and some sites from the Cassava bingo network have free bonuses between £10 – £15. Of course, these free money come with certain provisos you should know about.
Good to keep in mind:
Bonus Funds: The free money is actually not real cash. The offer is bonus cash which can only be used to purchase tickets but any winnings are in real cash.
Winnings: Your winnings with this no-deposit bonus will most probably be capped at around £30 once the offer has expired.
Deposits: Don't be surprised if you have to make a deposit before you are allowed to withdraw the winnings from the free offer.
Limitations: Quite often you are allowed to play in a number of bingo rooms, but not all of them, and the tickets you can purchase will be limited.
Networked vs Exclusive Promos
The difference is that the networked promos run throughout the entire network of the software provider while exclusive offers are available only on 1 site. Both have their benefits and drawbacks. One bin advantage of the network promotions is the fact that more people take part and the jackpots can reach astonishing numbers plus the sites can offer more deals compared to running them on their own. The obvious disadvantage is that if this promotion requires you to compete with other players to win the prize, there will be thousands of entrants and you will have slimmer chances. But if we are talking about a bonus that is run throughout the network, it doesn't matter. It's equally advantageous for all players.
Extra Features to Benefit From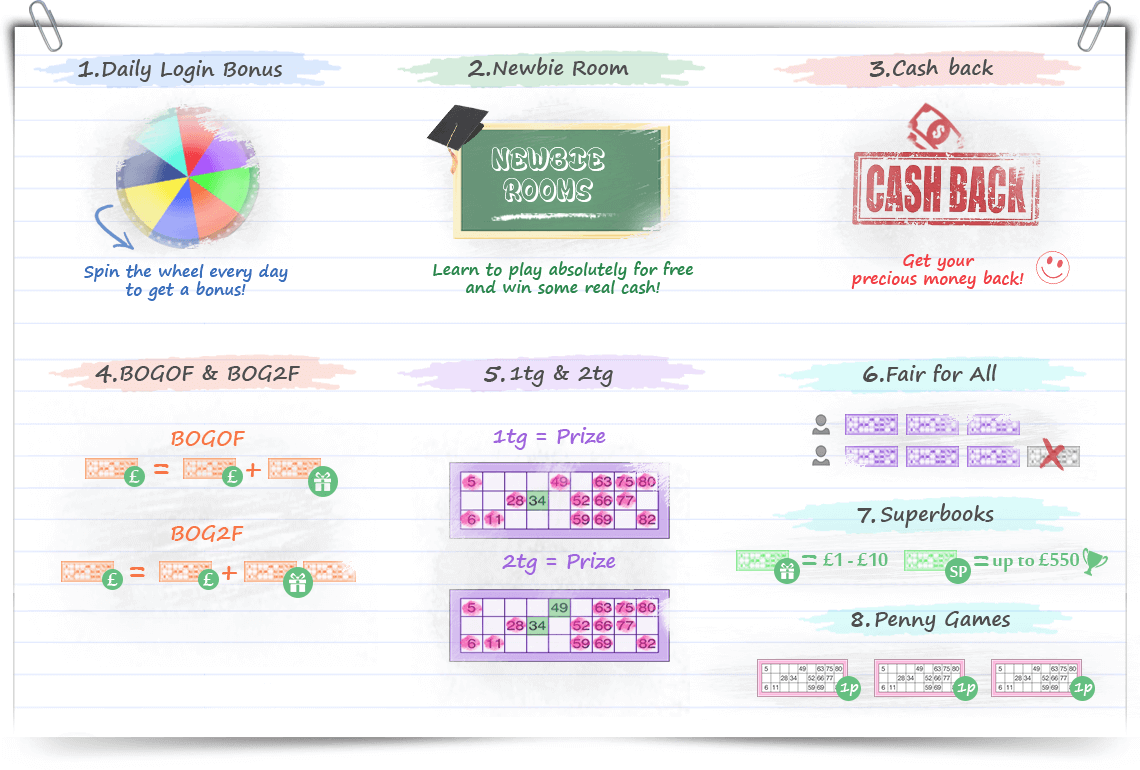 Often the bingo games have an extra feature that is added so that fewer people will finish the game empty handed. Virtue Fusion bingo sites have more features than the other sites, but you will find 1tg/2tg games on other sites also.
Community Perks – Be Socially Active
The more communicative you are, the more bonuses you will get. Everybody knows bingo operators have Twitter accounts, Facebook pages, blogs and special Loyalty Programs which all aim to bring together the community and to make you feel like you are a part of a group with the same interests and goals. The fact that those social features reward you with many different promos and bonuses makes it even sweeter to be social. Below we are going to present you the most widely liked and most widespread community promos on the different sites.
Blog Promos – follow the posts of the operators to get your hands on some nice promos. You will find promo codes, happy hour promos and much more. The bonuses are usually paid out in bonus cash or loyalty points but still they give you the opportunity to play a few more games.
Contests – Have you hear of the Pet of the Month or Roomie of the Week contests. The first one is great for those of you who have cute pets, just make a picture and send it to the operator. The second contest is a bit harder to win, you have to be nominated by one of the chat hosts for the roomie who has been most active and treated the others with respect during the last month. The prizes are tens of thousands of loyalty points.
Facebook/Twitter Bonuses – When you like the FB or Twitter account of the operator you get around 1,500 LPs. But that's not it. If you follow their accounts, you will be able to get your hands on extra bonuses by commenting on photos, posting something with a special hashtag or they will provide promo codes that are active only for limited time.