A Much Quicker Bingo Game
What's quicker than a 90-ball game and gives you better chances? The 80-ball games of course. They used to be played in between the main bingo sessions in the land-based clubs because they were much more speedy. The reason for that is that is that the ticket is coloured so that each column has its own colour. When the caller has to announce 18 it could be easily mistaken for 80 but if it's preceded by a the colour red, you know it's 18 for sure because the numbers in the first column are always between 1 and 20. Saying "red seventeen" is much faster than saying "one and eight – eighteen". The experts say a call in the 80-ball rooms takes 1.5 seconds which is much faster compared to the traditional calling that uses the bingo lingo and takes around 3 seconds per number. In this article we've gathered all the rules and tips for the online 80-ball bingo games.
80-Ball Bingo – Rules, Tickets, Winning Patterns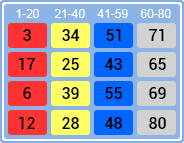 Each ticket has 4 rows and 4 columns but there are no free boxes – each one is numbered. So you have a total of 16 numbers per ticket. A strip in this games is made up of 5 tickets which equals 80 numbers. The strip has all the possible numbers between 1-80 and cannot have the same number twice. The columns on the card are usually coloured as we already mentioned so that you can easily find the numbers. The first one is red, then you have yellow, blue and finally there's the white or silver column. Our example ticket shows the distribution of numbers in each column. The first one is for numbers between 1-20, the second one is for numbers between 21-40 and so on.

There are quite a lot of ways to win in 80-ball bingo. You can either compete for 1,2,3 diagonal, vertical or horizontal lines and a coverall like in the 90-ball games, or you can try to cover a pattern like in the 75-ball games depending on the room and operator you are playing at. Often there are prizes if you cover the 4 corners or the 4 middle squares. Some operators may have all the game types, others may award you just for one type of the winning combinations but worry not, the patterns be shown next to the prizes so you know what you're aiming for.
The Best Sites to Play 80-Ball Games At
You will find 80-ball bingo on sites running on Virtue Fusion, Cozy Games or Gamesys software. And although only Virtue Fusion have walked the extra mile to come up with a game that has many options and winning combination, the other 2 providers offer the online equivalent of well-known land-based interval game that you all have played before the main session. Some of the most popular operators running on Gamesys software are Fabulous, Sun and Heart and the 80-ball games there come with a progressive jackpot as well. Cozy Games power sites like Little Miss, Bobs, Comfy and Scrummy where the 80-ball room offers a £1,000 Super Jackpot.
We have cherry picked 4 bingo sites which we want to present to you because we think their 80-ball bingo rooms are best-liked by the bingo community. This combined with their welcome offers make for a supreme quality of your gaming experience. If you miss the 80ies with their jackets with shoulder pads, Madonna and hairstyles with ridiculously big volume, Gala have the perfect room for you. 1980 Club is themed on this crazy decade and is a great place to vary your play. The tickets cost 10p and the Full House prizes vary between £20 and £50. 4 types of the game are played where prizes are given for: Any Single Line, Any Line and a House, Any Line, Columns and a House or FH and Patterns. There's one more room at Gala where you can play 80-ball bingo – the Allsorts room which offers mixed games (90/75/80-ball and 5 Line Bingo) and the Exploder progressive jackpot that can be won if you bingo in 32 calls or fewer. The welcome bonus for newly registered players is £25 on a deposit of £10 plus a free Emmeralde mug.
The Best Sites to Play 80-Ball Games At
Click 'Play bingo!' to view the offers' full T&C's.
The other 3 sites we've chosen are Landmark, Mecca and William Hill. Mecca Bingo have the Cashline 80-ball room which is an interval game known from the clubs. You can find all about it in the paragraph below just let us tell you that the welcome bonus is £40. Landmark have the London Hall where the tickets start at 10p and you can compete for 2 jackpots. The Snowball can be won in 35 calls or fewer and will give you £1,000 and the Grand PJP is a progressive jackpot that starts at £1,305 and can be won in 25 calls or fewer. Also, for every 5 tickets you buy you get 2 free tickets. And finally, William Hill have 1 special 80-ball room and 2 rooms for mixed games. Go to the Party Room and enjoy 3 types of games: Lines, 4 Corners, 4 Middle Squares (+Full House), 1,2,3 Columns and Full House. The Cash Cake is the fixed jackpot of £250 in the Party Room that can be won in 36 calls or fewer. The other 2 rooms – Time out Tavern and Variety host 75/80/90 games.
A Standalone 80-Ball Bingo Site
Tombola is another favourite bingo site but it is not part of any network. Their software is developed in-house hence the different options in the rooms. Bingo 80 is the room where you will be able to buy up to 4 boards (tickets), each priced at 25p. So far so good, what's different, however, is that you can set your preferences to manual daub so that you have to close the shutter of the called out numbers by hand. But don't worry, even if you miss a number or two because the system will automatically call Bingo for you in case you've got a winning ticket. You can also chose between 2 chat rooms – Cream or Peach, alternatively you can choose not to chat at all. It should be mentioned that unlike other bingo sites where if you are not the only winner, you will have to share the prize with the other players, here each of you is given the full amount of the jackpot. Cover all your boxes in 45 balls or fewer and you'll get £500 even if another player was as lucky as you.
How Was This Variation Invented
In the land-based clubs this used to be a shutter board game so rather than marking/daubing the called out numbers you would close a slide to hide it. Even nowadays on the online bingo sites the boxes are not daubed but greyed out to imitate the sliding of the shutters. The interval 80-ball games usually took place before the main session and as we mentioned in the first paragraph they were more fast-paced. Take for example Gala Bingo. The average 90-ball bingo game there takes about 3 – 4 minutes compared to just 2 – 2,5 minutes for the 80-ball sessions.
The First Online Bingo Millionaire
From 60p to a million in just a few minutes!
Winner Name

Pauline Clarke

Jackpot

£1 million

Operator

Gala
2007 was the year when online bingo crowned its first millionaire. The 62-year-old pensioner Pauline Clarke, won £1,000,000 at Gala from their KerChingo promotion. This was the first online bingo game ever to guarantee such a big prize and the rules for the game said that a tie is not possible so there would be only one winner.
Pauline, who told later that she had been playing bingo only in land-based clubs with her late husband, decided to give online bingo a go and funded her Gala account with £5. Two months later she redeposited another fiver and when she had just 60p left in her balance she bought a ticket for a qualifying game for the KerChingo jackpot.
She won this game but that wasn't all. On the finals there was a tie – another player called bingo at the same time and they had to play one more game where the first player to call a line would win the million pounds. Mrs Clarke from Brislington, Bristol had a line and later when she was interviewed for the Telegraph she said her heart was still racing and she was absolutely shocked. And we believe her, the odds of her winning were very slim, she actually beat 15,000 players to get this prize. Well, this is quite something, isn't it.
А Recommended 80-Ball Room
As we already told you Cashline is the 80-ball bingo room at Mecca that is open from 8am till 1am on a daily basis. It is just like the club game but it has one big advantage – it can be played as a mini game while you are in another bingo room. You will see it in the top left corner in the selection of mini games. The maximum number of tickets you can buy is 30 and they are available for pre-buy. As for the winning combinations, there are quite many of them. There are 7 types of games. In the first one there is only 1 prize – you compete for a House. The second is the so-called special game where you will have free boxes that you don't have to fill in to win and there is only one prize. The third is a combination of these two so you have 2 prizes – for a house or a special pattern. The 4th type is with 4 prizes for daubing 1 column or 2,3,4 columns. The 5th is the single line game, 1 prize for any horizontal, vertical or diagonal line. The next one is the same only with a second prize for a Full house. And finally, there's the 7th type where you have 4 prizes – for a single line, for 2 columns, 3 columns or a Full House. And that's not all, if you bingo in 40 calls or fewer, you will get the £500 Windfall jackpot.
| Cashline | | London Hall |
| --- | --- | --- |
| | & | |
| Virtue Fusion | Software | Cozy Games |
| 7 Types | Winning Combinations | Lines & Full House |
| Windfall | Jackpot | Snowball & Grand PJP |
| yes | Strips | no |
| yes | Coloured Tickets | no |
FAQs
I've heard there's 80-ball bingo I can play on Yahoo. Is it any different?
Yes, there are indeed 80-ball games offered by Playsino you can play at Yahoo Bingo, on you Kindle, on Facebook or on your mobile but this is not a gambling game. This is a "free" game where you play for fun and if you'd like to upgrade your account with some extra features you can make a deposit and get them with an in-game purchase. Bonuses are given out on your deposits but they merely guarantee more play and some virtual goodies but no winnings can be accumulated from this game. So yes, you can play 80-ball bingo on Yahoo but it would be just a game for fun that you are paying for without the chance to win something.