Choosing The Best Mobile Bingo Sites – Our Guide
Our team of bingo experts has scoured the web to find the best mobile bingo apps on the market that are developed from licensed and regulated brands, offering a seamless gaming experience on all sorts of devices.
Mobile bingo games are the new craze and a favourite pastime of gamblers of all ages, so it was just a matter of time before bingo operators opted to create mobile versions of their sites. One of the best-looking apps, with great performance on all devices is the Foxy Bingo app. Further to that there's an army of alternatives to fill your time on mobile. Feeling lucky? Well, having a great choice may cut both ways. You may find yourself faced with thousands of options but finding the one that both suits your taste and work on your mobile is not as easy as you think.
The table below presents the list of the apps that are likely to be the best for playing bingo on a mobile device and met our strong criteria. So, if you're going to play mobile bingo, try one of these:
Operator

Name

Offer

Welcome bonus

Software

Developer

Games

Bingo/Slots/Casino

Compatibility

Available Devices

Accessibility

Native/Web-Based

QR code

Scan

.Wink

Read Review

£55
888/Globalcom(Dragonfish)
87

android, ios, windows phone, blackberry

iOSNative/Apple App StoreAndroidHTML5/Mobile Browser
.
.Mecca

Read Review

£40
Virtue Fusion(Playtech)
113

android, ios, blackberry

iOSNative/Apple App Store/Mobile BrowserAndroid & BlackberryHTML5/Mobile Browser
.
.Foxy

Read Review

£30
Dragonfish(standalone)
91

android, ios, windows phone

iOSNative/Apple App Store/Mobile BrowserAndroidHTML5/Mobile Browser
.
.Gala

Read Review

£25
Virtue Fusion(Playtech)
81

android, ios, windows phone

iOSHTML5/App Store/Mobile BrowserAndroidHTML5/Mobile Browser
.
Read the specific T&C's by clicking 'Play on Mobile'
You Asked, We Delivered – Choosing the Best Deals
Nowadays, the majority of the bingo sites have either a mobile-friendly version or a downloadable app. If you're about to try some bingo on your phone, you might have a hard time hunting out the best deals, tailored to suit your requirements. That's why we decided to offer our helping hand and share some expert advice to help you find the best offers with minimum hassle. Our mission is to bring you the best mobile games, by taking into account the following criteria:
The Top 3 Sites Reviewed
Wink Bingo Mobile – In December 2014 Wink completely revamped their look, including the mobile platform. The renewed app offers both 90- ,75-ball games plus 5-Line Bingo in a variety of play rooms and features some of the most popular Dragonfish slots. Some of the slot titles have been added exclusively to the mobile version and can't be found anywhere else. Wink currently supports Android and iOS smartphones and tablets but players who own Windows devices are also invited to play via the mobile browser, as long as it supports HTML5. New players may sign up directly in the app to make a step closer to Wink's generous welcome offer. Don't forget to enter code BEST to get our boosted offer. With a single deposit of 10 quid, you will get £55 more to play with. Deposits and Withdrawals are possible in the app via an extended range of banking options in the mobile cashier. Wink supports the phone bill payment service and you can also fund your player account by sending an SMS or contacting the Wink's help center.
Wink – Top Provider of Mobile Bingo Games for 2016
Bingo Rooms:

25

Launched:

2013

Developer:

Cassava

Size:

2.4 MB

Network:

Joy of Bingo
Mobile Bingo:

90-, 75- ball, 5-Line

Free Bingo:

75-ball, First Three Days

VIP Games:

Yes, 90-ball

Ticket Prices:

2p – £2

Side Games:

Slots & Casino
Deposit Limits:

per Transaction, Daily, Weekly, Monthly

Live Chat Support:

Directly from the Bingo Rooms

License:

Gibraltar/Gambling Commission

Banking:

visa, mastercard, paypal, neteller, ukash, paysafecard
EGR Award'Operator of the Year 2013′
Agree to Wink's T&C's first. Click the link to view them.
Mobile:

iOS, Android, Tablets

Software:

Virtue Fusion

Welcome Bonus:

£40
Mecca Bingo – that's one of the bingo operators who always come up with some innovative ideas. Mecca is the first to present a mobile-friendly version of their website. They have put some extra efforts into creating the three bingo apps, including the 90-ball real-money app, the 'Cashline' and the Bin-glo Free App. The 90-ball Mecca bingo app provides access to all popular bingo games with jackpot prizes as seen on the desktop version. The app is available for Android and Apple devices, offers a chat feature and deposit and withdraw options. Plus, you can register an account straight in the app or pre-purchase tickets, effortlessly. Newly-registered players are tipped with a 500% welcome bonus, so if you deposit a tenner, you get £50to play with. As long as you're active in Mecca from your mobile, you keep earning Play Points, which can be later redeemed for cash or playing the 'Balloonies' and win great prizes.
Mobile:

iOS, Android, Tablets

Software:

Dragonfish

Welcome Bonus:

£30
Foxy Bingo – It is available for Android, Apple and Windows devices. A downloadable version is at hand for the iOS users, but if you don't want to burden your phone memory, you can access the site through your phone's browser. TheFoxy app is compatible with Android and Windows handsets, where you can play instantly from the browser as long as you have good internet connection. Foxy bingo mobile boasts 40 mobile bingo rooms with a good range of 75- and 90-ball classic delights. You can pre-buy tickets, chat, play instant games and be part of the Foxy Community, without being tied to the PC or laptop. If you're new to the site, you will get 300% play money in return of your first deposit of just £10 and a totally free £5.
Mobile Sites, Native and Hybrid Apps – What's the Difference?
Mobile bingo industry has changed for the past couple of years and now gamblers have the luxury of playing their favorite games on the go. Mobile gaming has totally changed the way people spend their leisure time and the players' interest in mobile gaming has risen significantly. Claire Osbourne, the Head of Digital Operations at Mecca Bingo, says that up to half of the people who play on their mobiles have registered via the phone and play exclusively on their mobiles. Generally, the players are offered with two options of accessing the sites – either offline, via the native bingo apps or instantly from their mobile browsers. Native apps are usually developed for a specific device and should be installed. They have full access to all your device capabilities, including camera, GPS, data storage etc. The native apps are available even in offline mode, work faster and provide enhanced graphics, which is a key factor for having a flawless user experience. Native apps are quite expensive to be developed and there aren't many bingo operators that can afford this investment. Instead, many providers would rather choose the fully-responsive mobile sites, providing exactly the same experience as on the desktop, without the need of downloading any software. The mobile bingo sites are preferred over the native apps because of the convenience of offering a single product for multiple devices. The hybrid bingo apps, on the other hand, are mobile sites built in native wrappers, which are available at the Apple app store and the players often don't even know those are not native. Many bingo operators choose to offer exactly this product because those are easy to be developed and as well as maintained and have the same performance as the native apps.
Playing on iPad. What could be better than playing bingo on your iPad while relaxing on your sofa? If you have an iPad, you're a lucky fellow! Most bingo providers offer iPad-friendly versions of their sites with the same games and promotions as on the desktop. There are many apps suitable for iPads and if you want to play your favourite games, you just need to download it from the App store or use the Safari browser to play instantly. One of the best apps to play on iPad is Gala's, where the newbies can play free games with real money prizes for entire 7 days since registration. Plus, Gala have 20 bingo rooms with 90-, 75-, 50- and 80-ball games, offering the possibility to pre-purchase cards and play exclusive games, such as 'Coronation Street', 'X-Factor' bingo and 'Coconut Island'. Gala's welcome bonus is valid for players who join from their iPads too and multiplies first deposits four times.
Gala Bingo – The Best iPad User Experience
Access to 20 mobile bingo rooms
90, 75, 80, 40 and 50-ball games
Unique games + FREE Emmeralde mug for newbies

Welcome bonus:

£25

Number of games:

100+

Software by:

Playtech
Compatibility: iOS – Available for all iPad models and requires iOS 6 or later. Android – Available for all Android smartphones and tablets with Android 2.3.4 (Gingerbread) or above.
And What About the Android Devices? It seems like Android users have the upper hand over iOS and the Android-friendly apps are some of the most sought-after these days. That's the reason why most bingo brands develop products relevant to their audience and there's a huge variety of such apps on the market. Most Android apps are browser-based, so you can play directly from the browser. Still, there are some operators who've made the extra effort to create a native-wrapped app which can be downloaded on the device. Mecca is one of those brands and they have a downloadable app, providing access to 90-ball games with the same prizes as on the PC. You will enjoy unique bingo and slot games, join fantastic jackpot games and make use of the brilliant promotions for both newbies and loyal players.
Best Features of Mecca's Android Version
75/90/80-ball and special bingo variations
In-built chat and pre-purchase features
Side: 50+ slots & exclusive mini games

Welcome bonus:

£40

Number of games:

87

Software:

Playtech/Virtue Fusion
Compatibility: iOS – Available for all iPad models and requires iOS 7.0 or later Android – Available for all Android smartphones and tablets with Android 2.3.6 version or above.
iPhone. Finding a site to play bingo from iPhone is easy – there's an iOS app just round the corner and the players are literally spoilt for choice. iPhones have intuitive OS and provide brilliant user gaming experience. As long as you keep the software version of your iPhone updated, you can rest assured that the app will work properly, thanks to the similar display size of most Apple smartphones. There are many apps, which are either native or built on HTML5 with a native wrapper, so you can easily find them at the App store, where you may check some unbiased real players' reviews before start playing.
Playing on a Tablet. These days most bingo players would rather grab their tablets and play some of their favourite games, instead of being tied to their PCs. This type of bingo is a preferred pastime – tablets are larger than smartphones and portable at the same time, giving you the freedom to play on the move. It's ideal for when you're travelling or just relaxing in your bed. The majority of the mobile bingo sites can be opened through any tablet device – you can either install the app on it or play directly from the browser. Whichever option you choose, playing bingo on tablet is just as fun. Plus, it is quite affordable too – apart from the expensive iPads, there are some cheaper Android alternatives, providing decent user experience.
Most Commonly Supported Operating Systems for Tablet Bingo
Devices
Version
Code Name
Release Date
Distribution(%)

.

AndroidRead More
1.1
Beta
November 2007
—-
1.5
Cupcake
April 2009
—-
1.6
Donut
September 2009
—-
2.0 – 2.1
Eclair
October 2009
—-
2.2 – 2.2.3
Froyo
May 2010
0.4
2.3 – 2.3.7
Gingerbread
December 2010
6.9
3.0 – 3.2.6
Honeycomb
February 2011
0.1
4.0 – 4.0.4
Ice Cream Sandwich
October 2011
5.9
4.1 – 4.3.1
Jellybean
July 2012
42.6
4.4 – 4.4W2
KitKat
October 2013
40.9
5.0 – 5.01
Lollipop
November 2014
3.3

.

iOS
4.1
Baker
2010
—-
4.2
Jasper
2010
—-
4.3
Durango
2010
—-
5.0
Telluride
June 2011
1.5
5.1
Hoodoo
October 2011
6.0
Sundance
June 2012
5.3
6.1
Brighon
September 2012
7.0
Innsbruck
June 2013
23
7.1
Sochi
September 2013
8.1
Okemo
September 2014
70.1
8.2
Jailbreak
March 2015

.

Windows
Windows Phone 7
Photon
October 2010
15.7
Windows Phone 7.5
Mango
September 2011
Windows Phone 7.8
—-
January 2013
Windows Phone 8
Apollo
December 2012
33.5
Windows Phone 8.1
Blue
April 2014
50.08
Windows Phone 10.0
Katmai / Akadia
January 2015
—-
Sources: Wikipedia, Android, Neowin, Stickyeyes Commonly Supported OS by Bingo Operators
Are there Any Windows Compatible Sites? The number of the bingo apps for Android and Apple is countless, so picking a good one can be like finding a needle in a haystack. Well, that's the good thing about Windows – whenever you see a Windows-friendly bingo app, you will know that it's coming from a provider who has invested into creating an innovative mobile version of their offerings with all players taken in mind. Thus, you get access to the best mobile bingo sites out there. Windows smartphones and tablets have some advantages over the rest that will definitely boost your gaming experience. For example, Windows tablets have the snap view feature, which makes it possible to run and display multiple bingo apps simultaneously. So, if you're in the middle of a game and you need to check something else or don't want to miss the start of another game, you can do it without quitting it.
One of the best mobile sites which is fully-compatible with Windows is Landmark. Landmark bingo is dedicated to providing the best solutions for each player's needs. They optimized their mobile platform for use with Windows devices. Plus, they offer a variety of bingo patterns, including the two classic ones, played with 90 or 75 balls as well as the fast-paced 30-ball bingo. The operator is one of the most generous when it comes to welcome bonuses and the newbies are delighted with a fantastic 1150% bonus on the first three payments.
Landmark Mobile – The Ultimate Mobile Bingo Site
Same login from different devices
90/ 75/ 80/ 30/ 50- ball games
1150% Sign-up bonus bundle

Welcome bonus:

500%

Number of games:

30+

Software:

Cozy Games
Compatibility: for iOS – Requires iOS 5 or later version. Android – available for all Android devices with Android Gingerbread or later version. The app is also available for all Windows and Blackberry devices.
What about Blackberry? Believe it or not, there are many bingo sites which are compatible with Blackberry devices. Even though they're not as many as Android or Apple, still if you have a Blackberry smartphone, you can play your favourite games when you're not in front of the PC. When it comes to Blackberries, there are several options to do that. Some of the most recognizable brands offer apps for Blackberry, including Tombola, Foxy, Paddy Power and Comfy Bingo. Mecca has a dedicated Blackberry app, where you can play slots and casino games.
Why Is Mobile Bingo so Popular?
It has risen dramatically in popularity over the past few years and mobile gambling is now the fastest-growing market in the UK. To be more specific, the number of players who bet from their mobiles has increased up to 43% by the second quarter of 2014. According to statistic reports from Google Statistics, the most searched word from a mobile device is 'bingo', with over 18 000 searches per month, where 30% is contributed from mobile devices and 17% from tablet computers. The numbers speak for themselves and show the huge interest in mobile bingo gaming.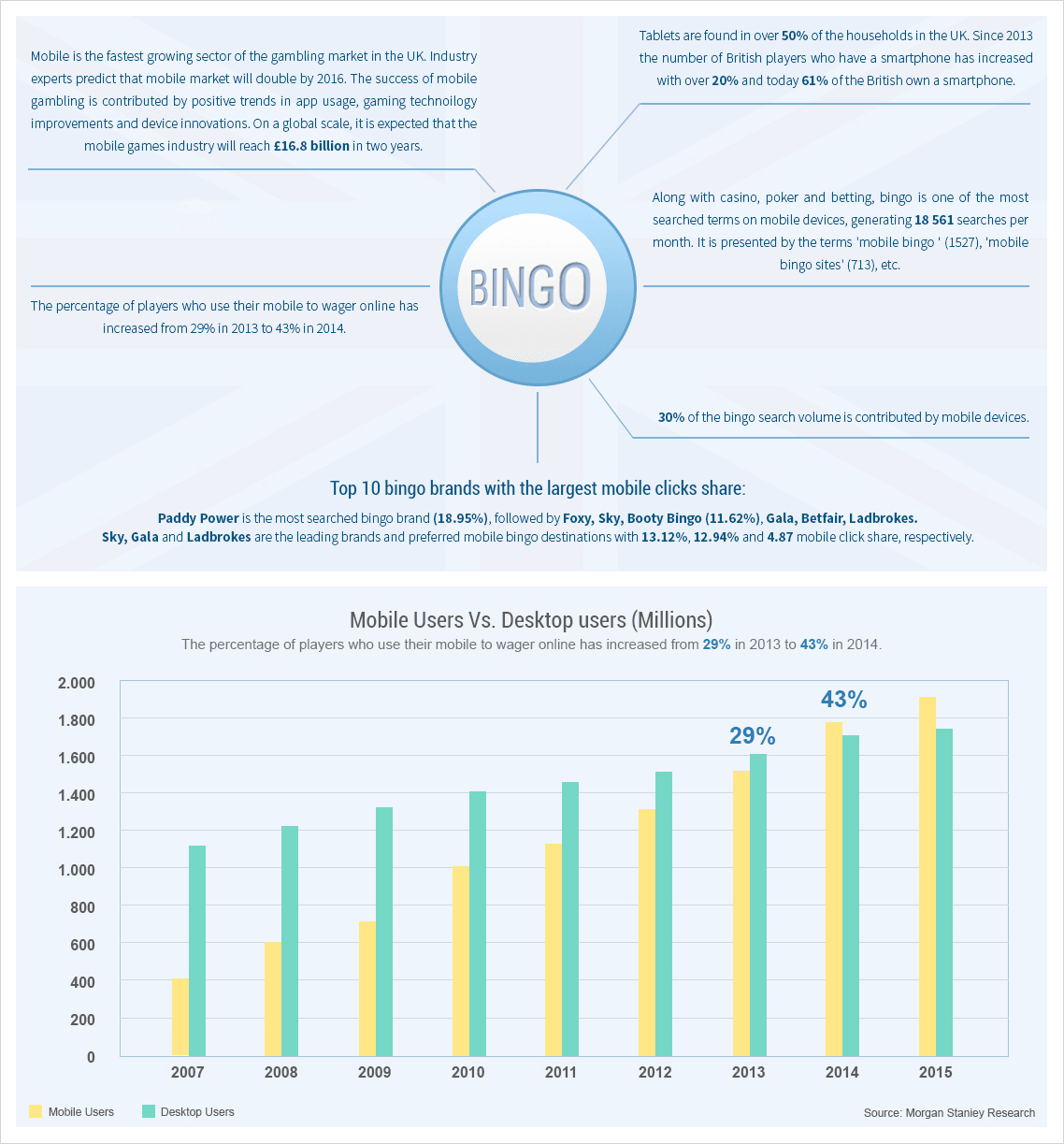 Playing on the Move – The Finest Points
As the mobile bingo industry has grown, more and more game software developers feel the need to provide improved features for their mobile clients and invest into creating fully compatible bingo sites with user-friendly interface. What are the main reasons for this mobile-bingo boom and what would be the benefits of it?
We'll try to explain it below:
Mobile bingo adds more comfort and convenience – you can play while you're out and about
Smartphones are light and portable – these days phone manufacturers create handy devices, suitable for gaming activities
Modern bingo apps are developed so as to scale down and the buttons are easily clickable
Mobiles are meant to perform multi-tasks and are suitable for the majority of gamblers who now hardly use their computers for leisure activities
Handy payment features – most providers offer a fully functional cashier, where the deposits and the withdrawals are a must
Payments via SMS or Phone Bill
The money transactions are essential part of the whole mobile gaming experience. Obviously, the mobile players want fast and secure payments, without any hassle or a long wait before the money is available at their accounts. There are hundreds of mobile payment methods, available via a number of safe e-wallets but one of the most convenient is the phone bill / SMS payment method. It is probably the quickest way to reload your account, where all you need to do is dial the toll-free UK number, provided on the site and speak with a support agent. You can also fund your account by sending a short message. Wink is one of the operators which caters for phone bill mobile payments. Their customer support team processes deposits over the phone, using Mastercard, Visa, PaysafeCard and Ukash. Each transaction is carefully saved in the database and can be accessed for the following three months via the cashier. The player can access it by logging into the website, then click on 'Transactions', select the period of search and hit the 'Submit' button. This will display the full list of transactions, both deposits and withdrawals.