Know Your Bingo B4 You Play
.

Bingo games you cannot find anywhere else!
Coronation Street Bingo
Many bingo variations
£25 Welcome Bonus
+ A free Emmeralde mug
You think bingo is so easy that basically any toddler can play. Think again. Did you know there are already 30/40/50-ball variants? We have gathered all the information about variations of the game and where to play them, tied them with a ribbon and left them here for you. Read this article and find useful info about:
the options of an online room – how to set your preferences
the rules of all variants – tickets, winning lines/combinations and jackpots
the history – a game that has gone through 500 years of development
In case you are a doer not a reader and you just want to play on a site that offers many different bingo variations, we can suggest Gala because they have a number of branded games on top of the traditional rooms.
Options in the Room
Adjust Your Preferences - You can see how a typical bingo room looks like in the screenshot below. This is a standard 90-ball bingo room at Gala and you see how you can manage your preferences or change the settings so that the room feels exactly like you want it to be. Go to 'My Account' and then 'Preferences' and you will see all the controllers that adjust the settings. The first tab lets you choose the shape, colour and style of the dauber. Not that it's anything important but I always set mine to a green shamrock when I play Rainbow Riches or Lucky Numbers, it's just one of those things, you know. The second tab shows you the sound controllers and you can choose the voice of the caller. Peter Andre calls the numbers with their real names – "thirty-seven", whereas Bob says – "three and seven, thirty-seven". You can also adjust the quality of the graphics, the font size in the chat window, the screen layout and etc. Something quite handy at Gala is the desktop shortcut installer. You will find it in the same directory 'Preferences'. Note that you are not downloading software, this is just an icon on your desktop that will secure a quick access to the site.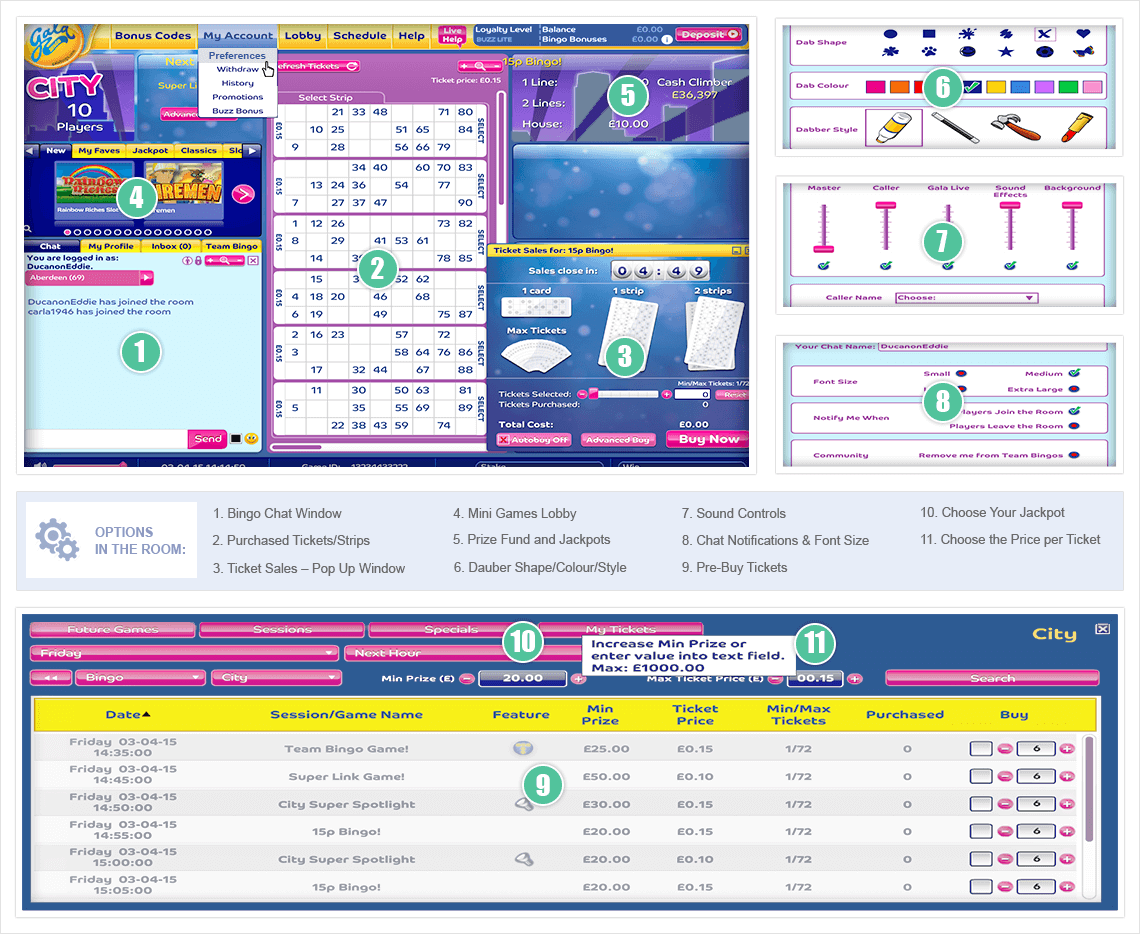 Traditional Bingo Games
Basic Rules - Let's start with a quick brush up of the rules. In 90-ball games you get a ticket with 3 lines and 9 columns which contains 15 numbers in total or in other words each line has 5 numbered and 4 blank boxes. There are prizes for one line, two lines and a Full House. 75-ball bingo is played on a 5×5 card where each box beside the middle one is numbered. The one in the middle is either starred or free so you have 24 numbers in total. The letters B-I-N-G-O are written on top of the first line and the caller announces each number together with its letter e.g. B-9, I-27 and so on. The winning combinations in the 75-ball games are countless, you can daub lines, columns, a Full House and many patterns. There's one more variation with 80 balls, which used to be an interval game played in between the main sessions, but now it is available as a regular room at some sites powered by Cozy or Gamesys and at Mecca.
Online Features - The two traditional variations, 90- and 75-ball bingo, have a long history and are so popular that each of us has played at least a few games in their life whether at school or in a land-based hall/online site. The thing that makes those 2 variations so preferred is that everybody knows how to play them. But this is the exact same reason why they may become kind of dull after a while. This problem has several solutions online: you can chat with the other players during the game, there are mini games (mostly slots) and you can play "chat games" where the chat host asks questions and gives prizes for the first one with the correct answer.
Bingo Variations – Tickets and Winning Combinations
| Variation: | 90 | 80 | 75 | 50 | 40 | 30 | JJ |
| --- | --- | --- | --- | --- | --- | --- | --- |
| Ticket | 3×9 | 4×4 | 5×5 | 2×5 | 4×4 | 3×3 | 3×3 |
| Numbers in a ticket | 15 | 16 | 25 | 10 | 16 | 9 | 9 |
| 1 Line Prize | yes | yes | yes | yes | no | no | no |
| 2 Line Prize | yes | yes | yes | no | no | no | no |
| Patterns | no | sometimes | yes | no | yes | no | no |
| Full House | yes | yes | yes | yes | yes | yes | yes |
| Fast Variants | yes | yes | yes | yes | yes | yes | no |
| Available on Mobile | yes | yes | yes | yes | yes | yes | no |
Fast-Paced Variations
There are super quick bingo games that you can play when you literally have only a few spare minutes or you just want to enliven your experience a bit. You will find the speed rooms under various names in the lobbies of the different operators so at first it might seem that each site has its own version but that's not really the case. We will divide the speed games in 5 categories: 30/40/50/75/90-ball variants (yes, there are that many of them already). Obviously the fewer the balls there are, the quicker the game will be, but what about the 75- and 90-ball games? They just go faster, the numbers are called out every few seconds and the pause between the games is shorter.
Games with Fewer Balls - 30-ball bingo is developed by Cozy Games which power sites like Landmark, Little Miss and Bobs. The name of the 30-ball bingo room is City Hall on all of them. The ticket is in a 3×3 grid and the winner is the first one to mark these 9 numbers. Then there's the recent novelty – the 40-ball Rainbow Riches, developed by Virtue Fusion and found at Betfair, Gala, Sky and a number of other sites on the network. Leprechauns, rainbows, pots of gold and a wishing well will take you to the magical atmosphere of this Irish-themed room where the tickets are 2 four-leaf clovers. Prizes are given for 1 daubed clover and for a Full House but you may also grab a share from one of the 3 Progressive jackpots and claim a bonus when your wishing well is full of golden coins. Next comes 50-ball bingo. You will find this game on most sites from the Cozy network and at Gala. Coconut Island is the name of the room at Gala and it is the most relaxing nook on the Internet. Coconut trees, splashing waves and a desert beach make this room the perfect getaway during your lunch break.
Games with a Standard Set of Balls - As we mentioned already the 75- and 90-ball speed games are played with the regular rules but just faster. You will find a 90-ball Speed Bingo room at William Hill where the tickets start at 1 penny, the prizes are between £7-£60, games start every 3-4 minutes and you can win the £1,000 Cash Rocket jackpot if you call house in 38 balls or fewer. Wink have a 75-ball Speed Bingo room in the Fun and Free tab. It is open for 3 hours in the morning between 7:30 am and 10:30 am. To win you just have to daub 4 numbers, this is what we call a quick win.
Top 5 Speed Bingo Rooms
Click 'Play now!' to view the offers' full T&C's.
TV-Show Themed Rooms
This category is probably the largest one and this is easily understandable. The TV shows are already popular so when the bingo room is announced the players are already familiar with the theme and want to see how the features of the show are included in the game. I remember when Gala opened their Coronation Street room I expected nothing more than the theme song and the brick wall backdrop. But when I found out that there are archived videos between the games and that Reg Holdsworth (Ken Morley) calls out the balls I was sure this room is going to turn into a big hit. Add to this the Golden Cobbles progressive jackpot and the feature 1tg/2tg games and you get a very customised 90-ball Corrie bingo room that is simply irresistible for the fans of the show. There are many more TV show 90-ball games like Who Wants to Be a Millionaire, Britain's Got Talent, The Price Is Right and Take Me Out. Most of these can be found in the Virtue Fusion Network only Take Me Out is developed by Gamesys.
Coronation Street Bingo
Virtue Fusion
90-Ball Bingo
Progressive Jackpot
Mini Games in the Room
Corrie Bouncy Balls
Corrie Scratch
Corrie Slot
The British best-loved soap is combined with bingo.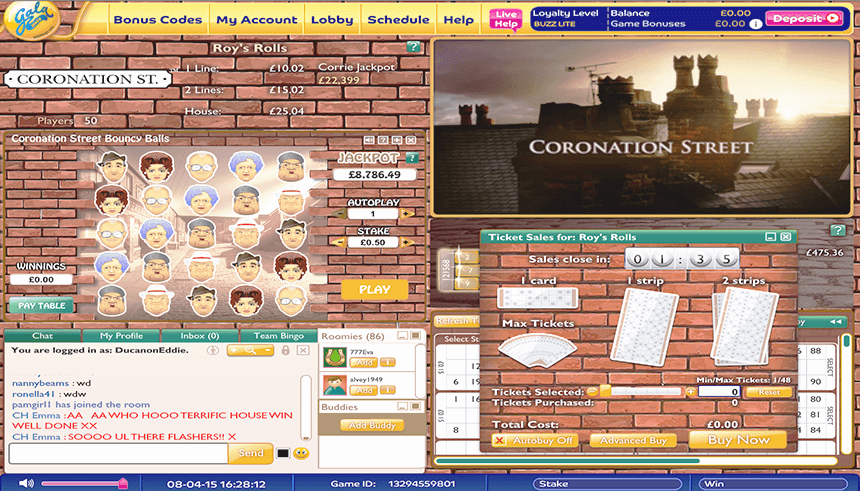 Less Common Variations
The games in this section may seem borderline cases, it's not exactly bingo but it's also kind of similar. Although not as popular as the traditional bingo variations, they deserve your attention. You can play them just to spice things up a bit but they might as well turn into your favourite game. Let's start with video bingo.

Video Bingo for Some Instant Fun - it combines the elements of bingo with the dynamic characteristics of the instant win games. You don't have to wait for the numbers to be called out because they are shown in a matter of seconds. Your goal is to match the numbers on your ticket to the called out balls like in the regular games but there's an extra that's cannot be found in the traditional rooms – you can buy extra calls. All sites powered by Jumpman Gaming offer a collection of 15 video bingo games like Candy Land, Miami Beach, Las Vegas and Pharaoh, to name but a few. Some of those sites are Paddy (this should not be mistaken with Paddy Power), Elf and Spice. We have to admit that their offering is not the best we've seen but the video bingo section is a good one. Dream, which is powered by Microgaming, can offer a better overall experience and also has included instant bingo which is roughly the same as video bingo. You can buy up to 10 extra balls in Electro Bingo but this feature is not available in the other instant bingo games.

Bingo with Playing Cards - yes, there is bingo without balls and it's quite fun. Joker Jackpot, developed by Virtue Fusion and Snap Bingo, developed by Gamesys are played with decks of cards and hands instead of balls and tickets. In Joker Jackpot you have to match the dealt cards to the 9 cards you have purchased or aim for the J pattern. Plus, there are 2 jackpots, one fixed and one progressive which are won when you get a Full Hand in 16 and respectively 14 calls. Then there is the Bingo Snap room, where you get a bonus if the hand of 5 cards you've purchased matches a poker hand. Then your goal will be to match the dealt cards to your cards in sequential order. When you the letters S-N-A-P-! will appear on your hand and you will win.
Where Can I Play Free Bingo?

Although this is not a skill game it's always nice to be able to play bingo for free before you deposit your own cash or just when your budget is tight and you really want to play. However, if you are one of those players who think they can win big playing free games, we'll have to disappoint you. The prize fund for the free games is usually around a pound and there's a limit on the tickets you can "purchase". Another way to enjoy a few games on the house is to claim a no-deposit welcome bonus. Not all of the sites have these, but we've prepared a few nice offers for you. Landmark, which runs on Cozy Games software, is one of the generous operators. They give £15 for free in bingo bonus money so that you can try each game in the lobby. There are 30/50/75/80/90-ball rooms so you will be able to play one game in each room if you max out or more games with fewer tickets. You can play for free at Fancy which is a member of the Cassava network. Get a fiver for free and play some Dragonfish bingo. There are 75- and 90-ball games plus many guaranteed and progressive jackpots you can give a go.
Grab your free £15 at Landmark Bingo now and play in every single room in their lobby!

More Free Bingo Games in the Newbie Rooms - Another way to play bingo for free is to use the time in the Newbie rooms that are open only for new players and offer free games in the first days after you create an account. Think of it as a way for the operators to compensate for the lack of a no-deposit offer. We told you that most Virtue Fusion sites do not have a free bonus so now we are going to present you the 3 best newbie rooms in their network. Paddy Power are really generous, they let their newly-registered players enjoy the free games for 10 days after wagering just £1 on bingo tickets and the prize pools reach £20. William Hill's Arrivals Lounge is open for 8 days and you have to spend £10 on bingo cards before you gain access. The prize fund for the free games is £7 and there's a £10 game played every hour. And finally, there's the Gala Newbie Room that is open for 7 days but you are not required to wager a certain sum to be admitted in it. It will be open for 4 hours a day and you will be able to win up to £25 per game.
Rich History – from the Middle Ages to the Internet Era
There are numerous speculations about the origin of bingo, some say the name was invented by an American salesman, others swear that it was called bingo in the UK years before the American patented it but we are not interested in that. We want to show you what a long way the bingo game has gone to transform into what it is today, it has crossed the borders of many countries, even continents and changed its names many times.
1530 – Italy – "Lo Guioco del Lotto D'Italia": This was the first lottery-type game that resembles bingo as we know it now. "Lo Gioco del Lotto D'Italia" is still played every Saturday in Italy.
1770s – France – "Le Lotto": A slight change in the name was made when the game was introduced in France. "Le Lotto" was played only by rich Frenchmen.
1800s – Germany – Educational Game: It was used in Germany for educational purposes. Children would learn dates, historical moments and people playing bingo.
1838 – Mexico – "La Loteria": A caller used to draw numbered balls from a bag. The players "daubed" their numbers using grains or corn.
1914 – 1918 – World War I – "Housey-Housey": British soldiers used to play Housey-Housey during the World War I as a pastime activity in trenches and canteens. A veteran remembers that the sergeants and corporals won pretty often unlike the young privates.
1929 – North America – "Beano!": Played at a carnival in Atlanta, Georgia when a NY salesman Edwin S. Lowe noticed the game and decided to make it popular under the name:
1930 – Carl Leffer. Lowe hired a Columbia University math professor to prepare the number combinations for the tickets. 6000 different number combinations were already made by Carl Leffer.

bingo!

1934 – England – Catholic Churches – Tombola: Used as a fundraising game by the churches. The name was changed in an attempt to dissociate the game from gambling.
1961 – England – Bingo Becomes Commercial: After decades of trying to ban gambling and respectively bingo, the The Betting and Gaming Act 1960 was finally passed and and the first commercial halls were set up. They were actually called bingo casinos and were doing their best to establish the game as a posh and glamorous leisure activity.
In the 1960s Mecca was the most significant provider of commercial bingo. Eric Morley or, as he was called, Mr Bingo was a household name who took a great part in popularising the game. He was Mecca's dance halls Publicity and Sales Manager and turned it from a small catering and leisure group to a company employing 15,000 people.
1961 – 1968 – The Bingo Boom: Despite the fact that during this period the law was very confusing, bingo was flourishing. With the invention of the TV many cinemas were abandoned, even Astoria and Granada and were turned into bingo halls.
1968 – The New Gaming Act was Passed: The new legislation made provisions for much more strict control in the previously virtually unregulated industry.
1974 – There were 1,820 halls in Great Britain
1980s – The Bingo Slump: In the 80s the popularity of the game plummeted and many halls were turned into night clubs. This decline was due to the so called "video revolution" and the growing popularity of video games and home entertainment.
1996 – Nowadays – The Online Bingo Era: The first online bingo site was launched in 1996 by Bingo Zone and hosted free 75-ball games that would require some demographical data which was used to later send you customised advertisements. Now, there are so many online sites and so many variations that it's hard to give accurate statistics. But we are here to help you find the best one!
Play fun 90- and 75-ball games at Wink Bingo now!
Are There Any Bingo Strategies?
Yes, there are. But we doubt they really work in practice. There is a theory by the mathematician Joseph Granville that can be applied to 75-ball games. It states that the most important thing is the card you choose before the game. If the range of the final digits of the numbers on your card is wider, theoretically your winning odds will be better. According to another theory – the Tippet Theory, in a short 75-ball game the called out balls will be closer to the numbers 1 and 75, whereas in a long game there will be more numbers close to the median number 38. How do you know if the game will be long or short? Well, obviously it depends on whether you play with a pattern and how hard it is to daub it. Anyway, both of these theories sound well-grounded and logical but unfortunately we think that in a real-life situation they are almost useless. How much time do you have before the game to find the 'right' tickets, check the patterns and choose which strategy to apply. We'd like to offer some general advice that will at least make your games enjoyable. After all the bingo is no competition, it's supposed to be fun and entertaining.
Use the autodaub function even if you are given the option to mark the numbers on your own. Especially if you are a beginner. It will take away the stress
Share your progress in the chat if your 1tg/2tg. Tell the others what numbers you need to get the Full house. It's fun.
Buy as many tickets as you can afford when the game is worth it. How do you know it's worth it? Compare the money you will spend if you max out to the prize fund and also check the number of players who've bought in. Your winning odds dramatically increase.
Don't stress out if you daub manually and you miss a number. The software used online calls the bingo, so if you have the winning numbers you will still win.
Whine in the chat if the jackpot slips away. You don't want to be a spoilsport. Everybody wants to win, you can't always blame the winners.
Play more to make up for a loss. This is the actual highway to failure. Have a break and come back when it feels like fun, not a payback.
Bingo calls might seem a remnant from the old days when the callers used actual tombolas and the players used actual daubers, so why use them? Well, obviously you don't have to, online bingo sites use the auto daub function so there's no way you miss a number or mistake it for another one. But in our opinion the bingo calls bring a lot of vintage charm to the game. The etymology of some of the nicknames of the numbers is obscure but others are quite funny. Sometimes it's a matter of pure resemblance like 22 – "Two Little Ducks" or rhyming like in 25 – "Duck and Dive". Most numbers have more than one name, some have up to 8. Have a look at the ones we liked best.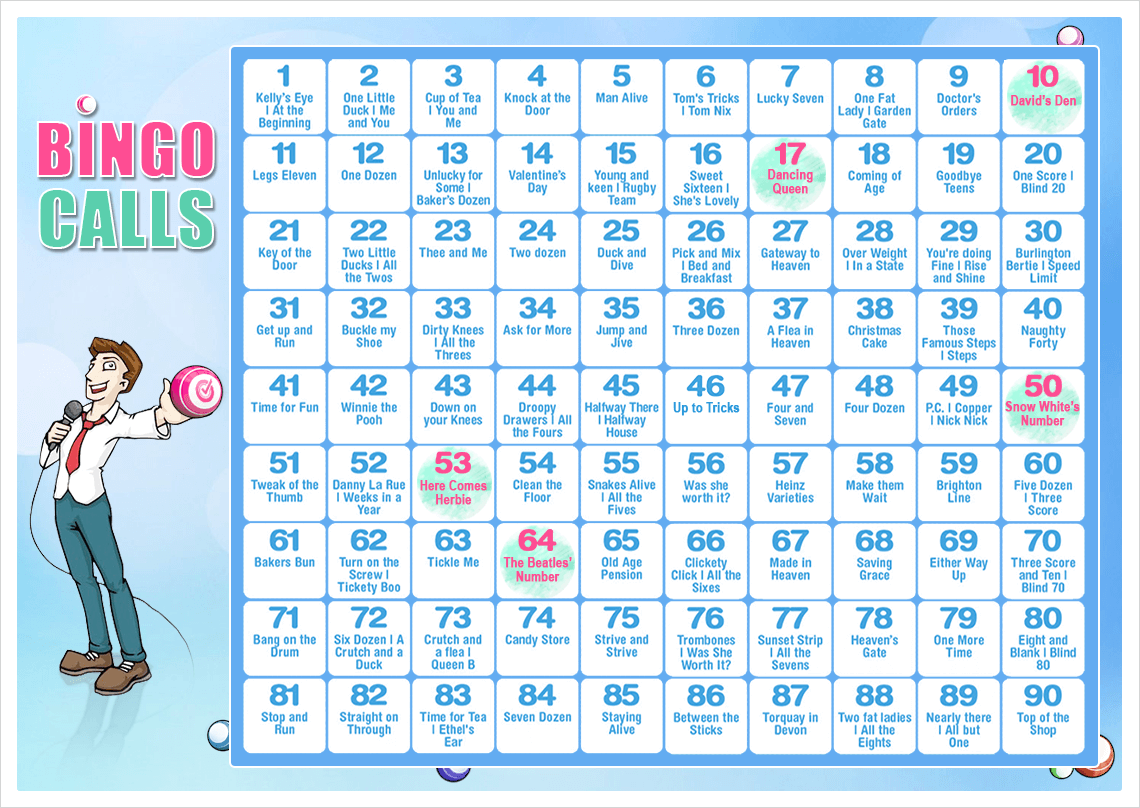 10 – DAVID'S DEN – This one changes every 5 years (or fewer) because it refers to the most popular UK address 10 Downing Street. When a new Prime Minister is elected the number takes the name of the person who takes the 'den' – Tony's Den, Maggie's Den and so on.
17 – DANCING QUEEN - "You are the Dancing Queen, young and sweet, only seventeen…" – It's ABBA and their hit from 1976. It's been almost 40 years since then and I bet you are humming the music in your head while you are reading the lyrics. Now that's an evergreen.
50 – SNOW WHITE'S NUMBER - "Heigh-ho, Heigh-ho, it's off to work we go!" – When was the last time you watched the first animated film produced by Disney in 1937. Here's a hint if you can't quite remember the songs. This is what the dwarfs sing when they go digging gemstones in the mines. Heigh-ho can be easily replaced with five-oh.
53 – HERE COMES HERBIE – Speaking of Disney films, do you remember the cute VW Beetle Herbie that had a mind of his own and was able to drive himself, and especially loved races. The number on its front lid was 53, hence the name of the bingo ball.
64 – THE BEATLES' NUMBER – 'Will you still need me, will you still feed me when I'm sixty-four' – No, that's not Lana Del Rey, it's the iconic Beatles and their song from 1967 written by Sir Paul McCartney.
FAQs
Can I Earn a Living Playing Bingo?
You can definitely win some money every now and then but this is not a stable income. Have you ever heard of professional bingo players? I don't think so. Unlike poker which is more of a sport rather than a game, bingo is just a game of luck which should be played merely for recreational purposes. Which take us to the next question:
What Is Responsible Gambling?
Responsible gambling is like responsible drinking. Not every person who enjoys a beer or two every other night ends up an alcoholic. But you have to know your limits. If you ever feel that the fun has stopped and you are turning into a compulsive gambler, seek help. There are many organisations like GamCare, Gamble Aware and Gamblers Anonymous, that provide support and advice and you will always see their logos in the footer of the bingo site. You can also limit the amount of money you can spend on a daily/weekly basis depending on the operator. And if you are concerned that a little kid or a curious teenager at your house might find the bingo games and slots really entertaining while you're away, install filtering software for parental control. Sites like NetNanny, Cybersitter and Saferinternet are just a few examples of the programs that will help you keep your children safe on the net.