Gamesys Bingo Network – A Small Group of Big Brands
Despite being a small network, Gamesys host some world-class brands you should definitely try.
If you love the variety of the fun games and want to pamper yourself to the maximum with some nice bonus offers and prize giveaways, you should look no further but try the top-ranked Gamesys site for December 2018 – JackpotJoy! Like any other month, there are a few more superfine suggestions, so you should definitely try more of the provider. Here are some highlights of the best characteristics of the software:
Diversity – each site is unique and differs from the other, so you will hardly know you play at the same network
Proprietary Games – a wealth choice of branded titles, including games with bonus rounds like Bejeweled Bingo
Daily guaranteed jackpots – guaranteed prizes worth £20,000 are up for grabs every day with the Super Linx games
JackpotJoy Bingo

'JackpotJoy is the only site I've won at! I was so delighted to learn that I got £1,300 from playing Tiki Bingo..I recommended it to my friends!'
Player: Georgia Patel, 44

UK
Extra Features
VIP club – VIP-only prize draws, luxury gifts and holidays, birthday gifts, etc.
Super Links Games – over £20,000 guaranteed every day plus £2.8 million worth weekly prizes
Popular payment methods
paypal
ukash
neteller
visa
maestro
Welcome Bonus Offer – Claim the 250% Sign-up Bonus
Three days free bingo and 25 busy rooms with huge prize pools
Branded games – Bejeweled Bingo, Take me Out Bingo, etc.
Play with Gamesys – Popular Brands on the Network
Gamesys network may not be the biggest one but it's home to some of the most reputable brands in the field, such as the JackpotJoy and Sun Bingo. JackpotJoy is the flagship site and offers some proprietary games, such as 'Bingo Lane', 'Bejeweled Bingo', 'The million Pound Drop' and 'Friendzy Candy Cave'. Sun Bingo, from the other hand, offers some exciting and unique pastime, such as 'Snap!' and the 'The Sun Bargain 90′. The playing experience at JackpotJoy is the icing on the cake but there are also some other sites to keep your eye on, which we've summarized in the table below.
Which Operators Are Powered by Gamesys
| Operator | Bonus | Bingo Variants | Hot Promo | Exclusive Games | Mobile |
| --- | --- | --- | --- | --- | --- |
| JackpotJoy | £25 | 90/75 | + 10% Cashback | Playoff Palace | Yes |
| Sun | £30 | 90/75/80 | + The Sun Bargain 90 | Playoff Palace | Yes |
| Virgin | £20 | 90/75 | + Search for the Phoenix | Playoff Palace | Yes |
| Caesars | £20 | 90/75 | + Unique Slots | Playoff Palace | Yes |
| Fabulous | £20 | 90/75/80 | + Daily Pleasures | Playoff Palace | Yes |
| Heart | £20 | 90/75/80 | + Super Link Games | — | Yes |
Click 'Play Now' to read the bonus' T&C's.
JackpotJoy Bingo – A really fantastic standalone bingo site, managed and operated by Gamesys Group. JackpotJoy's host is Barbara Windsor, a.k.a 'The Queen of Bingo'. That's one of the busiest sites and it's always packed with amazing games – the site offers a huge variety of games that suits everyone's taste. There's a sign-up cash match bonus, given once you pass the two-step registration process. You get a £25 bonus on top of your first £10 deposit. Furthermore, there are free games (90- and 75-ball patterns) for funded players along with a bunch of unique titles, brought by Gamesys. The Bejeweled game is a lot of fun – it's full of great features, including bonus rounds, free tickets and a fantastic progressive jackpot. You should buy at least 6 cards (maximum 36) to qualify for the Bejeweled Challenge and you should complete a full house within 38 calls or less.
---
Sun Bingo – The brand is brought by the ever popular tabloid newspapers 'The Sun', which was one of the first to launch its online bingo site. If you're new to the site, you should follow the registration process and mark the box, where you agree with receiving a welcome bonus. Thus, you'll become eligible to take advantage of the 300% welcome bonus on top of your first deposit. Furthermore, the 'Learner room' is open for newbies during your first seven days on the site and offers free 90-ball bingo with real-money prizes. There's a variety of games to try – you can taste Sun's variants of the 90-, 75- and the 80-ball patterns and try your luck on their fantastic progressive jackpots. There's literally something for everyone's budget and needs. Every Tuesday and Thursday, there are free bingo sessions for two hours with fantastic cash prizes giveaways.
---
Virgin Bingo – Virgin Games was acquired by Gamesys Group in 2013 and offer the two traditional bingo variants. There's an inviting welcome bonus for new players – 200% on top of the first payment. On the site you can enjoy 75- and 90-ball games, slots and casino fun titles. Plus, slot fans who try any of the slots during the weekend, get a 10% cashback deal. If you prefer casino, you can benefit from the 10% cashback every Thursday. One of the Virgin's specialties is the 'Search for the Phoenix' – a daily free game available for funded players, where you need to reveal matching sets of tiles and search for the Phoenix. The game has a monthly calendar and every time you play, you win a Phoenix egg, added to your personal calendar. By the end of the month you play the Special game, where you can use your eggs from the daily free games to win bonuses and free spins for the Special game.
---
Mobile Bingo Offering Comparison
We can't say that Gamesys stands out with their mobile platform but if you want to play on the go, there are some options. JackpotJoy, Sun Bingo, Fabulous Bingo, Bingo Heart and Pick me up Bingo are mobile friendly. Those sites are available for iPhones and iPads but that's all. There's a great minus we can't just pass away – the Gamesys mobile platform is not available for Android. Well, you can run all sites with your Android tablet or smartphone but there are just slots and casino games available for playing. However, considering the huge popularity of brands like JackpotJoy and Sun, we do believe that they will make the leap to Android mobiles too.
Nevertheless, the iOS bingo apps from the provider work well and provide decent quality games. Here are two suggestions for outstanding Gamesys mobile apps that works faultless on iPads and iPhones. If you're in the search of operators who offer mobile bingo for Android, check on our website.
---
| | & | |
| --- | --- | --- |
| Sun | Operator | JackpotJoy |
| iOS/Android (slots only) | iOS/Android | iOS/Android (slots/ casino) |
| £30 | Bingo Bonus | £25 |
| 90-Ball/Slots | Games | 90-Ball/Casino/Slots |
| yes | Deposit/Withdrawal in the app | yes |
Websites' Bonus T&C's apply.
Sun Bingo Mobile – You can play bingo on the app directly from your Safari browser, without downloading the software. Feel free to use your standard credentials to log in the site. If you're not registered yet, you can sign up from your telephone, there's no need to go to the desktop. The welcome bonus offer is available for mobile, just don't forget to tick the box in the registration form, where you agree to receive the offer. On your phone you can play just the 90-ball pattern on and there are two rooms available. If you prefer slots – there's a huge variety of instant wins, slots and casino titles. Plus, the side game range is available for both iOS and Android devices. The app allows deposits and withdrawals, so any time you need to fund your account or request a withdrawal, just use your phone. All popular payment methods are featured, including PayPal and Ukash.
---
JackpotJoy Bingo Mobile – JackpotJoy offers their mobile users access to their top visited bingo rooms. You can play 90-ball bingo at the Bingo Royale, Diamond, Bejeweled, Sapphire, Emerald and Tiki rooms. Discover the variety of the proprietary game range of JackpotJoy and play Bargain bingo, linked games, etc. If you're not registered yet, you can join the 5-million family of the joyful brand via your phone – just fill in the standard registration form in just a few steps before you can access the mobile lobby. The standard welcome bonus offer (Deposit £10, play with £35) is available if you sign up mobile. Some of the features that will ease your mobile bingo journey include an in-built chat window, an automatic dauber and in-app payments. If you don't want to miss the Community Jackpots, you shouldn't – you can participate through your phone and every time you purchase a ticket, a small portion goes to the prize pool.
---
Info and Details About Gamesys
Gamesys

logo

Editor's Rating: 5/5

5 stars
About Gamesys
Founded

2001

CEO:

Noel Hayden

Regulated by:

UK Gambling Commission

Website:

http://www.gamesyscorporate.com/

Address:

10 Picadilly, 5th floor, London, W1J 0DD
Network Review
Number of Bingo Sites:

7

Software:

Dragonfish Globalcom

Variety of Games:

75/80/90 Slots + Casino

Flagship Site:

JackpotJoy

Mobile:

anroid,ios
Gamesys is a UK-based online entertaining company, launched in 2001 by a group of enthusiastic developers, leaded by Noel Hayden. In 2002 the company launched their first bingo site, JackpotJoy, which soon became very successful. Since 2010 the brand has been partnering with Barbara Windsor, which is also known as the 'Queen of Bingo'. In 2013 they acquired Virgin Games and strengthened their firm positions on the online bingo market. The success has been growing year by year and and they've proved their status as an innovative company. Gamesys is not a big network but they host some of the most visited sites in the UK, including JackpotJoy and Sun Bingo. They are the first online gambling company to work with Facebook and has brought the real-money gambling to the social networks. The apps are popular as Bingo and Slots Friendzy and the real thing in the social networking. In regards with the brands under their umbrella, there are multiple award-winners and each year they gain the laurels at the award ceremonies. JackpotJoy Bingo is one of the favourites every year and always hit the headlines. That's one of the most frequently-announced 'Best Bingo Operator' sites, just check the awards for this year:
---

This year Gamesys has been highly praised for their work and scooped a few more prestigious awards, eliminating some of their strong rivals in the sphere. Check some more of the latest awards of Gamesys.
---

Gamesys units some of the best popular brands in the UK but works slightly differently with regards to the other bingo networks. Whilst the majority of the networks share their game platform and promotions list, Gamesys is a group of sites with common licensing, where each brand has its own site design, proprietary games and promotions. However, the majority of the sites link their rooms to create bigger jackpot prize pools with a bigger number of players. So, it means that by playing the linked games, you will compete against players from other Gamesys sites but you will enjoy bigger prizes. The success of Gamesys' brands is due to their offering of unique products, including Bejeweled Bingo at JackpotJoy, the 'Secrets of the Phoenix', exclusively at Virgin Bingo as well as the fastest-growing bingo game on Facebook, 'Bingo Lane'. Nevertheless, Gamesys have passed a long way since its foundation in 2001. With the picture below, we'd like to illustrate their path to their huge success.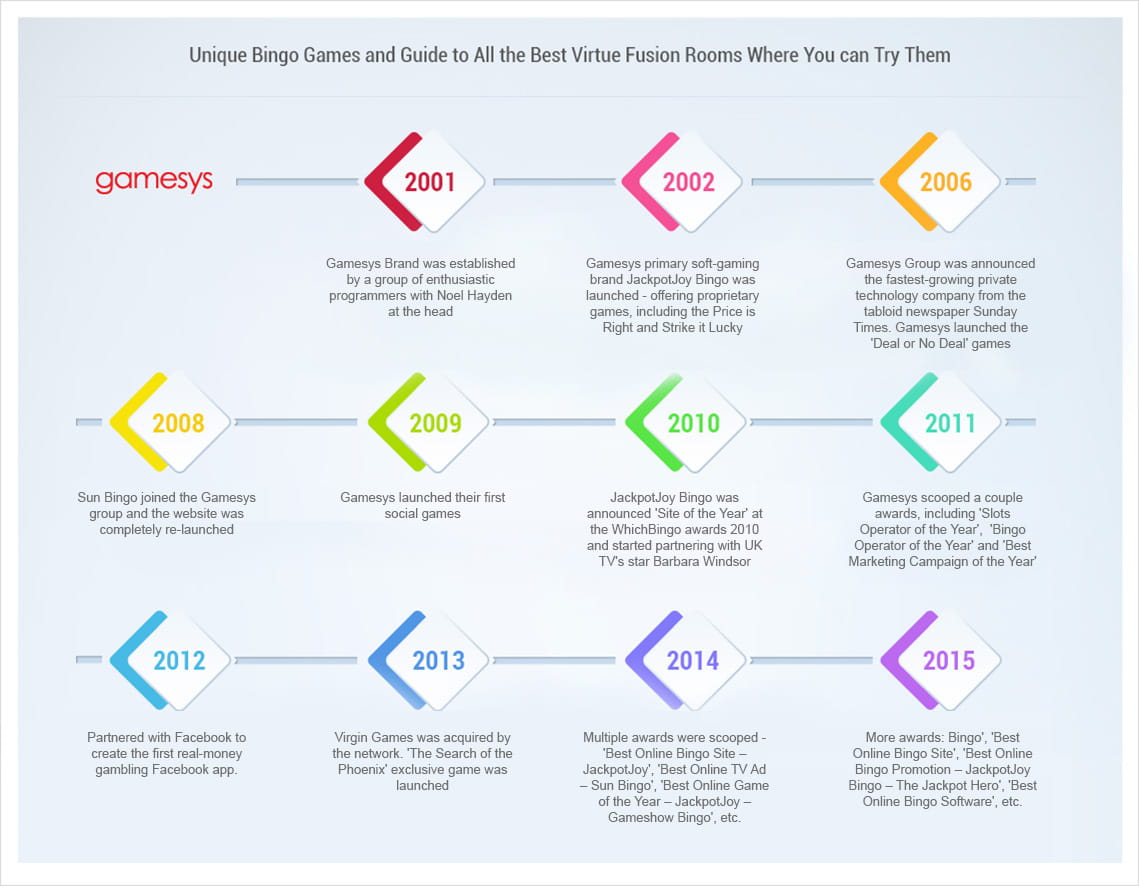 All Gamesys Sites
JackpotJoy Bingo
Sun Bingo
Caesars Bingo
Fabulous Bingo
Bingo Heart
Virgin Bingo
Pick me up Bingo
Pros and Cons of Gamesys – Is it Worth Playing?
While reviewing the network, we tested all Gamesys-powered bingo sites and played a variety of games. To sum it up, it was a real pleasure while trying the software. Each site looks differently (which is a great plus) and shows high performance. Well, you will definitely never get bored because unlike some other networks, where you can get stuck with their monotonous promotions and boring design. You can enjoy the Gamesys-powered brands to the maximum or you can try more bingo networks and learn their specifics on our detailed page. To summarize, for the sake of brevity, I will move to the pros and cons of the network.
Pluses of Gamesys Software:
A well-established, UK-based company with over a decade experience on the market
Incorporates a small group of the most preferred by UK players bingo sites
Proprietary games, based on popular TV shows and huge jackpot prizes
An award-winning portfolio of sites and an excellent software platform
Fair gaming results, double-assured by their e-Cogra membership
A variety of safe and secure online payment instruments, PayPal included
Social benefits – Gamesys has developed the first Facebook bingo app
If I should list Gamesys software's drawbacks, I would probably start with the lack of a multi-platform mobile version. As previously explained, Gamesys bingo rooms are available for iPads and iPhones but still they're not accessible from Android mobile devices. Currently, the Android version of JackpotJoy and Sun Bingo is available for the slot fans and lacks of bingo rooms. The same goes for Windows and Blackberry. We do hope Gamesys correct this and please the Android users. Furthermore, the Gamesys platform doesn't offer such a variety of slots. Unlike Microgaming- or the Dragonfish-powered sites, Gamesys have just a few slot titles and we can't say the selection stands out. Gamesys have some great bingo games, but we'd love to see a good dose of slots, as well.
Play with £25 free and enjoy more than 100 games directly on your browser at JackpotJoy Bingo!