The 9 Best Online Bingo Sites – UK Offers Only
What the heck happened on the UK gambling market after November 2014 when the law was changed? Which operators received a UK Gambling Commission license? Are you worried about your safety? Reportedly 30% of the bingo operators still have only an offshore license. On the other hand, dozens of operators seem reputable. But how many truly are?
This website will not impress upon you the best bingo sites in the UK. It will show you how to judge for yourselves which are the best sites around. You will learn to recognise the bad ones and how to avoid them. If you don't like being instructed, click anywhere on our Top 9 table to play. We have evaluated them for you. If, however, you wish to learn how to make well-informed decisions yourself, read to the end and see all the factors you must consider.
Wink bingo logo
Recommended by More Than 6,204 Players

and a WINNER of:

EGR AwardOperator of the Year

Awarded in 2013

Which Bingo AwardBest Online Bingo Promotion

Spin the Wheel Promotion

Which Bingo NominationsBest Bingo Site

Best Online Bingo Chat Host

Try Wink Bingo today! ** Test before you trust – 3 days free bingo in the Newbie Room
Read the sites' T&C's by clicking 'Play Now'.
How We Find Brilliant Bingo Sites
Most of the other sites that prepare rankings and listings of the best bingo operators go as far as comparing the bonuses and the games. Nevertheless, we believe that there are many other important requirements a site has to fulfill before you decide to start an account. When we choose we always start with the licensing. This is the make or break factor in our research and it should also be the first thing you check. Then come all the criteria we use, which you will find listed below. Each of them can change your experience on the site so we would advise you to consider all of them. We will show you example sites that performed best in each category but this is not the main purpose of our article. What we offer here is a useful skill not just structured information. The best websites are not secretive, you just have to know how to find them. So let us teach you the simple techniques we use that can also work for you.
Welcome Bonus and Other Newbie Perks
First let's tackle the big pink elephant in the room – the welcome bonus. To be perfectly honest, this criterion only comes first in our list because we do realise that the welcome offer is the first (and sometimes only) thing a player is interested in. This is not smart, though. Even if you get a huge welcome bonus what do you do if the wagering requirements are too heavy, or there are just a few bingo rooms. In the long-term it is much more important to find an operator you can trust, that can offer many games and will update their games portfolio, will be able to offer hassle-free deposits and keep you loyal.
Having said this, we'll give you an example of a bonus that at first seems more advantageous but things look completely different when you have a closer look. Say you get a £10 without a deposit and then a £50 bonus on your first deposit, that makes £60, which is £5 more than the exclusive bonus at Wink with our special promo code BEST. One of the bonuses gives you more money, and the other one is more advantageous. And no, it's not the one with the no-deposit offer. To be able to cash out any winnings at Sola you will have to wager the bonus and the deposit you make 8 times on bingo games which is 4 times heavier than the requirements at Wink where you have to play your deposit and bonus through 2 times. See how the seemingly bigger bonus is not that tempting anymore. Now let's move on to the criteria that are actually important.
Sign-Up Bonus Comparison
vs
Sola Bingo

We would strongly advise you against playing on this site at the present moment.

Operator
Wink Bingo
—–
Promo Code
BEST
£50 + £10 Gratis
Welcome Bonus
£55
8 times
Wagering Requirements
2 times
Your use of the site is subject to further T&C's.
Flawless Licensing
In November 2014 new changes in the UK law concerning remote gambling were introduced. All UK sites that want to offer services or even advertise gambling to British players have to obtain licenses from the UKGC even if none of their equipment or facilities are located in Great Britain. Now there's also a higher profit tax for the operators amounting to 15%. This is actually the main reason why most operators used to get their license from another jurisdiction like Gibraltar, Malta or the Isle of Man. But how does this concern players? In the first place, the new strict regulation means that you always know whether the site can be trusted or not because you don't have to be familiar with the law that a faraway licensing authority abides to. The UK Gambling Commission claims that this new Act aims at increasing the transparency and player protection, and that the players will understand their rights better. This is why our team's first concern is checking the license of the bingo operator on the site of the UKGC. Then we also check whether the owner of the company pays their taxes to the HMRC duty. If and only if both requirements are fulfilled, we proceed with the following criteria.
Bingo Rooms and Slots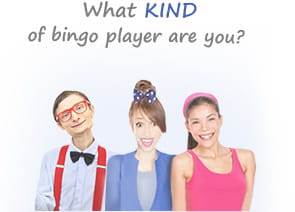 If you had to pick one single feature when making a choice where to play, games should be the logical choice. We tend to forget how important they are because of promos and offers but what would you rather choose in a real-life situation – a 50% discount on a stale muffin or a mouth-watering tasty piece of Red Velvet cake at the regular price? Thought so. It's the same in bingo. Yes, all sites offer 75/90-ball games and a selection of slots, but how many can offer something superior that will be 'wow', rather than 'meh'? It depends mainly on the software provider and of course on what the operator can afford. The different software providers like Dragonfish, Virtue Fusion, Microgaming, Gamesys and Cozy Games have networks of sites where you will find more or less the same rooms but there are also some standalone sites that are powered by proprietary software or sites like Gala which are in a network but still have a lot of branded games.
Game Selection Comparison
vs
Clucky Bingo

We would strongly advise you against playing on this site at the present moment.

Operator
Gala Bingo
75/90-Ball
Bingo Variations
40/50/75/90-Ball + Branded Rooms
8
Slots
206
• Exclusive Bingo Rooms – Although many operators claim they have unique bingo rooms, the reality is there are 2 traditional variants – the 75 and 90-ball games, which are played with the standard rules and a few more innovative versions like Cozy Games' 30-ball room, Gala's 50-ball bingo and the 80-ball games present on some sites powered by Cozy, Virtue Fusion and Gamesys. Usually, the so-called unique rooms host regular 90-ball games with a special bonus round or features that make the game more varied. We are not saying this is a drawback, the TV-show based rooms are quite fun actually, but we don't want you to think that there are dozens of bingo variations. Now let's have a closer look at two 90-ball branded rooms which are based on slots.
Rainbow Riches Bingo
Irish Theme
40-Ball Game
Virtue Fusion
3 Chances to Win
3 Progressive Jackpots
Wishing Well Bonus
Matching Slot
Your 4-leaf lucky clovers await you at Gala Bingo!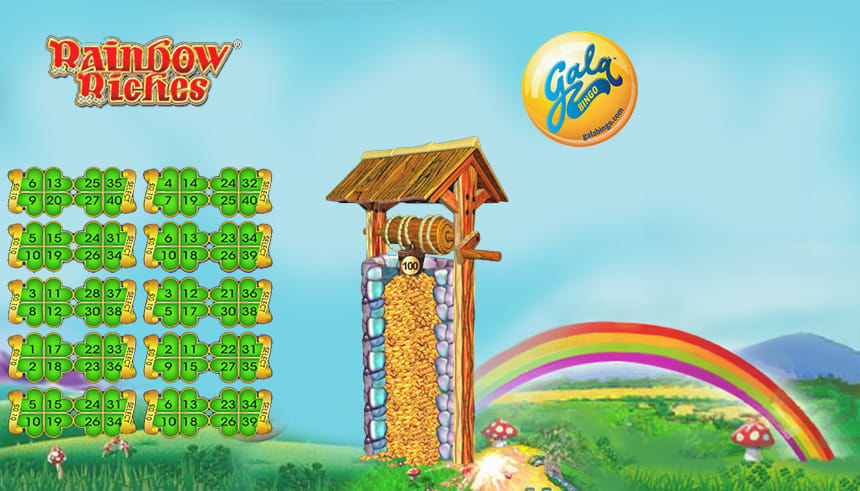 Rainbow Riches – A brand new 40-ball game has been launched by Virtue Fusion on a number of sites in their network. The room is themed on the famous Rainbow Riches slot so it has the Wishing Well feature. The bingo ticket contains 8 numbers in 2 shamrocks and a strip is made of 5 tickets. Before the game starts a minimum guaranteed prize is offered but the total amount of the prize depends on how many tickets are sold. There are 4 prizes to be won – for 1 Clover, for a Full House, the Rainbow Riches Jackpots and the Wishing Well Bonus. As for the jackpots, there is a leprechaun who walks on a rainbow and has to make 100 steps. Every time a coloured shamrock appears instead of a number the leprechaun will take a step but the maximum number of steps per game are 2. There are 3 prize pots on the rainbow – Bronze, Silver and Gold. If you have bought a ticket for a game in which the leprechaun makes the 20th step you will split the Bronze prize pot with the other players. Similarly, if you have a card when he makes the 40th step, you will share the Silver PJP with your roomies. And finally the 100th step takes you to the Gold PJP. Additionally, you collect golden coins in a wishing well. Every time you purchase 5 bingo cards, you activate the Wishing Well feature. And if your magic number (assigned before the game) is called out and matches a number on any of your cards, you get a coin. When you collect 100 gold coins you receive £5 bonus split in £2.5 Bingo Bonus and £2.5 Games Bonus.
Immortal Romance Bingo
Vampire Theme
90-Ball Game
Microgaming
4 Jackpots
4 Special Symbols
Matching Slot
Even if vampire movies do not work their magic on you, give this game a try – it's a brilliant combination of slots and bingo with 4 special symbols and a bonus wheel.
Sink your teeth into the perfect combination of slots and bingo. Play Immortal Romance at Dream Bingo!
Immortal Romance Bingo – This 90-ball room features the characters from the Twilight-like slot and at first it can be a bit difficult to understand the connections between the characters if you haven't played the slot game. But we must admit, although a 90-ball game in its essence, Immortal Romance is not like any other bingo room you've played at because it has a lot of the features of a slot. The room can be found on Microgaming sites like Dream, Butlers and Glossy but unfortunately it is open only for a few hours daily, we guess the reason for that is that it is too addictive, there's no other logical explanation. In this room you can only purchase whole strips made of 6 tickets. In every strip there are special numbers that look different. When you hover over them you will see which game they feature. Each character has a special game. Amber (Scatter Ball) will give you up to 2 random daubs on your strip. One special Vampire Bat ball comes with Troy's game and will randomly daub up to 3 numbers per strip when the number is called. Sarah (Wild Vine) daubs up to 4 numbers but this feature is not available in all games, it will be announced just before the game starts. And finally there's Michael (Wild Desire). If the special trigger ball is called out and you have it on your ticket, all the numbers in its column become wild thus giving you better odds to win. Moreover, in each strip there's a Power-Up Medallion, if its number is called out in the game it goes to a power-up bar. Collect 20 Medallions and spin the Jackpot wheel for a chance to win one of the 4 Jackpots, the Mini Jackpot gives you 5 free spins on the Immortal Romance mini game and the other three are real-money prizes.
• Top 5 of the Best-Liked Bingo Slots – Moving on to slots, there's nothing like a fast paced thrilling slot to brighten up your mood while you wait for your favourite bingo room to open or just when you feel like changing the routine. So we would rate much higher an operator which has taken care of their slot section and offers free spins from time to time. After requesting statistics from some of the biggest names in the gambling industry (both software providers and operators) and analysing the figures we got, we compiled a list of the top 5 slots that are best liked by the bingo players. Note that the operators usually use more than one software provider for their slots selection so it's possible to find the same slot on a Virtue Fusion bingo site and on a Dragonfish bingo site. We were also able to lay our hands on a Fluffy Favourites slot demo play that will give a good idea to those of you who are not familiar with the game why so many people are crazy about it.
1 Our Number One – Fluffy Favourites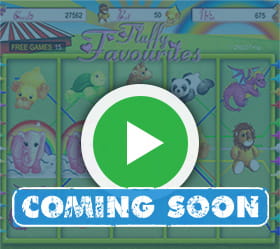 Fluffy Favourites – Designed by Eyecon Fluffy Favourites slot has 5-reels and 25-paylines where the symbols are snugly toys. You can bet between 1-50 credits per line and you can enjoy 10/20/50/100 automatic spins. The fluffy toys you are going to see are: a Purple Hippo, a Pink Dragon, a Lion, a Giraffe, a Blue Rhino, a Baby Gorilla and a Claw Fish. The Pink Elephant activates both the scatter and wild symbols and substitutes for all symbols apart from the Claw Fish. When the elephant completes a winning combination it doubles the prize. Also if 3/4/5 Pink Elephants appear on the reels, you get respectively 15/20/25 Free Spins. 3 Claw Fish trigger the Toy Box bonus game where you have to choose 1 out of 5 animals which can bring you 100 times your initial bet. And there's a Gamble option which may add 300 000 coins to your balance.
Spin to win on the Fluffy Favourites slot at Wink Bingo!
<
>
2 Shaman's Dream
This 5-reel, 25-line slot is based on the Native American culture so you will see a lot of aces, tepees, and arrows. The graphics, we must say, are pretty impressive but the sounds are kind of basic. Anyway, the game play is enjoyable mostly because of the simplicity of the slot. The minimum bet per line is 1p and the maximum is 50p. Also, the autoplay function is available for 10/20/50/100 spins and there's a Gamble feature that can double your prize. The Dreamcatcher will not only filter your bad dreams, but it can also bring many prizes as this is the Scatter symbol. 3 or more Dreamcatchers bring 15 Free Spins and if you get 5 scatter symbols on your reels, your total bet will be multiplied by 450. The Wild symbol is a whining White Wolf. Of course, it can substitute for all other symbols except for the Scatter. Make a winning combination with the White Wolf and your prize will be doubled, five of a kind will bring you 9,500 credits.
3 Temple of Isis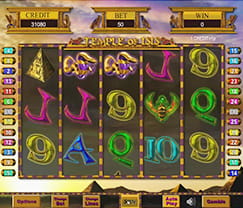 If you worship Ancient Egypt and the grandeur of their golden age, you will most certainly become a great fan of this slot. It honours Isis, the Egyptian goddess, mother of Horus – the god of war and protection who is depicted with a head of a hawk. The Romans build a temple in Pompeii for the goddess, hence its name the Temple of Isis. Quite expectedly, the symbols are also inspired by Ancient Egypt so you will see the Eye of Horus, a Ruby Scarab, a Gold Snake, an Ankh and a Bastet. In this game 1p counts for 1 credit and you can bet between 1-20 credits per line. The autoplay function is available too and it spins the reels for you 10/20/50/100 times. The Scatter symbol is the Pyramid and when you get 3 or more of it, it triggers 15 Free Spins and during those spins all prizes are tripled when you get 3 Scatters in a spin. Again, your initial bet will be multiplied by 450 when you get 5 Pyramids. A Priestess who used to serve Isis represents the Wild Symbol which doubles all prizes and substitutes for all symbols but the Scatter. Get 5 of it and you will receive 9,500 credits.
4 Starburst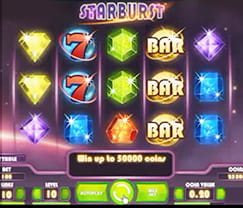 Developed by Net Ent this 5-reel, 10-line slot combines the vibrant colours of the gem symbols with the arcade feel and the retro looking symbols like Bars and Sevens. The cosmic music and the fast-paced game make for the energising feel of the slot. We must admit that we like a lot the Expanding Wild Symbol feature that not only substitutes for all other symbols, but also brings you up to 3 Fee Spins that can add up some tasty cash to your account. And although this slot is pretty simple, it has a few great features. First, you can Win Both Ways, meaning that your combination can start from left to right or from right to left but only the highest winning combination will be paid out. Second, there is the Stacked Symbols feature where the symbols can appear stacked in groups of three and dramatically increase your winning chances. Your total bet can be as little as 10p or rocket up to £100 and the autoplay function can spin the reels for you from 10-1000 times.
5 Enchanted Prince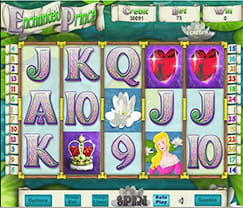 The last slot we are going to present is themed on the Grimm Brothers' fairytale The Frog Prince. You probably remember the story, a princess is playing when her ball drops in a pond and she starts crying. Then a frog pops out of the water and demands a kiss in return for the ball. When she agrees to that and kisses the nasty frog it turns into a handsome prince. So naïve and yet so dear to us for the memories of the childhood it evokes. Enough nostalgia, let's get to the fun part. The symbols of this 5-reel, 25-line slot are a Princess, a Castle, a Water Lily, a Water Lilly Leaf, a Heart Shaped Ruby and the card symbols Ace, King, Queen, Jack, Ten and Nine. Understandably, the Princess is the symbol that's paid the highest – get 5 of a kind and you'll be awarded 2,400 credits. The King's Crown is the wild symbol. It substitutes for the other symbols and when it appears in a winning combination it doubles it. The Enchanted Prince, still in the body of a frog is the Scatter Symbol that awards 15-25 Free Spins and multiplies your winnings up to 50 times. Bet between 1-20 credits per line and enjoy up to 100 auto spins.
Mobile Platform Functionality and Compatibility
Next comes the mobile compatibility. Many statistics show rocketing numbers when it comes to mobile gambling but even without the stats you know that playing on a mobile device is really convenient and that the leaders on the bingo market have a perfectly developed mobile platform. There are basically two types of mobile bingo products – native apps and mobile sites. The first category mainly concerns the iOS users because all the major bingo brands have developed a special app for iPhones and iPads and we know that people generally prefer native apps, the drawback is that cashing in and out is often impossible. Of course, there are exceptions, and we can say that sites like 888 Ladies, Wink and Posh already offer a completely functional mobile cashier. But when it comes to Android users, native apps are a rarity and even if the operator has made the extra effort to develop one, Google Play will not let them put it in the store because no gambling apps are allowed there. You will have to adjust the settings of your device so that you can download the apps from an "unknown source" and look for the app on the site of the operator. So for the time being, we'd like to advise all Android users to either use the mobile bingo site, or buy an iPhone. All jokes aside, the mobile bingo pages have their advantages. They do not take up space because you're playing in the browser and you don't have to provide access to your camera, calendar, contacts etc. which is usually required when you download a native app. And as for the Blackberry and Windows users (who uses those anyway, right?) there are not so many options just yet. We know that 888 Ladies are working hard on developing a Windows phone compatible mobile platform and there are also a few sites that offer Blackberry mobile games but the majority of good offers are still not available.
Mobile Bingo Statistic
Roughly 2.5 million adults play online bingo in the UK
92% of bingo players play on a PC
17% on smartphones
10% on tablets
Brian Wright, the Director of the Remote Gambling Association.

Ever since the launch of 3G data services, mobile gambling has been a key priority for operators as they concentrate on delivering new betting experiences for their customers. In terms of the future, the rollout of 4G phones, with its ultra-fast wireless connection will only see the importance and popularity of mobile gambling grow further in the years to come.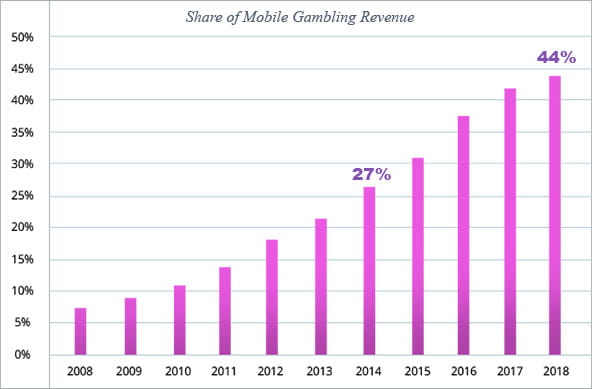 According to one of the preferred partners of the UK Gambling Commission, the consultancy company H2 Gambling Capital mobile gambling already accounts for 27% of online revenues and it will rise to 44% by 2018.
Financial Data Security, Payment Methods and Fees
Another important requirement a good bingo site should fulfil is the ease of use of the cashier. This is too general probably so let's be more specific. When you use real cash to play online and you need to provide banking details there are 3 things you should know for sure: how safe are my banking details, can I deposit and withdraw using my preferred method and how quickly will they process the transaction? Those are relevant questions that should not be overlooked because you really want to play so and so game. Let's start with the security of your financial data.
• SSL Protocols – Usually the sites say they use an SSL protocol and this does sound like a fancy piece of sci-fi technology but you have no idea how it works. Well, basically the Secure Socket Layer provides a safe channel between two machines that work over the Internet. You will see a green bar and/or a padlock when the SSL protocol kicks in and sometimes a pop-up message may inform you that the connection is safe.
• Security Seals – Also, you may see a security seal of a big payment service provider that guarantees the good technical condition of the cashier. Some of the big names in the industry are Safecharge used by Mecca Bingo for instance, GoDaddy used by Wink, TrustWave used by Landmark and Verisgn use by Gala.
• Payment Methods and Fees – Virtually any gambling site accepts debit cards like Visa, Master, Maestro and it's obvious why, most people have one and have used it to purchase goods or services online so they know the drill. But of course there are always alternative payment methods whose number varies depending on the operator. Two of the most popular ones are Skrill and Neteller so you will find them on the majority if UK bingo sites. That's definitely an advantage because you don't want to use 5 different payment methods depending on the operator. However, there are also some disadvantages we cannot put a blind eye to. One of them is that you have to register an account and fund it before you make a deposit. Also, Skrill comes with a £7.25 annual fee and £2.14 per transaction from an ATM or a bank. Neteller does not have an annual fee but there's administrative fee if you're not active for 14 months, this is highly unlikely though. A bank withdrawal from your Neteller account should cost around £5.4 which doesn't make sense if you want to withdraw a smaller sum. And that's why we'd like to tell you about our two favourite payment methods for gambling sites.
We Recommend PayPal and Paysafecard For Hassle-Free Transactions
Yes, to use PayPal you have to open an account like when you use Neteller or Skrill but there is a significant difference – you don't have to pay any annual or administrative fees. At the moment UK customers cannot withdraw money from their PayPal account to their debit/credit card but the withdrawals to a bank account are absolutely free and they take 2-3 days. Additionally (maybe we should have put this one as the biggest advantage) you will not provide your banking details to the operator. And this doesn't mean that you necessarily do not trust the operator but you can never be too careful on the Internet. When you register your PayPal account at a bingo operator all you will need to do to deposit/withdraw will be a username and a password – no debit card numbers, no CVC codes and no Morz code.
Paysafecard, on the other hand, is not connected to an account. This is basically a 16-digit code on a voucher you can receive in exchange for your money in any local store, kiosk or a gas-station. When you enter the code on an online bingo site, you will fund your account with the same sum. Quick and easy. There's one drawback, though. Obviously, since there's no account connected to this voucher, you will not be able to withdraw your money using the same method, so you will have to register another one for withdrawals or request a cheque which takes longer to receive. Otherwise, this is the perfect method to deposit on a site you've just registered on if you want to try out their games and decide whether you want to make a commitment or not later.
| Method | Account | Deposits | Withdrawals | Banking Details Requested | Perfect For: |
| --- | --- | --- | --- | --- | --- |
| www.paypal.com | Yes | Instant | Free | No | +a long-term relationship with an operator |
| www.paysafecard.com | No | Instant | No | No | +1st time deposit on a new bingo site |
Rising Stars – New Bingo Operators
.

.

Giant Bingo: the Best New Cassava Bingo Site for 2016
2 Bonuses for Newbies
5 Progressive Jackpots
5-Line Bingo Room
24/7 Free Bingo
Some sites may be too young to boast a perfectly developed mobile platform or an abundance of games but they shine bright because of their generous promos. New operators have to build a loyal following so they are more likely to offer special bonuses. They kick start with a limited time offer that is way more advantageous compared to the standard ones. And since they have to prove they are worthy of your attention, they constantly add new features and you will be one of the first players to try them out while you benefit from the perks offered only to the loyal players who've registered from the very beginning.
In the table below we'll rank the 3 best bingo sites 2016 saw and update them on a regular basis so that you don't miss out on a great new promo. Of course, before we decide to recommend a new site to you we carefully check its legality and security. You will also see the variations of bingo games available at the time of launching and the new-player bonus. We advise you to check this table from time to time so that you are up-to-date with the latest offers.
| Operator | Year of Launch | Provider | No‑Deposit Bonus | Welcome Bonus | Variations |
| --- | --- | --- | --- | --- | --- |
| giant | Feb 2015 | Cassava | £10 | £20 | 90/75 |
| Reem | Jan 2015 | Cozy | £5 | £50 | 90/75/80/50/30 |
| sparkly bingo | April 2015 | Dragonfish | £10 | £25 | 90/75 |
Click "Play Now" to check the T&C's.
Annual Gambling Awards and the Awarding Bodies

When it comes to awards, people tend to act casual and pretend not to care about them. But everybody knows that one day Leonardo DiCaprio will grab that Oscar and the Internet will explode. The same goes for the gambling awards, operators crave them but often have to wait as long as poor Leo for one. The eGR Award is perhaps the most prestigious accolade you can be given in the gambling world, they are like the Oscars in this industry. That's why we will start with them. There are 2 events – the eGR Operator Awards, which recognise the biggest names and best bingo sites amongst 800+ eGaming operators, and another ceremony for the B2B sector which celebrates the most innovative service providers that power the industry. Both awarding ceremonies are annual and this year the eGR B2B prize for a Bingo Network went to Dragonfish, the software provider behind some of the biggest names on the online gambling market like 888 Ladies, Wink and Posh. Not surprisingly the award for Innovation in Payment Solutions went to PayPal. The Operator Awards crowned Tombola as the best Bingo Operator and William Hill for their Marketing Campaign. And in case you are wondering who votes, it's a panel highly expert judges including former CEOs, entrepreneurs, and board directors especially chosen so that there's no conflict of interest.

Another important ceremony, the iGaming Awards, is also held annually. This year, the event took place at the Savoy Hotel in London and Mecca grabbed the award for the Online Operator of the Year, Paddy Power was given the prize for Socially Responsible Operator and the same prize just for land-based operators was given to Rank Group who own all Mecca clubs. The judges are experts in different aspects – media, manufacturing, supply, operations and consulting so that the voting process is fair and open.
There are two more award ceremonies – the Which Bingo Awards and the Bingoport People's Choice Awards. Although not as elite as the previous two, they give a good idea of whether the customers feel the same way about the operators as the professional judges because the nomination and voting is done by real players. And guess what it often does – Paddy Power took the prize for the Most Socially Responsible Site at the Which Bingo Awards. However, both organisations crowned Jackpotjoy as the Best Online Bingo Site which didn't make it in the other two award ceremonies.
The VIP Lounge – How to Become a Classy Bingo Player
Speaking of prestige and glamour, let us tell you about a very elite VIP programme, the Joy Gem Club that runs in a network of sites powered by Dragonfish. This is a unique scheme because once you become a VIP on one of the sites, you become a VIP on all of them. The sites in the Joy Gem Club are Wink, Posh, Tasty, Red Bus, Bingo Street, 888 Ladies and Big Brother. There are 3 levels – Ruby, Sapphire and Diamond. To qualify for the first level you have to deposit and wager between £2,000 and £2,999 in a period of 3×30 days on any Joy site/s. You will upgrade to Sapphire after you deposit and wager between £3,000 and £4,999 in a 3×30 day period and finally you will reach the Diamond level when you have deposited and spent £5,000 within the same period of time. The benefits you can take advantage of become bigger and better the higher you go. You will be welcomed on each level with between a 75%-100% introductory bonus, there's also a special birthday bonus, access to all VIP rooms across the 7 sites, 5% redeposit bonus and invitations to exclusive VIP events. Also, you will be able to claim up to 10% cashback at Wink and Posh, and up to 6% at Tasty if you haven't been especially lucky during the last week. It's very rare that an operator will offer their qualification criteria so openly so you know exactly what to do. Most sites like Foxy simply state that the Elite VIP Club is by invitation only and they cannot disclose any information because the marketing team monitors each account and decides single-handedly who deserves a special invite. Otherwise, the advantages of being a VIP at Foxy are equally tempting and we know that they often sent individual bonuses or bonus codes by mail.

Note that these VIP clubs should not be mistaken with the Loyalty Schemes that reward each wager you make. Take for instance the last operator – Foxy – they give you 1 loyalty point for every 10p you spend on bingo cards which you can later redeem for bonus funds – 1000LPs will bring you £1.
Security, Legality and the Future of Online Bingo
This may seem like the boring stuff you never read in the T&C section but it's also good to know and since probably very few of you are lawyers, marketing specialist or IT prodigies, we offer an explanation of the most important matters in human terms – no terminology and no fine print.
• How safe am I on a gambling site and who's responsible for my security?
The first sure sign that you are playing on a safe bingo site, as we mentioned earlier, is the presence of a valid UK Gambling Commission license. After all, if the operator is safe enough in the eyes of a regulatory body directly accountable to the Department for Culture and Sport, you should feel pretty confident in its legality. But still, let us tell you who guarantees the operator is fair and the results of the games are truly random. There is a list of approved test houses by the UK Gambling Commission which have full accreditation to BS/ENISO 17025. You will most likely see the seal of approval of one of the three agencies listed below somewhere in the footer of the majority of UK bingo sites. But note that even if you don't see it, it doesn't mean that the site is not safe, they could be tested by any other of the 10 approved agencies.

eCogra – The full name of this testing agency is eCommerce Online Gaming Regulation and Assistance. It was established in 2003 and it is a London-based company that provides player protection, fair gaming, responsible operator behaviour via annual testing of the applicants.

iTech Labs – With more than 10 years of experience iTech Labs is already an established industry leader that executes Game Output Audits, namely RTP Reports and RNG Evaluations. Again, the operators go through regular checks so the RNGs are tested every year.

TST (GLI) – Established in 1993, this testing lab has more 20 years of experience in functional and compliance evaluations. It certifies products for conformity in more than 475 jurisdictions worldwide. The abbreviations stand for: Technical System Testing (Gaming Laboratories International).
• What does the UK Gambling Law say about bingo?
In all honesty the law is not very specific. The UK Gambling Act of 2005 states that bingo is: "any version of that game, irrespective of by what name it is described". The Act also says that there should be separate licenses for bingo and casino and that bingo must not be included in the "other games" casino sections. A much earlier document, the 1978 Royal Commission Report, tries to provide a more thorough definition of bingo but is still a bit dated:

"Bingo is a lottery played as a game. Each player receives for his stake a set of numbers which he has not chosen. These are marked off against numbers selected at random and announced by a caller, and the winner is the person who can first substantiate a claim to have marked off all those, or a particular section of those, in the set he has been given."
So in 2014 the UK Gambling Commission issued an advice note that aimed to differentiate bingo from both lottery and the other types of casino games. There was a wide discussion with many industry experts and stakeholders after which three principles were agreed upon. Bingo must be an equal chance game, involve participation from the player and have a clearly defined end point. Analysing further these postulates, we have to define what equal chances are. To be equally likely to win, the game should not involve staking against a bank and must be equally favourable for all participants. By definition stake is an amount of money that is risked which is later used to calculate the amount of the win. Whereas in the bingo game the tickets always have the same cost so you can't bet more. You can buy more of them but the prize is not calculated based on the number of tickets you have bought. You can buy 1 or 10 tickets and win the same jackpot. So in bingo you do not make stakes, rather you pay a participation fee. And even if you buy more than 1 ticket the game will still count as equal chances one because you are not buying chances to win 2 or 3 times, you simply buy more chances to win the same prize. As for the level of participation, there should always be some kind of human interaction in the game, be it marking your card, claiming the win or simply initiating the bingo game on the online sites. And finally the last requirement concerns the duration and the end result of the game, meaning there should always be a specific aim after which the game is terminated.
• What is the future of online bingo?
We requested statistics and market prognoses from a very reputable market data consulting company that works closely with the UK Gambling Commission. The H2 Gambling Capital diagram below clearly shows that the growth of the bingo market across EU28 in the next 3 years will be significant. You may be wondering why we show those figures and estimations, it's to show you that gambling is not a secret hobby you'd like to hide in your closet anymore, it has turned into one of the most popular recreational activities in the EU and especially in the UK and this is good for a number of reasons. First of all, it's legal – this means it is controlled and supervised. And secondly, the more operators there are, the higher the competition is and the better the offers are.
UK Gamblers Play On

FAQs
In this section we will provide answers to common questions by players that we have received on our email. If you also couldn't find the answer of your question in this article, please contact us. We will be very glad to dig out any information for you.
Can I play for free and win real money?
Yes, you can. Many sites like Landmark, Costa and Foxy offer no-deposit bonuses so basically you get paid to join the site and you can play fore real money with the free bonus. There are also rooms where you can play free bingo during a certain period of the day. The newbie rooms that are open between a week and 10 days after you register are another option to enjoy some games on the house while you still can win a few pounds. But if you're asking whether you can earn your living playing free bingo, probably not. Do it for the fun and the chance to win a few quids but don't think that this is a get rich quick scheme.
I can't register on a site because it says I am already registered but I'm not. Why?
Unfortunately, some bingo networks will not allow you to register with the same username, email address or postal address more than once i.e. the system recognises you already because you are a member of another site in the network even though you may be unaware that they are in a network. If a message pops out saying there is an account related to your email/alias just contact the support and they should be able to sort it out for you.
Why are there mainly negative comments in the bingo forums? Are all online bingo sites that bad?
No, at least not all of them and certainly not the ones that have passed our check (we do try to squeeze out every piece of information about the operator). There are 3 possible scenarios that fit the question above. A) Disappointed customers are the ones who usually look for attention and want to warn the other people so they would go back to the forum and let it all out. The ones who are happy with the product they got don't feel the need to tell the world about it. It's not just in bingo it's about any product/service. B) The disappointed customers are sometimes unhappy because they are not well-informed. I mean, come on, it couldn't be that much of a shock to find there are wagering requirements and you can not withdraw your bonus right after you take it, right? And C) the site actually sucks but in this case you will not find it here.
What should I choose – a busy room or an emptyish one?
It depends on why you play. If you do it just for the fun and good chat with the roomies of course the crowded rooms will be the perfect place for you. But if you're in it to win it, as they say, you will have to be a bit more picky. Yes, it's true that the more players there are, the bigger the jackpot is but also the weaker your odds to win become even if you max out. So we would say, choose a reasonably popular operator and the weaker hours of the day/night to play. This is usually weekdays when everybody's busy at work.