Gala Bingo with a Cause to Celebrate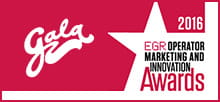 One of my favourite online bingo providers, Gala Bingo, has emerged from the eGR Awards 2016 with at least one individual prize. After its awesome success at the WhichBingo Awards a fortnight ago, and considering the award-winning platforms on which it stands, we can safely say that Gala has been having a great year so far. My post is mainly about the eGR Awards and the fresh start of the new season made on the site. Read to know about their latest TV ad, as well.
The ceremony for awarding the prestigious eGR Awards for 2016 took place in the calm afternoon of June 1st, in The Pavilion at the Tower of London. There are two awards: Operator, Marketing and Innovation which celebrates the names we know, and B2B where companies that provide professional service to other companies are recognised. Gala Bingo is Winner in Bingo Marketing Campaign and Highly Commended in another category, Social Marketing Campaign. I do like Gala TV ads and must say that the news pleased me not a little. Later, you'll have the chance to read about the latest advertisement. The eGR Awards 2016 also gave recognition to Playtech, the software platform used by Gala, giving them the prize for Multi-Channel Supplier.
Around two weeks ago, the operator scored a hat-trick at the annual WhichBingo Awards winning three of them: Best Online Bingo Site, Best Mobile Bingo Experience and Best Playtech Bingo Site. Although slightly less prestigious, recognition by this awarding body is increasing in significance, especially as the panel of judges includes independent professionals from the industry. That success must be the result of hard work and new games being introduced. Remember the Big Banker game we told you about? It is loosely similar to DOND and has proven to be pretty popular so far. Another great newcomer is the Emmerdale 90-ball room. It takes after the eponymous TV soap and the sessions feature famous scenes for fans to like. Why don't you just check out the review we've written about the gaming site and see for yourselves?
And the newest television advertisement? Well, it has come quite in time for the summer. In it, a serene lady smiles happily at her tablet sitting in a cafe humming to herself while winning. At the same time, complete havoc takes over the surroundings, never disturbing the happy player. Which is your favourite TV bingo ad? Why do you like it? What do you dislike about it, and how would you change it? Be a director. We'd love to hear your ideas.