Mecca Has Launched a New Bingo Game for Mobile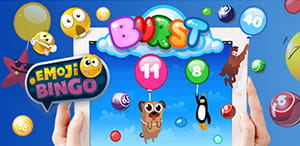 Burst Bingo is the newest addition to the mobile bingo portfolio of Mecca. One of the leading UK bingo brands has surprised their loyal players with a novelty that brings both fun and prizes. The entertaining game is available only on the go and can be played daily, every two minutes between 9am and midnight. Sounds pretty good, I believe. You can go right now to play the game, or you can read this post to see all the details you might need. I've tried to make it as detailed as possible, at the same time keeping it within reasonable volume.
The newest mobile bingo variant, Burst Bingo, was launched last week for all the mobile players of Mecca Bingo. We've got used to considering Tombola the greatest innovator in the field, but it looks like Mecca has moved a massive deal forward since just a couple of months ago, in September 2015, the brand launched Emoji Bingo on the go. Here is how you play Burst. First of all, it's totally free on the App Store, and you download it very fast. Then, you can choose how much you stake on it, thus determining how much you can gain if you are lucky to hit a Full House. You can bet between 25p and £3 to win up to £40. Here's the breakdown:
25p – £3.33
50p – £6.67
£1 – £13.33
£2 – £26.67
£3 – £40
Because you can play every day, and a new game begins every 2 minutes, you can imagine how big you can win. And now's the time to explain how the game is played. It is much like Bingo 50, in that it features 10 numbers that must be matched for a full house. The numbers are written in balloons held by animals in the sky, at the top of your screen. There are two lines, 5 balloons in each. Whenever one of your numbers is called, the respective balloon bursts and disappears from the sky. To celebrate the new arrival, Mecca has launched a special promotional period including this game and Emoji Bingo in which the prizes are very nice. You may read our Mecca review to learn details of the operator. Then, just go and try this new game! I'm dying to hear your opinion about it.