New Things Approaching This Summer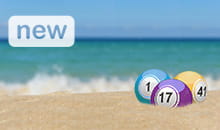 The end of May usually brings a feeling of summer and holidays. That is also a new start in online bingo as you'll see from this post. I've tried to sum up several of the novelties that I noticed recently. A group of new TV ads is coming our way, as well as a change in Terms and Conditions of one software provider, plus a change in the Newbie Room terms in another. Wow, after such a mouthful, I must get down to being specific. Foxy, Costa and 888ladies sport new advertisements, Gala has prolonged their free-for-newbies room access, and all the Dragonfish-powered sites will cap certain of your winnings starting June.
First things first, we start with the new ad campaigns. 888ladies already released their newest video which celebrates the long-awaited combined welcome bonus. Let me remind you that for our visitors, the new-player offer has been offering bingo and slots bonus funds for quite some time. It is nothing new for players who join through our website. You, moreover, have access to a strongly enhanced match amount. To get back to the video, though, it's quite funny. In it, an old-fashioned slot machine and a bingo card exchange several blows competing for the customers' love until a voice tells them to 'calm down' and presents the improved bonus.
Foxy and Costa are still planning their new ad releases. Foxy's is going to be a surprise. We expect it will feature the latest Flash Fives game that entered into beta testing on some of the Dragonfish brands. We'll see. As for Costa Bingo, their new campaign will be presented by comedian Johnny Vegas. He will be calling numbers, and we've got a couple of days more to wait and see how things will unroll. Previously, Mel B was the front of the brand. I'm sure the brand new look is going to surprise us all. The lobby will also change, the provider transferring to the new Dragonfish bingo client, BingoS, that is getting incorporated in most of the labels on the network. The client will apply to the PC platform, and is expected to offer some neat changes in the rooms, too.
And now, let's move to the change in the slots bonus terms announced by Dragonfish. Customers at many websites have already received e-mail updates regarding this. So far, your winnings from slots bonus were not capped, and you are entitled to withdraw all you are lucky to hit. As of 13th June, however, you'll be eligible to cash out not more than £400 on top of your bonus funds. The restriction does not apply to progressive jackpot wins, fortunately. I'll be open with you, I don't expect this to have much of an influence on us, players. Most winnings are accomplished on real-money wagers, anyway.
My last piece of news is about Gala Bingo and their Newbie Room. So far, all new players on the site had a 5-day access to the games in this room. Since this May, they'll have a full week for playing there. That automatically leads to an increase in the potential wins they can make.
Well, that seems like a good way to finish my first June post. Wishing you a wonderful start of the warm days enjoyment, I'll meet you in a week.