A New Huge Winner in a Land-Based Hall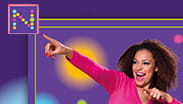 Buckie entered the news these days, at least our coveted news, with the tasty winning a local bingo player made in the National Game. Anna, 43, mom of three, will have enough money to celebrate with her family and reward herself with some dreams come true. Because I just love such stories, there was no chance I'd miss to tell you about it. Read below how and when and where. The one question no one needs to ask is Why? We all know why: because we love to play, and the game loves its players.
Carlton Bingo in Buckie was part of the National Bingo Game, and Anna Murray is just an average regular at the venue. She plays in her club twice a week accompanied by her boyfriend, also a bingo fan. The two visit the place mainly for fun and a good night out. After a full house jackpot draw Anna came on top of the board. The big prize of the night went to her! The prize amount? Exactly £25,000. Not enough to turn your life, but definitely sufficient to make it immensely sweeter. And for a long time, too, if you're only smart. Uhm, but what happened next, I see you wondering. Well, first of all, the winner was dumbfounded, she was left speechless. I can relate to that. I've never had a huge win in a live game, but I can imagine how shocking it is. It took her some time to accept the thought and knowledge of this sum. She is OK with it now, it's obviously easier to get used to good things in life than otherwise.
When asked about her plans, Ms Murray said she hasn't decided yet. Here's her thought:
"I don't know how we will spend the money yet, I think we will just enjoy it… [As for] using it for a holiday… I usually go on holiday three times a year anyway."
Anna Murray, 43, Buckie
Oh, how nice! With three kids in early teenage, I believe she'll find many cute and wise ways to use her money. What I also believe is that good things often happen to good people, too. Land bingo halls are not the only proof of that. If you are unsure where you can go in your area, here's an interesting listing. Still, if you view going to the physical hall as something too hard for you, there's always the chance to hit an online website and test your luck. Mind you, online games give away huge bonuses, that is – free funds to let you play longer. And the promotions there are good. Plus, you may even stay in a different room during a big prize game, as the pre-bought tickets will be played for you. But, come on! Who will refuse the glamour and upbeat feeling they get from a real-life event? Not me, in any case. What about you?