Dragonfish Tries to Position Its Bingo on the Innovations Map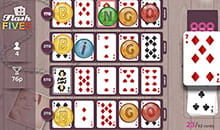 After several competitors launched innovative bingo variations for their websites, the industry leader, Dragonfish, also pulled a rabbit out of its sleeve, releasing Flashing Fives on several of its premium brands in what appears to be a test period. Because my top favourite bingo rooms are powered by this software exactly, I am fully partial to the news, and I've already played a full month's worth of this exciting variation. Basically, this is bingo played with cards. Much similar to Tombola's Cinco, Virtue Fusion's Joker Jackpot and Gamesys' Snap!, it is destined to be loved. Finally, here's my blog post about it.
When and Where?
You can play every day between 6pm and 1am in two rooms. One of them sells tickets for 10p, and the other one sells them for 50p. The games run continuously during the said period. First, you need to buy your tickets. Here, they are called 'hands' and consist of five playing cards all turned face down. When you click on a hand to purchase it, the cards in it turn face up. You can have up to 5 hands per single draw. A new session starts every 5 minutes; you can check the timer in the top left corner of your screen.
Drawing of the Winning Numbers
The total numbers drawn per session equal the number of cards in a standard playing deck, 52. They are drawn to the right of your hands, from a shuffled deck in the centre of the room, so to say. Further to the right, you can still see the mini-games. If you want to track the draw, you can click to open the 'Calling board' on the right. When a card drawn matches one from your own hands, a coloured chip will be placed on your card. This will continue until your entire hand is covered in chips spelling B-I-N-G-O in the familiar 75-ball colours. In case you've forgotten what they were, here's help: B is yellow, I is blue, N is green, G is orange, and O is red. Matching the whole hand is called 'Full House' and the lucky player, or players, with winning hands will grab the game jackpot. It strongly depends on the number of purchased tickets and the prices paid.
Will It Work, or Is It Belated?
Ah, well, since I am really fond of the Cassava rooms, I wish it would work and bring even more players to the pool. Plus, while it does look like a fresh imitation of Tombola's CINCO more than anything else, this is still another game, and what it really does is satisfy the long-time loyal players. This way, I won't need to go to other websites for a little diversity, but I'll have it all in the same place. That generally means that it will work in a way though I doubt it will bring the provider an award in innovation.
Have you played it? I'm dying to hear stories and other opinions. You know you're always welcome to share your views: both our other readers and I will enjoy them. Shoot! Also, while you're still here, why not check my 888ladies evaluation article to see why it's one of my favourite places on the web?