Gala Joins Senet Group: Becomes First Bingo Brand There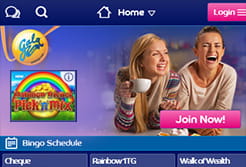 The Senet Group is one of the biggest UK organisations dedicated to curbing gambling addiction and ensuring a safe gambling experience for those engaging in it online. Their name may not be familiar to you – I know I didn't recognise it at first. But if you've been on any prominent betting site or casino, even if only to browse, you've undoubtedly seen their GambleAware banner right in its footer. Some of the biggest names in the online gambling industry, such as William Hill, Betfair, Ladbrokes and Paddy Power, have already joined the Senet Group, publicly announcing their desire to do anything in their power to fight gambling addiction by providing support for those affected by it.
You might have noticed that while some of the brands that are members of the Senet group have their own bingo arms, such as William Hill, none are primarily associated with bingo. That's why I'm very pleased to announce that one of my favourite bingo sites, Gala Bingo, has officially joined the group, becoming the first bingo brand member! "Today marks an important milestone as more sectors from across the gambling industry recognise the importance of promoting responsible gambling standards," Wanda Goldwag, chair of the Senet Group, said. "We are delighted to welcome the first bingo brand to the Senet Group, and look forward to working with Gala Bingo as more businesses from across the industry make the commitment to submit to the independent oversight we provide," she added.
Simon Wykes, the CEO of Gala, also had a few interesting comments to make about the responsibility that his company – and gambling venues in general – share when it comes to curbing gambling addiction. He claims that while bingo may be recognised as a game on the softer edge of gambling, that's all the more reason to be responsible and ensure that its players are adequately protected. Wykes hopes that this step will lead towards the gambling industry working as a whole to solve the issue of addiction.