Ladbrokes and Coral Merger Given Green Light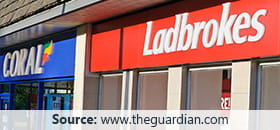 The second and the third biggest betting brands in the United Kingdom have been given the green light to merge. I mean Ladbrokes and Gala Coral. The deal is provisionally set for September. Apart from the money changing hands, possibly, and the business impact which this step will have, we need to calculate also the effect it will have on players and their advantages. While it looks like a huge family being formed welcoming all members to the bigger house, the clearing of competition actually serves a blow on many traditional players' perks.
When there is a tight competition, brands do their best to attract and retain customers to their business. We, as players, would be wooed and pampered with gifts, special treats and always better and bigger incentives. In the case of ever solidifying market, however, players will have no practical choice. If that was the merger of two mediocre companies, it wouldn't change much in the landscape of games and betting. Yet, the two we speak of are, as I said above, two of the largest and most popular providers in the industry. If the husband in a given family bets on football with Ladbrokes, the wife is almost certainly a regular at one Gala Bingo hall or another. The fresh update of the past week: Gala is the proud winner of 3 coveted WhichBingo Awards. They have been crowned Best Online Bingo Site, Best Mobile Bingo Experience and Best Playtech Bingo Site: a hat-trick any brand would dream of. To see why it's so highly-awarded, you may want to read our detailed review article. It will answer many questions you may have.
The merger will be cleared only after the closing down of approximately 400 retail shops. Right now, Ladbrokes operates over 2,200 shops in Great Britain and Northern Ireland, and Coral – 1,850. The current betting shop leader, William Hill, operates 2,400 retail points. Combined with Betfred, the 'big four' control 87% of the retail market. The new company will leapfrog the leader and will take the first position. The Competition and Markets Authority imposes the sale of 350 to 400 of the already existing shops of the enlarged new company as a condition for full clearance of the merger. That should be sufficient to resolve the concerns. This step will lead to jobs lost, on the one hand. More importantly for us, players, it will lead to reducing our choice dramatically. The free bets and bonuses, the frequent giveaways and extra promo codes will simply be unneeded when the brands don't fight for our attention any longer.