Paysafecard Bingo – No Credit Card? No Problem.
.

The safest way to fund your account without a debit card.
Paysafecard Bonus: £55
Available on mobile
£5 minimum deposit
I'm guessing most of you don't need an explanation of what paysafecard is because you are probably familiar with the prepaid vouchers or Ukash. Actually paysafecard has taken over Ukash which will not be sold anymore.
So if you want to play bingo without providing your financial details, this is the perfect option for you. You can simply go to the nearest outlet, purchase a voucher, pay for it in cash and start playing – no strings attached. Have a look at our list of approved operators and learn where you can get a card.
The Best Bingo Operators That Accept This Voucher
Note that the operators we've selected do not require you to register your debit/credit card to claim the welcome bonus. Some sites like Foxy accept Ukash deposits but will only give you a new-player bonus if you leave your banking details when you register. These four operators are especially chosen not only because they will top up your first deposit with a generous bonus but also because the game range and promotions on their sites are remarkable. You can see that each of these sites has a special extra so we wouldn't want to say that any of them is better than the rest. Chose whichever matches your requirements and rest assured that you will be able to deposit via paysafecard.
Site

Bingo Operator

Deposit

Paysafecard

Available

on Mobile

Withdrawal

Unbanked

Welcome Bonus

Offer

Extra

Advantage

Wink
yes
yes
Cheque 1
£55
Bonus code: BEST
Gala
yes
yes
Cheque/Retail 2
£25
A Free Emmeralde Mug
Landmark
yes
yes
Cheque 3
£50
£15 no-deposit bonus
William Hill
yes
yes
Cheque 4
£50
Combined bonus for bingo and side games 5
1 Payment issued by Chexx Inc by Northern Bank 2 If you want to cash out in a retail shop, call 0800 294 7 294 so that the Gala Team can prepare your withdrawal. 3 There will be a 5% service fee subtracted from your cheque and the company making the payment on your cheque will be LPS. 4 Min withdrawal £25, processing time 7-10 working days. 5 The £50 welcome bonus is split in £40 for bingo and £10 for all other games.

Wink Bingo – Don't forget to use our exclusive bonus code BEST when you open your account at Wink because you will get an upgraded welcome bonus of £55, while the other players will be given only £40. All you need to do is buy a £10 paysafcard and enter the pin. You will have the money in your account right away and the bonus will be automatically added to it unlike other sites that award the bonus only after you stake the tenner. In case you want to splash out on bingo, you can claim up to £550 in bonus funds, but you will have to put in £100. FYI there are paysafecard pins worth £100 so you will not have to combine vouchers. As for the games at Wink Bingo, there are many 75-/90-ball bingo rooms and one for 5-line games aka Swedish Bingo. The lobby is organised in a few tabs according to the ticket price and the bingo variation played. There's are 2 progressive jackpots, one that can be won in all 90-ball rooms and another one that is played for 3 times every evening in the 75-ball Hangout room.
Paysafecard Bingo Deposits in 3 Easy Steps
Now let's go back a step and take a closer look at paysafecard. It's really no rocket science to buy a voucher and make a deposit in a bingo room but it's always better to be informed before you spend your cash. As we already established, paysafecard is currently the only prepaid voucher system that can be used to fund your bingo account.

How It looks – Here's an exact copy of a paysafecard printout so that you know what to look for when you buy one. Needless to say this is just a sample so the PIN is not real. Unlike Ukash where you had a 19-digit code, here the code has just 16 digits. You can choose between the following amounts when purchasing a voucher: £ 10, £ 25, £ 50, £ 75 or £ 100. And you can combine up to 10 pins for larger deposits but we know that a bingo card is rarely more expensive than a pound so I doubt that you will need to deposit more than this.
Paysafecard Transactions Are as Easy as 1, 2, 3!
Can I Deposit on My Mobile Device?
Technically all bingo sites that accept paysafecard deposits and have mobile platforms should be able to let you make your deposits via a mobile device. However, there are some operators who still have some difficulties when it comes to mobile payments. This is not the case with our selected operators – all four of them have fully functional mobile sites that are almost indistinguishable from the PC sites. And supposing you have already registered paysafecard as one of your chosen payment methods all you will have to do to top up your balance is select the amount and enter your code. Let us present you a great mobile bingo app that you can try out using paysafecard.
William Hill – This operator offers two ways to play on the go, you can either download a native iOS/Android app or just play in your browser. Of course paysafecard bingo deposits are accepted whichever option you choose. Put in a tenner and you will get £50 on it. £40 of it will be dedicated to bingo and the rest £10 can be used for all other games. Very few bingo sites give part of the welcome bonus for side games so think of this as a really lucky find. The games are organised in 4 tabs – 90, 75/80, Rainbow Riches bingo and side games. Some of our favourite rooms on the app are DOND, WWTBAM and the Variety Room where you can play all variations of bingo.
FAQs
Is there any other way to buy a paysafecard besides from a physical shop?
Yes, in fact. This site is officially approved by paysafecard and linked to their site. You can pay by bank transfer or online transfer. On the one hand you will get your voucher with a pin online, which is nice. There's no need to go out, or even if you are at a faraway place, you can still order it. But on the other, why would you pay with your Visa/Master for a voucher that doesn't require you to leave banking details. We'll let you decide on your own.
Does the voucher have an expiry date or validity period?
No, luckily there's no restriction in terms of time. But (ha-ha you already suspected there was a 'but') if you don't use your code in 12 months there will be a small monthly service fee deducted from it – £2 for each individual PIN.
Is it worth opening an account?
Most certainly. It will only take you a couple of minutes but if you intend to use paysafecard more than just once it will make your life easier in the long-term. First of all, you will be able to enter your cods online, combine the value of all your PINs and pay with your username and password. Second, you will become a member of the reward programme that lets you accumulate PLUS points and then exchange them for rewards such as bonus free PINs. Just like the bingo loyalty programmes. Last but not least, you can keep track of your transactions and review previous payments.
What do I do if my code has already been used when I try to pay with the voucher?
Contact the customer support at info@paysafecard.com and they will resolve the issue asap. Most of the times these are just technical errors.
Paysafecard Compared to PayPal – Which Is Better?
&
+Not linked to your bank account+No way to spend more than you intended to -No withdrawals
Pros and Cons
+Both deposits and withdrawals-You need to link your bank account/debit card-You have to go through a verification check
trying out a new site
Best for
regular customers
To answer this question we have to take into account a few other things. Are you going to use paysafecard to try out a new site? If this is the case, this is the wisest thing you can do because you provide absolutely no banking or personal data to the operator, or paysafecard. If you don't like the site, you can just close your account and you will be sure there's no sensitive info left. However, if you have been playing on a certain site for a while now, you have probably chosen a method, such as PayPal, that allows you to both deposit and withdraw. And there's the third group of players that prefer to separate their household expenses from the money they spend on gambling and paysafecard is the perfect banking option for them.
Company Overview – A Success Story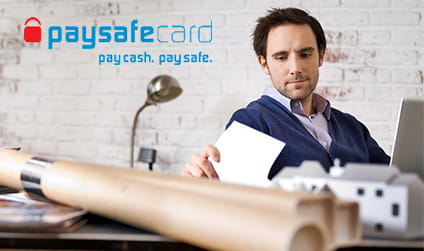 Company Name:

Prepaid Services Company Ltd.

CEO:

Udo Muller, Georg von Breven

Corporate Headquarters:

25 Canada Square, London E145LQ, United Kingdom

Founded:

2000

Commercial Register:

576 18 61

Paybefore Awards 2015:

Consumer Value

Based in:

Vienna, Austria

Operates in:

40 countries

B2B eGR Award 2015:

Mobile Payment Solutions
Based in Vienna, Austria this company was set up 15 years ago by 4 enterprising Austrians and quickly turned into a huge success, opening a subsidiary in Germany the following year. In 2002 they pioneered with the usage of a non-physical card for the first time with the introduction of their printout vouchers. In 2004 you could already buy a card online. The following decade brought a lot of success and the company was widely recognised by various awarding bodies. By the year 2013 Paysafecard operated in 40 countries worldwide. Since February, 2014 the company has been a member of Skrill, which also bought Ukash in an attempt to expand their businesses and boost their position on their global market. The combined business of the two financial giants is a guarantee for high-quality services and hassle-free transactions for the customers.