PlayTech Signs Global Content Partnership Deal with Zitro Interactive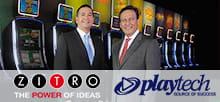 If you enjoy playing bingo games on your phone or tablet, chances are you're one of over a million people using Zitro's content. You know – bright skins, bonus features, and multiple ticket prices. Ring a bell? Until now, Zitro's games were available on Facebook and mobile devices through the World of Bingo app. And here comes the exciting news – according to a press release from Zitro, its catalogue will soon be featured on PlayTech's licensees' platforms, following a content deal signed by the two companies last week.
Why am I getting so excited about this? Because in the course of just three years after Zitro transferred its experience in manufacturing and developing electronic bingo machines for gaming rooms into the world of interactive gaming, it has established itself as a multinational leader in the online video bingo sector. The Spanish company offers a varied portfolio of interactive games in almost 200 countries, including their unique 60-ball format where 30 numbers are drawn and players complete tickets comprising of 15 numbers. On the other side of this global partnership deal we see PlayTech – the leading software and services supplier in the gambling industry. Following how Zitro's unique games will fit into a more traditional platform is definitely something worth every fan's attention.
Initially, 17 games from Zitro's portfolio will be integrated into Virtue Fusion sites, allowing PlayTech licensees to use games such as Powermania Bonus, Tacomania and Last Bingo In Paris. For now, the Mexican casino site Caliente, which offers exclusively PlayTech releases, has been announced as the first provider of Zitro titles and, according to the agreement, Zitro Interactive games will gradually become available to Playtech licensees around the world. As for the UK, we're expecting Virtue Fusion sites like Gala Bingo to be the next step for the new venture. But until these changes are implemented, see what else you can enjoy on the website.
Both companies have expressed their confidence that players will benefit from the deal and that it is a huge step globally towards diversifying the range of interactive games offered by the most prestigious and award-winning platforms. Shimon Akad, COO of Playtech said "Zitro produce great bingo-themed games and we're delighted to be able to partner with them and offer an even larger selection of titles to our licensees." And of course, we'll be the first to let you know how the transition from mobile to a more standard platform went and what the best features of the new content are, once it is available in the UK. Until then, stay with us for more of the most exciting news.

"One of our strategic pillars, beyond diversifying our on-site product lines and our geographical presence, is to offer our popular games to the world from the most prestigious online casinos. This is an important step in that direction."
Sebastián Salat, CEO at Zitro Interactive