Overview of Dream Bingo Terms and Conditions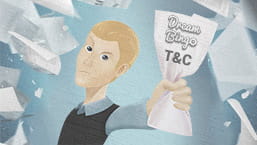 In this article I will provide a short overview of the Terms and Conditions of Dream Bingo. Besides my highlighted comments contained in this overview, it is highly recommended that you read the whole T&C's once again before opening an account and making your first deposit. Generally speaking, the T&C page contains all the information that new players should familiarise themselves with before starting to play – the rules of the games, the bonus schemes, the payment methods etc. A useful and interesting fact is that you're able to directly access the Privacy policy by a link from the T&C page which shows the operator's intent to secure the safety of their players as much as possible.
In this article, I will refer to the terms and conditions that were last updated on 23/11/2015.
Occasionally, the T&C's may be updated. If you know that there is already an updated version and you wish to inform me about it or have any questions or queries about anything written here, please don't hesitate to contact me at info@bestbingosites.co.uk.
Be advised that anything you read here shouldn't, under any circumstances, be accepted as legal advice.
My Choice of Highlighted Topics
There are 16 topics within the Terms and Conditions, which I have listed below. I won't lie if I say that you won't see anything uncommon in these points. They're more or less what you'll see on every UK bingo operator's T&C's page. However, I have highlighted a number of paragraphs that have made an impression on me and added some comments of my own to explain things better.

1About Dream Bingo
2Licensing and Regulatory Authority
3Your Participation at Dream Bingo
4Your Account
5Payment Details / Withdrawals
6Bonuses
7Privacy Policy
8Responsible Gaming
9Player Protection
.9.1 We want to ensure that you enjoy your experience at Dream Bingo in a safe and responsible manner. We will deal with any issue affecting your playing experience at Dream Bingo promptly. We have a detailed Player Protection Policy, as well as a list of mechanisms which you can install to ensure a safer gaming experience..
10Intellectual Property
.10.1 You acknowledge and agree that the material and content contained within the Website is made available for your personal, non-commercial use only. Any other use of such material and content is strictly prohibited..
Comment: You should be aware that any content, pictures or software etc. that is found on the operators' website may be used free of charge and without prior written permission. This is especially so, when it is being used for personal & non-commercial reasons, when in regards to the gameplay or the placing of wagers. Any other form of usage, especially commercial, is strictly prohibited by the operator and the copyright laws of UK.
11Interruptions in Play
12Indemnity and Limitation of Liability
13Availability of Offers
14Support, ADR Services and Governing Law
15Financial Institution
.15.1. Dream Bingo is not a financial institution and thus any deposits made into your account are not due any interest payments on the deposit(s) whatsoever..
Comment: I thought this one is funny and that's why I chose it for my overview. I can't be sure there are players who believe that they could gain some interest on their online gambling deposits, but if they do exist then I'm afraid it's a no, you can't.
16Other
Better safe
than sorry:
Read T&C's!

Ladbrokes Bingo – Terms and Conditions

Betway Bingo – Terms and Conditions

888ladies Bingo – Terms and Conditions
Disclaimer: Please be aware that this article is for informational purposes only and it cannot be considered legal advice. Also, the use and access of this site or any communication through e-mails do not create an attorney-client relationship between bestbingosites.co.uk and the user.