Highlights from the Terms and Conditions of 888Ladies Bingo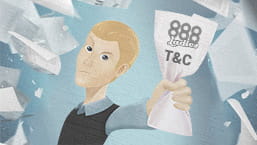 The 888 Ladies Terms and Conditions page contains the full information which is needed by the player in order to participate in bingo games at the website. Two of the things, which caught my intention were the VIP Program for players who are wagering bigger amounts and the Invite a friend Bonus Policy. They are giving great opportunities to the players that participate in them.
In this article, I have highlighted some of the topics that deserve to be reviewed once more so that you are more confident and relaxed when you proceed with the registration and playing.
You should know that the information placed below is written in accordance with the 888 Ladies Terms & Conditions as last updated on 3th March 2015. If you wish to ask me additional questions, have some useful suggestions or just want to share your thoughts with me regarding this article, please do not hesitate to contact me at info@bestbingosites.co.uk.
I would like to mention that this material should not be accepted as legal advice. This is just a way of sharing my opinion on a particular topic with you.
Content of the Terms and Conditions of 888Ladies
The Terms & Conditions of 888Ladies are divided in 22 points. Each of them is very well structured and written in an easy to understand way, so the players shall have no problems with receiving the essential information. It should be mentioned that in accordance with the latest legal requirements, the bonus policy of 888ladies is now more detailed with information about how you can use your bonuses, how to calculate and, of course, how to withdraw them. They even use examples with deposit amounts and the equivalent bonuses. You can find this info next to just about every promotion on the 888Ladies website.
Below, I have listed all the 22 points, including the ones that I highlighted and commented on.
1Introduction
2Assignment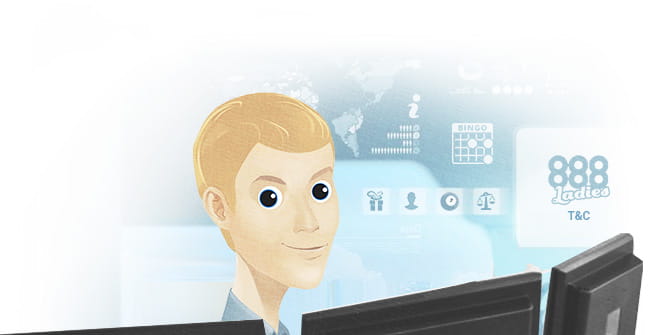 3General Provisions
4Restricted Countries
5Your Account
6Intellectual Property Rights
7Limitation of Liability
8Termination
9Game Terms & Conditions
10House Rules
11Instant Games RTP
12Disconnection Policy
13Free Bingo Terms & Conditions
14Free Instant Games Terms & Conditions
15Invite A Friend Bonus Scheme
.The 'Invite A Friend' Bonus will be paid in the form of 15,000 Loyalty Points. This is the equivalent of £15 Bonus Funds which may only be used on bingo play (i.e. must be used to purchase bingo tickets) and may not be withdrawn as cash..
16Promotion Terms & Conditions
17Loyalty Points Terms & Conditions
18Banking Policy
.We have set the following cash-out (withdrawal) limits:
Daily Limit – £1000
Weekly Limit – £2000
Monthly Limit – £3000.
Comment: Whenever you decide to withdraw your winnings, you should keep in mind that there are daily, weekly and monthly limits. Of course, the fact that these amounts are stated as up to date in these timeframes, does not mean that they couldn't be changed, so you should check the T&C page from time to time.
19Privacy Policy
.Out of respect for your right to privacy we are happy to provide you with an easy means to decline receiving email/SMS offers from us. At any time, you may request to discontinue receiving these offers by clicking the 'unsubscribe' link in any of our emails..
Comment: Although in my opinion promotional emails and SMSs are useful, some find them quite annoying. That is the reason why 888Ladies bingo is leaving it to your sole discretion to choose whether or not to receive these marketing materials. You may activate and deactivate the service as many times as you like.
20Language Discrepancies
21Players in the UK
More tips in the Terms – more fun in the games:

Dream Bingo – Terms and Conditions

Betway Bingo – Terms and Conditions

Mecca Bingo – Terms and Conditions
Disclaimer: Please be aware that this article is for informational purposes only and it cannot be considered legal advice. Also, the use and access of this site or any communication through e-mails do not create an attorney-client relationship between bestbingosites.co.uk and the user.