PayPal Bingo – Let Us Help You Make the Right Choice
.

Hassle-free PayPal bingo in abundance of 90/75/5-line rooms!

.

Bonus: £55
PayPal on Mobile
24/7 Transactions
Picking a PayPal bingo site these days may be as hard as picking a name for the little Princess of Cambridge was. Maybe this statement is a bit pathetic but you get the point – there are hundreds of possibilities and only a handful of good choices.
The aim of this article is to give you the whole picture so that you can make an informed decision – when is it best to use PayPal, who is responsible for the transactions, is it really free? Of course we'll list a few suggestions as to where to play and you will find a lot of other useful information that usually requires a lot of research but you will get it effortlessly just because you found our article. Find all the answers you were looking for before you make your bingo deposits. PayPal's slogan is: "Less time paying, more time playing" – we couldn't have put it better ourselves.
Top 4 Trusted Sites that Accept PayPal Deposits
If you feel you already know enough and just want the 'dry numbers', you got it. We start with 4 bingo sites that offer hassle-free PayPal transactions and also have impeccable licensing, generous bonuses, a wide range of games, and 24/7 support. We have chosen operators that offer an optimal combination of quick processing time and an advantageous welcome offer because neither feature can be determinative when examined on its own. We have also made sure to recommend only bingo websites that let you deposit and withdraw directly on your mobile. However, if it's too early for you to make a choice, read below, we are sure you will find what you are looking for.

* This is the time the operator needs to process the withdrawal but it shouldn't be mistaken to withdrawal completion time because this one depends on PayPal your bank also. You will have the money in your PP account and then it's up to them to complete the process. PayPal's T&Cs say this may take up to 3-4 days but it seems most people get their money in a couple of hours . ** This is how the transactions will appear in your payment record in PayPal, however your banking statement will just show a PayPal payment. For more information have a look at our FAQ section.

Wink Bingo – As you can see this is one of the best choices because the minimum deposit and withdrawal amount is very low. The processing time is also quite decent, well Gala outperform Wink in this category but their bonus is lower and the minimum deposit is higher. Note that Wink's mobile cashier is fully functional, despite what you can read in the FAQ section on their website. Apart from easy PayPal bingo, Wink has many advantages. First, we have a special bonus that will bring £55 on your first deposit of a tenner when you use the bonus code BEST. Second, there is a 5-line bingo room in addition to the traditional 90- and 75-ball games where the tickets for the regular games usually cost a few pence and rarely exceed 25p. And last but not least there are the progressive bingo jackpots which can be won playing both 75- and 90-ball bingo.
The Basics – How to Open an Account and Make a Deposit?
When I first opened my PayPal account it was just because I really wanted to buy a gorgeous dress from eBay and this was the payment method that seemed most secure so I didn't really realise what a good decision I have made. Later on as it became more popular with e-merchants and my 2 favourite bingo sites started accepting PayPal bingo deposits I decided to inform myself about how this e-wallet works. It took me a while, I have to admit, since I was not that good with all the techie talk but here's what I was able to wrap my mind around.
Make PayPal bingo deposits in 3 easy steps!
Quick and Hassle-Free Mobile Transactions – Anytime, Anyplace, Anywhere
PayPal bingo deposits and withdrawals are available on your mobile device as well and are equally simple to make. Basically, all operators who offer mobile payments and have included PayPal in their banking methods should be able to offer mobile transactions. The rest is just as easy as making a transaction on the PC site. Once you register your PayPal account at the cashier, you will be able to fund your balance by selecting an amount and logging in with your password. PayPal recently launched a very convenient 'one-touch' app that lets you pay even faster than going through the regular cashier. Unfortunately, this feature is not yet available on the mobile bingo apps but we hope that the leading UK bingo websites will soon introduce it. After talking to a number of the leading operators we are left with the impression that to incorporate this new mobile solution to their check out, they will have to recognise a demand for it by the players.
Gala – Mobile deposits are just 4 clicks away after you log in…yes we counted. Go to the cashier, choose to deposit with PayPal, select the amount and enter your credentials. If you are a fast typist, you could do that for under a minute. And even if you aren't – how much time could a login with an email and a password take? Gala's mobile app is packed with branded bingo rooms, slots and promos. There are all the regular 90- and 75-ball rooms and exclusive ones like Rainbow Riches, Corrie Bingo, WWTBAM, DOND and the latest addition Bingo Lotto. The slots section is not as rich as the one on the PC client but still there are awesome games like Zodiac Supernova, Marine Mayhem, Iron Man 2 and the matching Coronation Street slot.
A Word of Advice:
Although saving your password on your device can be pretty convenient don't forget that if you lose your phone or it gets stolen it will be much more difficult for the bad guys to steal from your PayPal account if you've logged out.
Top 5 Most Frequent Questions Players Have
Is it really free or there are some hidden fees?
Yes, it's free. There's no monthly maintenance fee, all online purchases or payments made with PayPal are free and the withdrawal to your bank account is also free. PayPal only charges you if there's currency conversion involved or you are making personal transactions i.e. you are sending money to a friend.
Can I withdraw with PayPal?
Sure you can, currently UK players can only withdraw from PayPal to their bank account but not to their debit/credit card. But hey, just a friendly reminder, those withdrawals to your bank account are free of charge.
Will the transaction show in my banking statement?
No, it will not. You will be able to see the name of the company that processes your transaction (e.g. Cassava Ltd. for Wink, GI Limited for Gala, Betway Ltd for Dream and so on) in your PayPal payment record but your banking statement will just show a transaction to and from PayPal. And to address the big pink elephant in the room, gambling will harm your credit scoring only if you do it excessively or if you take loans to play.
Can I withdraw with PayPal if I used another method for the deposit?
Most bingo operators require you to first make a deposit with a certain payment method before requesting a withdrawal. So the answer is, yes, you can withdraw with PayPal but you will first have to use it to fund your account even if you put in just a fiver.
Can I deposit with my account and withdraw to my mother's account?
That would be a no. You have to withdraw with the same account you make deposits. And as PayPal is a financial account, the UK legislation requires all details to match. It's just as if you were depositing with your debit/credit card.
Advantages and Disadvantages
Let's now weigh up the pros and cons of using PayPal at a bingo site. So far we know that it is absolutely free. It's true that there are many other e-wallets (like Skrill) that can offer the same functionalities but you have to pay a sign-up tax, some monthly/yearly fees or deposit/withdrawal charges. Another important thing is the anonymity that this payment method secures. The bingo operator will have no access to your sensitive information or bank account. Plus your banking statement will remain clean so that you don't have to worry about your bank lifting a disapproving brow when they see gambling activity. This anonymity also counts for more security of the transactions because your banking details will be kept encrypted in a secure server and PayPal will not reveal them to any other party. And last but not least, this method offers faster withdrawals because they will be going back to PayPal not your bank account and thus will be processed more quickly. Once they are in your PP account you can choose whether to use them for PP payments or transfer them to your bank account.
The one and only disadvantage we can think of is the fact that PayPal transactions are not available on all bingo sites. And maybe, just maybe, it's more appropriate for a long-term relationship with an operator when you know that you will be regularly using it for deposits and withdrawals, whereas if you just want to try out a new site you can just use prepaid voucher like Ukash and leave absolutely no trace of your information.
PayPal Compared to a Debit Card
&
+No need to provide banking details+No annual fees, no service charges * +Not available on all bingo sites
Pros and Cons
+You already have it and it is accepted virtually everywhere+You provide all your banking details+Withdrawals take much longer
up to 3 working days
Withdrawal Processing Time
2-5 working days
PayPal password
Requested Info
Debit card holder namer, card number, expiry date, CVV number
* Good to know: If you are using your credit card to fund PayPal, you will still get your reward points.
But why is PayPal not offered on all bingo sites?
This is probably because of the strict requirements PayPal abides to. The company is very selective when choosing who to work with as they have had their fair share of fines and legal actions because of disloyal partners. Only fully licensed and regulated gambling sites are partners of this provider of financial services so if your bingo site does not offer PayPal you may want to think about finding a new favourite place, such as Wink where PayPal is fully accepted. Of course, there could be less alarming reasons for not accepting PP deposits, one of them being purely financial. Think about it, if the transactions are free for you, someone has to pay. And you've already guessed – it's the operator who has to set aside a small part of every payment you make and pay back PayPal, which can be unprofitable for some sites.
Safety First – Why Are the Transactions Secure?
As we already mentioned, the first and most important reason is that the bookie will just see your PayPal registered email and password but will not have access to any financial details such as the debit/credit card code, CVV number, expiry date and so on. This doesn't mean that we necessarily don't trust the gambling operators with our financial information but as you know data transmission via the Internet should be handled carefully. The good news is that PayPal uses SSL protocols and 128-bit encryption to safeguard against any leaks of information. Plus, they have a strict anti-phishing policy and make sure all their customers are well-informed about what info they may be asked to provide. Here's a quick crash course in Internet technology for those of you who might be unfamiliar with nerdy terms like "encryption", "SSL protocols" and "phishing".
HTTPS – Normally, when you browse you see http:// in front of the URL in the address bar. This is the basic protocol over which you sent data between your computer and the website you are viewing. However, when you go to a site where you have to use a cashier or use PayPal or enter passwords the address changes to https://. This "S" stands for "secure session". Basically, the HTTP connection is layered with SSL to encrypt the sensitive information you wouldn't want to share with anyone.
SSL Protocol – This protocol creates a secure and encrypted connection between the browser and the server. Say you enter a password "Trampoline97". If the connection is not secure it will be sent to the server in plain text and any third person would be able to see it. When using SSL it will be encrypted to an incomprehensible code like "8#E+ry6u$" and then decrypted by the recipient site.
128-bit Encryption – This encryption uses a key that has 340,282,366,920,938,463,463,374,607,431,768,211,456 encryption code possibilities so it's utterly impossible to break this key.
Phishing – This is web forgery that aims to steal your identity usually through fake emails that seem to be sent by a trustworthy company and send you to a fake version of this well-known website where you are requested to enter your password, financial details and personal data. You should remember that PayPal will never ask you for sensitive information only after you have logged in securely to your account.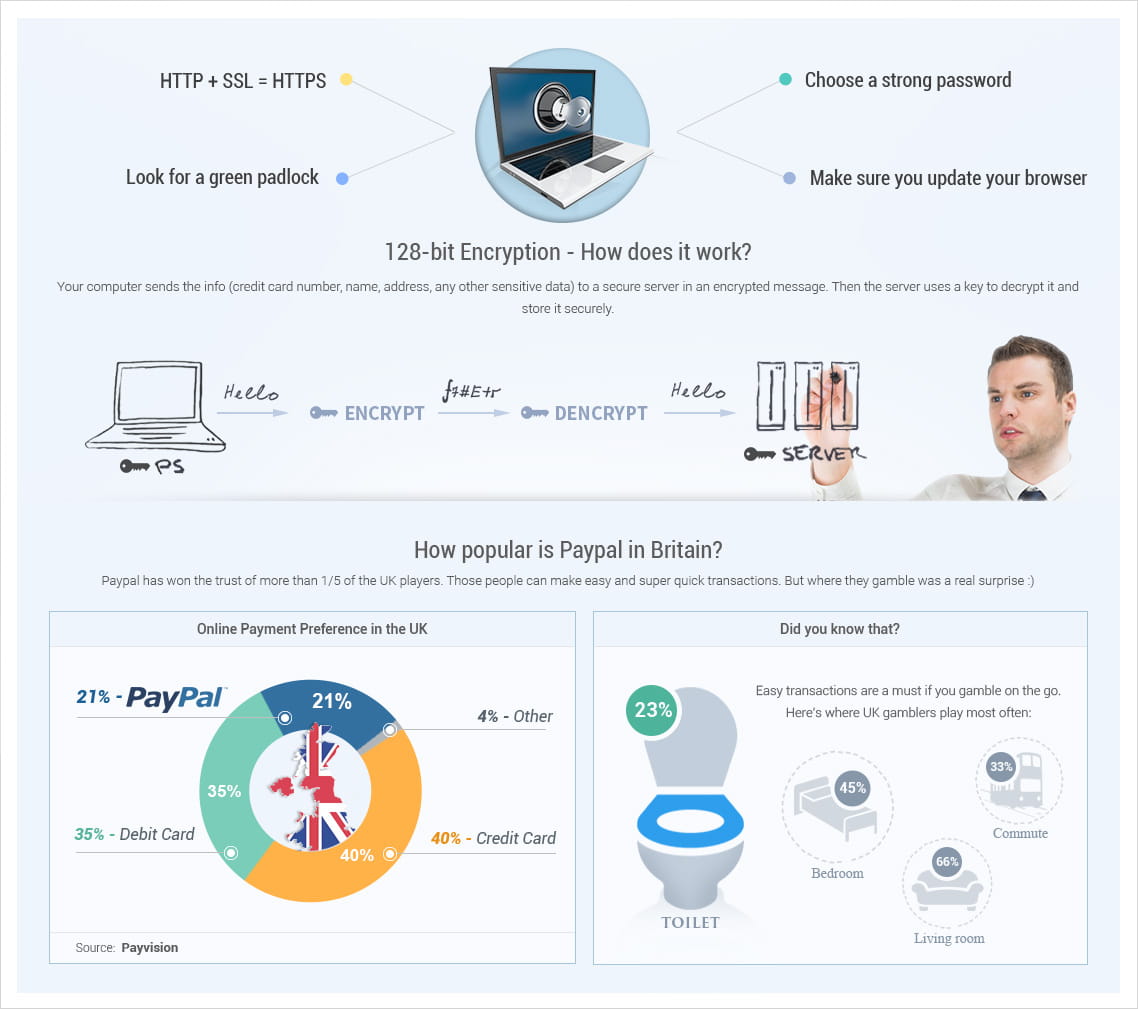 A Word of Advice:
Create a strong password – use upper- and lower-case letters, numbers and special symbols and preferably create a longer password of at least 10 symbols. Never use the same password as the one you use for your bingo accounts!
Update your browser on a regular basis and make sure the anti-virus program you are using is active.
Make sure that you are where you should be – the official PayPal site. Check the address bar of your browser and make sure the URL stars with an HTTPS encryption.
Never ever send any financial information via email even if it looks like PayPal has requested it. If you get a suspicious email requesting such info report it to PayPal right away!
Company Overview – A Success Story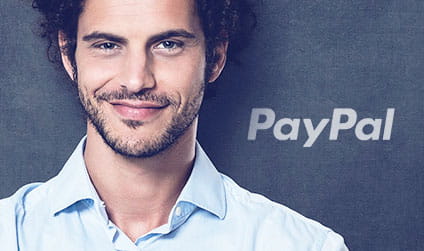 Company Name:

PayPal Inc.

CEO:

Dan Schulman

Corporate Headquarters:

2211 North First Street San Jose, California 95131

Founded:

June 1998

NASDAQ Index:

PYPL

Member Accounts:

+ 162 milllion

Currencies:

26

Markets:

203

eGR Award:

Innovation in Payment Solutions
Probably most of you think of PayPal as the subsidiary of the largest auctioneer online eBay. Well, surprise, surprise, it's not any more. In late 2014 it was announced that PayPal will be a separate publicly traded company with Dan Shulman taking over as a CEO. A move that was expected having in mind the extraordinary success of the company. By the way, did you know that in 2014 PayPal won the prestigious eGR award for Innovation in Payment Solutions. In case you are not that familiar with eGR, these awards are like the Oscars in the gambling world. Impressed already? What we find interesting and want to share with you, though, is how a bunch of Silicone Valley misfits who were absolutely removed form the culture and ideology of this highly competitive environment, created one of the most successful payment companies that outperformed industry giants like Google Checkout, Citigroup and Yahoo PayDirect. So how did they pull it off?
It all started in 1998 when Peter Thiel, Max Levchin and Luke Nosek founded Field Link which was soon renamed to Confinity which focused on payments sent from Palm Pilots and PDAs. In 1999 one employee found a way to make money transfers through emails and this service was renamed to PayPal. In 2000 Confinity was merged with X.com and they decided to terminate all other internet banking operations and concentrate on PayPal so in 2001 the whole company was renamed to PayPal. In 2002 they make their initial offering on NASDAQ and are listed as PYPL. The shares cost $13 each but in the end they have generated $61 million. In July 2002 PayPal was acquired by eBay and it became the primary payment method used by the majority of users. By 2010 PayPal had more that 100 million active user accounts and worked with 25 different currencies in 190 markets. Just 4 years later, in 2014, the active accounts reach 162 million and the markets are 203. In 15 years this bunch of misfits made it all the way from a dream to a multi-billion payment company. Turns out nerds are cool after all.