Some Details from Costa Bingo Terms and Conditions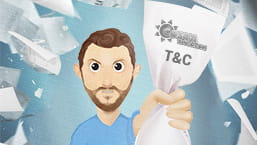 The Terms and Conditions of Costa Bingo are very thorough and detailed. They provide you with comprehensive information regarding their banking policy, acceptable payment methods, how to make deposits & withdrawals as well as how the site should be used. They also explain in a very structured way, their special requirements for players who play within UK. So with this review I would like to mention some interesting points that I found whilst reading through these terms. When preparing for this review, I have used the Terms and Conditions, last updated on 5th of January 2016. Should you have any questions or comments related to this information, feel free to contact me at info@bestbingosites.co.uk and I'll be more than happy to give my opinion.
Please note that the comments, which follow each of the selected topics, are under no circumstances to be considered as a legal advice. They just represent the opinion of a young fellow, who is willing to offer some useful tips.
Contents of the Terms and Conditions
Below, you will find a full content listing of the topics found within the Costa Bingo Terms and Conditions separated into 26 paragraphs. I would like to say, that the majority of them are pretty standard and usually seen on most gambling operators sites. There are some topics that I personally think need to be clarified and this is the reason why I have selected a few, that in my opinion need to be given a certain amount of attention by familiarising yourself with them.
Terms And Conditions
1Introduction
.The Company reserves the right to amend, modify, update and change any of these Terms and Conditions from time to time and we will notify you of any such amendment, modification or change by publishing the new version of these Terms and Conditions on the relevant page of the Site..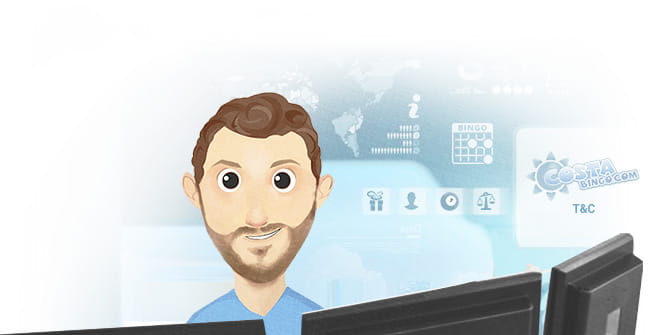 2Assignment
3General Provisions
4Restricted Countries
5Your Account
6Intellectual Property Rights
7Limitation of Liability
8Termination
9Games Terms & Conditions
10House Rules
11Instant Games RTP
12Disconnection Policy
13Bonus Policy
.Please note that real funds will always be used before Bonus Funds and the balance of both will be displayed in each player's My Account PC web-page/Mobile banking balloon. You may only cash out real funds, subject to the cash out policy, and may never cash out any Bonus Funds. Winnings generated from the Bonus Funds may become real balances as set out herein..
Comment: Before you can start to play with the welcome bonus and any other bonuses you should first use your real funds. This is important information that seems to be obvious, but I have to admit that when I played the game for the first time I was like "could it really be so easy" and "oh, now I will beat the system" and I was thinking that this will be the easiest money in my life – to make a deposit and immediately cash out the amount plus the bonus from the operator. As you may have already guessed, it didn't happen like that, but it was a good reminder for me that we should stick to the idea of playing just for fun and not to earn money or to solve our financial problems. These bonuses should be accepted as an opportunity to enjoy some more playtime even if you've experienced some bad luck.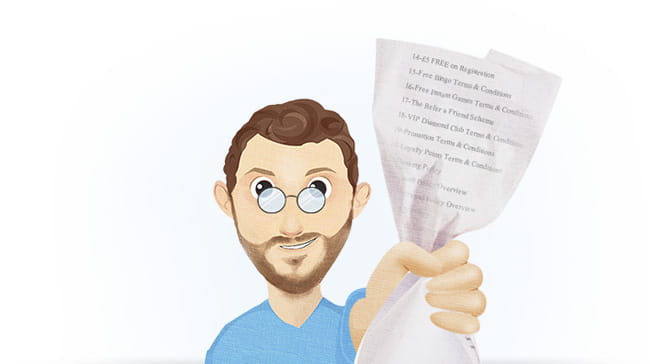 14£5 FREE on Registration
15Free Bingo Terms & Conditions
16Free Instant Games Terms & Conditions
17The Refer a Friend Scheme
18VIP Diamond Club Terms & Conditions
19Promotion Terms & Conditions
20Loyalty Points Terms & Conditions
21Banking Policy
22Deposit Policy Overview
23Withdrawal Policy Overview
24Privacy Policy
25Language Discrepancies
26Players in the UK
.If you play in the UK, the additional terms below (the "UK Terms") shall apply. If there is any contradiction between the UK Terms and the other terms of the Terms and Conditions, the UK Terms will apply.
• If you are under the age of 18 and you download or use the services you are committing a criminal offence in the UK.
• If your age is not verified by 888 UK Limited within 72 hours of your first deposit with us, your account will be frozen and no further gambling will be permitted until 888 UK Limited has successfully verified your age. 888 UK Limited reserves the right to withhold any funds in your account until your age is verified. If on completion of the age verification process you are shown to be under-age, 888 UK Limited will return to you your original deposit amount but no winnings shall be paid to you..
Comment: As I already noted, there are some further requirements for all players within the United Kingdom. In accordance with the Gambling Act 2005, the Gambling (Licensing and advertisement) Act 2014 and every other piece of legislation that regulates the gambling market in the UK, Costa Bingo places the prevention of under-age gambling as their No. 1 priority. That is the reason why they have a number of age verification procedures before allowing you to start playing.
Look Before
You Leap:

Wink Bingo – Terms and Conditions

Foxy Bingo – Terms and Conditions

Gala Bingo – Terms and Conditions
Disclaimer: Please be aware that this article is for informational purposes only and it cannot be considered legal advice. Also, the use and access of this site or any communication through e-mails do not create an attorney-client relationship between bestbingosites.co.uk and the user.