Interesting Details from the Terms and Conditions at Wink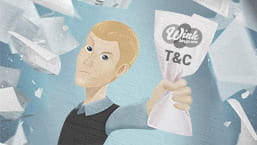 The Wink Bingo Terms and Conditions are well structured and detailed. They apply to the use of the Wink Bingo website. I would like to underline a few interesting paragraphs, which I have found while reading through these terms. For your information, I have reviewed the Terms and Conditions, last updated on 5th of March 2015. If you have any queries related to this information, please don't hesitate to contact me at info@bestbingosites.co.uk.
Our View of Wink Bingo Terms & Conditions
Here you will find all the topics within the general terms and conditions. When you first look at the Wink Bingo website, the font size might seem rather small, but the information is presented in a logical and organised way, with clear subject headings. The privacy policy is included entirely in the general terms and conditions but is also available on a separate page. There are also specific terms and conditions for the free games, for the promotions and for the VIP players. I've added my comments to certain paragraphs, where I think clarification or additional information is necessary.
1Introduction
2Assignment
3General Provisions
.Participation in the activities and games offered on the Site, including bingo games, instant games (also known as casino games or "IG") and any other games offered on the platform (collectively the "Games") is restricted to individuals of legal age as determined in the jurisdiction in which the individual resides, you cannot play under any circumstances if you are not at least eighteen years of age ("Legally of Age"). The Company reserves the right to request proof of age at any stage, to verify that persons not Legally of Age are not participating in the Games. The Company may terminate a person's account and exclude a person from the Game if proof of age is not provided by you or if the Company suspects that a person participating in the Games is not Legally of Age. The Company reserves the right to withhold any funds in your account until your age is verified..
4Restricted Countries
5Your Account
6Intellectual Property Rights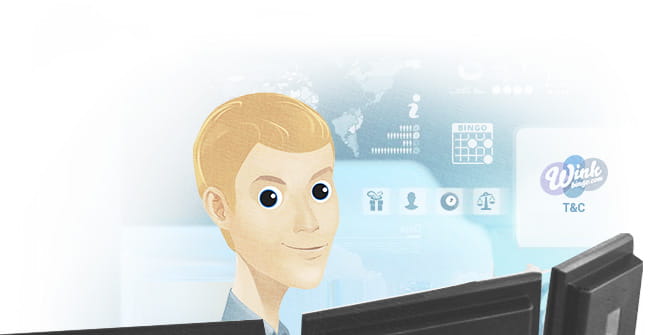 7Limitation of Liability
8Termination
9Game Terms & Conditions
10House Rules
11Instant Games RTP
12Disconnection Policy
13Bonus Policy
14Free Bingo Terms & Conditions
15Free Instant Games Terms & Conditions
16Invite a Friend Bonus Scheme
17VIP Terms & Conditions
18Promotion Terms & Conditions
19Loyalty Points Terms & Conditions
20Banking Policy General
.Deposit Policy Overview:
• Approved transactions will be automatically credited to your account so you can begin playing immediately. However, in case you used a wire transfer deposit method, your account will be credited within 5-8 business days after we have received the wire transfer.
• Prior to a first withdrawal, a minimum of £20 must be deposited.
The Site has set the following deposit limits:
Daily Limit – £1000
Weekly Limit – £3000
Monthly Limit – £5000
Notwithstanding the modification provisions in the Introduction, we reserve the right to amend the aforementioned limits in our sole discretion at any time..
Comment: Although in the United Kingdom there are no legal limits on deposits, players must be given the opportunity to set a limit as part of the registration process or at the point at which the customer makes the first deposit or payment. Wink Bingo gives you the opportunity to set your own monthly deposit limits upon your account and request to adjust them at any time. You can call the Wink Bingo Member Support Team where a representative will assist you in setting your limits (0800 901 2508). Member Support is available 24 hours a day, 7 days a week.
21Privacy Policy
.Your Rights in relation to your PII:
You can write to us at any time to obtain a copy of your PII and to have any inaccuracies corrected. Where appropriate, you may have your PII rectified, amended or completed. Please email support@winkbingo.com. We may levy a small charge to cover the cost of administration..
Comment: In case you decide to send an e-mail to the customer service department, be very careful what information you provide. Avoid stating your bank account or credit card details. You should be aware that these Internet transmissions are not completely secure and any data you send by e-mail may be intercepted, read and used by others. Wink Bingo would not be liable for any losses due to hacker attacks or data thefts. If you need some of your personal information corrected, it is safer to try do this through the website first or call the customer service department.
22Language discrepancies
23Players in the UK
Are you greedy
for more T&C's?

Costa Bingo – Terms and Conditions

Foxy Bingo – Terms and Conditions

Gala Bingo – Terms and Conditions
Disclaimer: Please be aware that this article is for informational purposes only and it cannot be considered legal advice. Also, the use and access of this site or any communication through e-mails do not create an attorney-client relationship between bestbingosites.co.uk and the user.