Our Analysis of the Paddy Power Terms and Conditions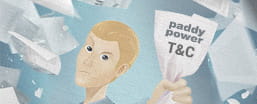 The Paddy Power Bingo Terms and Conditions are relatively simple and short. They apply to the use of the Paddy Power Bingo website. I would like to underline a few interesting paragraphs, which I have found while reading through these terms. For your information, I have reviewed the Paddy Power Bingo Terms and Conditions as last updated on 16th of June 2015. If you have any queries related to this information, do not hesitate to contact me at info@bestbingosites.co.uk
Contents of Paddy Power Bingo Terms and Conditions
Below you will find all the topics within the general terms and conditions. The information on the Paddy Power Bingo website is presented in a simple and well-organised manner, with short and clear subject headings. You may notice that there are links to other pages for additional information, which may be of interest to you. I have added my comments to some of the paragraphs, where I thought clarifications would be helpful to you.
1Random Number Generator
2Errors
.In the event of systems or communications errors relating to the generation of any result, bet settlement or any other element of a Game, we will not be liable to you as a result of any such errors and we reserve the right to void all related bets and plays on the Game in question..
3Disconnection, Misuse and Malfunction
4Compliance with laws
.The Bingo Website and Games thereon may only be used for lawful purposes and in a lawful manner. You agree to comply with all applicable laws, statutes and regulations regarding Games and any bets placed on or via Games or the Bingo Website. We reserve the right to cooperate with law enforcement and other regulatory authorities, in investigating claims of illegal activity on the Bingo Website..
Comment: The applicable laws, in this case, are the laws of England and Wales regardless of your country of residence. Consider that in the United Kingdom there are no legal limits on deposits but usually gambling operators set their own limits on withdrawals. Maximum payouts may be found within the rules of each game.
5Verification
6Termination
7General
.7.2 Promotions and tournaments on the Bingo Website will have their own individual terms and conditions which will govern your participation in the relevant promotion/tournament. Where you are credited with an amount to your account pursuant to a promotional campaign or competition, unless specified to the contrary within the terms of such promotion or competition, the credited funds may only be used as bonus funds to play Games and cannot be withdrawn as cash. We reserve the right to reclaim bonus amounts credited to your account if you attempt to withdraw them from your account..
Comment: We advise you to carefully read the individual terms and conditions of all promotions and tournaments you participate in, as they may contain certain specific rules, which you need to know in order to make the best of your play. These individual terms and conditions will be displayed on separate web pages within the paddypowerbingo.com website.
8Inactive/Dormant Accounts
9Chat
10Law
10Customer Service
With more tips in
the Terms,
There is more fun in
the Games.

Wink Bingo – Terms and Conditions

Costa Bingo – Terms and Conditions

Betfair Bingo – Terms and Conditions
Disclaimer: Please be aware that this article is for informational purposes only and it cannot be considered legal advice. Also, the use and access of this site or any communication through e-mails do not create an attorney-client relationship between bestbingosites.co.uk and the user.